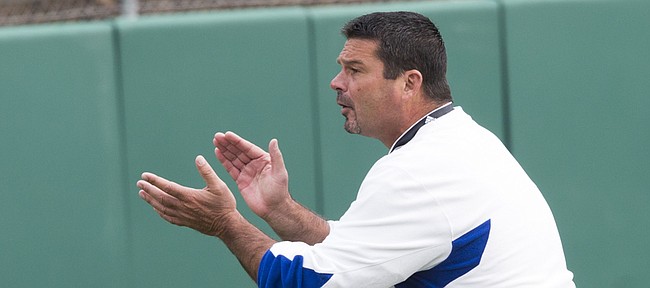 During his 17 months as the leader of the Kansas football program, David Beaty has talked often about the importance of what he calls the "hidden third" of the game.
That, in Beaty terminology, refers to special teams, and it's an area in which the Jayhawks struggled mightily during the 2015 season in just about every aspect.
Headed up by first-year special-teams coordinator Gary Hyman, the 2015 Jayhawks finished dead last in the Big 12 Conference in four of the six major special-teams categories.
Such a showing got Hyman reassigned within the program, and the wild man with good heart ultimately left Kansas to take a special-teams job at Indiana State.
In to replace him was veteran special-teams guru Joe DeForest, who has 16 years of experience in the Big 12 Conference and a reputation for being one of the best special-teams leaders in college football.
Here's what DeForest will have to improve: KU ranked 10th in punt return (2.0 yards per return), 10th in punting (34.6 net average), 10th in field-goal makes (6) and percentage (.545) and 10th in extra-point makes (21) and percentage (.913). The Jayhawks were eighth in kickoff return (20.3 yards per return) and second in kickoff coverage. But despite that standing, the Jayhawks still struggled in the one category they ranked closer to the top than the bottom, finishing eighth in touchbacks, with just 20.
And here's how he plans to do it.
"If you're a starter on offense or defense, you gotta start on one (special teams unit) and back up on another," DeForest said this spring, asked about his philosophy for using front-line players on special teams.
It's a method he has used everywhere he has been, and DeForest said the idea of putting the most talented athletes on the field for special teams not only helps teams compete but also helps the entire roster take ownership in every aspect of the program.
"We're gonna try to hold true to that," he said, noting that he won't be careless about it. "Obviously, there's some attrition that goes on throughout the year. You gotta measure, what's the dropoff on offense and defense if that (first-string) kid goes down on special teams? And how many snaps is that kid taking a game on offense and defense, and then you add in how many can he effectively run on special teams.
"You definitely have to measure how much a kid can handle both in a game and throughout a season."
That same inquiry could have been thrown out DeForest's way. After being hired by Beaty as one of five new assistants brought in during an offseason of coaching turnover, KU's new special teams leader had just a few days to unpack his bags before the start of spring football in early March.
"I've gotta get to know the roster," he said midway through spring practices. "I've only been here a couple weeks and I'm trying to learn three names a day and faces and numbers and all that. So we're in an evaluation phase for sure."
Despite his faster-than-ideal initiation, DeForest said his years of experience and the attitude of his new team made the transition easier.
"They're buying in," he said. "No question. They have the effort and the skill to do it, we just gotta point 'em in the right direction of what we're trying to do and hopefully they'll be successful."