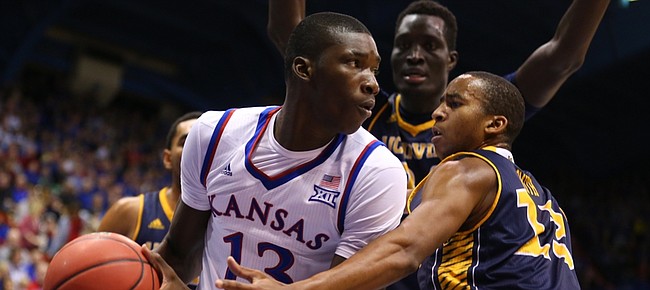 Let the post-Madness madness begin.
With the 2015-16 Kansas University basketball season ending last Sunday in the Elite Eight in Louisville, it's time to start tracking the futures of a handful of Kansas players.
Some, such as seniors Perry Ellis, Jamari Traylor, Hunter Mickelson and Evan Manning, we know won't be back with the Jayhawks in 2016. And others, such as Cheick Diallo, Wayne Selden, Sviatoslav Mykhailiuk, Brannen Greene and Carlton Bragg could elect to test the NBA waters or return to school.
Monday afternoon, we got our first taste of what will happen to one of those players, as multiple reports from CBS, ESPN and others surfaced on Twitter that said sources had indicated that Diallo would declare for the NBA Draft but not hire an agent.
Players who did so in the past always were eligible to pull their names out of the hat, provided they did not hire an agent. That remains the case today and the time frame has been extended.
Under new rules, players who declare without hiring an agent now will get the opportunity to get concrete feedback from the NBA, most notably in the form of an invitation to a pre-draft combine, before making their final decisions.
Don't like what you hear? You have until May 25 to pull out and return to school for the following season. Again, that's provided you do not hire an agent, which, according to today's reports, sounds like the route Diallo is going.
This comes as no surprise. Even though he played very little during the 2015-16 season, scouts have long been wowed by Diallo's potential and raw skills. The fact that he's still so new to the game of basketball also has NBA brass drooling over his potential down the road.
It's hard to say what will happen to Diallo from here and a lot will likely depend on what he finds out in the coming weeks.
DraftExpress.com lists Diallo as the No. 36 pick in its latest 2016 Mock Draft, updated Sunday. The same mock draft lists Selden at No. 41 and Ellis at No. 59. All three are second-round slots.
More like this story on KUsports.com