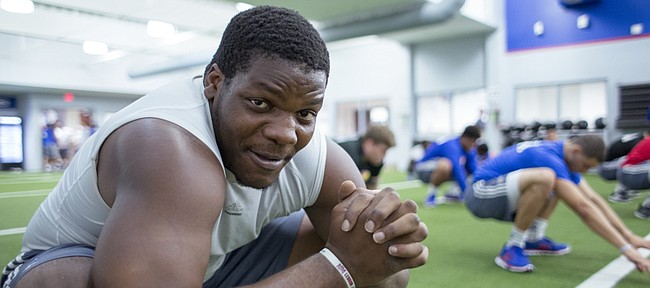 Lufkin, an East Texas town of 35,000 hit hard by the job reductions in the oil industry, still brings spirited passion for its main attraction.
"People call it a small town," Lufkin native and Kansas University defensive tackle D.J. Williams said. "It's really a big town. It's really big on football. Football is everything in Lufkin. That's all it is. It's packed every Friday night. Win, lose or draw, it's always packed."
Dez Bryant, wide receiver for Oklahoma State and the Dallas Cowboys, attended Lufkin High and came back to give the teams for which Williams played pep talks.
"You put that 8 on in Lufkin, you better be the best receiver there," said Williams, who wore No. 91 at Lufkin and for Kansas.
Williams came out of Lufkin as a three-star recruit and offers from Oklahoma, Missouri and Miami. His big frame and agile feet made him a defensive tackle with a lot of potential.
And then he came to Kansas and everyone was reminded that in sports, the word "potential" often is defined by crusty coaches as, "ain't bleeping got it yet."
During practices he often looked overwhelmed and under-motivated.
Strength and conditioning coach Je'Ney Jackson remembers Williams, a red-shirt sophomore, as one he constantly had to correct during his first two summer conditioning seasons.
"All the time I was, 'Why are you in the back of the line? Why are you always last in everything we do?' Even if I just called the team up, last," Jackson said. "Now, every time he is in the front of some line. He's not going to be at the back of any line. It was an overnight thing, all the sudden."
Jackson, who named Williams the program's Workout Warrior of the Week, said that the summer between a second and third full year in a program is when it clicks for many athletes, but going from the back of the line to the front is what has made Williams special.
"You want to talk about a total 180 from last year, oh my gosh, it's been incredible," Jackson said. "This is 17 years for me being a Division I coach and I have not seen a transformation like D.J. in that amount of time."
Williams, who stands 6-foot-5, said his weight has grown from 265 pounds when he stepped foot on campus two summers ago to 306 now.
"And now I move much better and I'm not slouchy and tired and my back's not hurting, things like that," Williams said. "I came a long ways. When I first got here, I wasn't hard-working like I am now. My high school coaches did a good job of preparing me, I just wasn't big on the weight room in high school. I was one of those when I'd get on the field I'd make things happen kind of guys."
Williams said he is able to squat 490 pounds now, compared to 275 pounds when he arrived. If Williams can approach the extent of the forward leap he has made in the weight room on the field, the defensive line shapes up as the team's best unit. Sophomore Dorance Armstrong, an undersized defensive end as a true freshman and still able to show serious talent in flashes, has grown to 241 pounds. Seniors Anthony Olobia and Damani Mosby compete for time at the other defensive end and red-shirt sophomore Daniel Wise, the first Workout Warrior of the Week selected by Jackson, is one of the more promising players on the defense.
"Sometimes we don't realize that as coaches this kid has only been here a short amount of time," Jackson said. "He still has three seasons to play, which is incredible. It's unbelievably exciting to have him and Daniel Wise having that much time left to play. I'm so looking forward to watching these two guys play."
Wise appears to have rubbed off on Williams.
"Daniel's always been a hard worker. He's always been the motivator," Williams said. "Even when you don't want to do things he's always like, 'Come on, man, let's go. Let's do it.' He's always energetic, always happy. He never has a bad day. That's someone who can keep motivating you to keep getting better."
Williams and several teammates have referenced the sting of last season's 0-12 record as a motivator.
"Instead of everybody getting in fights and things like that, we're all coming together and working hard," Williams said. "At the end of the day, it's always going to be about work because you don't want to see that zero and then that 12. You want to see that 12 and then the zero. That's keeping everybody going. We don't want to lose so we make it 'Keep fighting. Keep fighting. It's going to be worth it.'"
Jackson said he is not surprised that a football program as prestigious as Oklahoma recruited Williams.
"The dude's 6-foot-5, 305 pounds and can really run," Jackson said. "He's just freakish athletically. He can jump. He can run, change direction, bend his knees. Now he's finally getting to where he's strong."
Williams gave credit to Rob Ianello, wide receivers coach/recruiting coordinator under Charlie Weis, for convincing him Kansas was the right place for him.
"He kept calling me, showing a lot of interest in me all the time," Williams said. "He came to a lot of my games. That was someone who was truly dedicated, wanted me here at the school. Other schools, they hit me up sometimes, sometimes they didn't. He was consistent, always came to see me when he was coming through Texas."
Williams said he is confident he made the right choice and nobody would argue Ianello, now an assistant coach at University of Buffalo, made the right call in recruiting the defensive tackle.
"D.J. wasn't the most popular guy with his teammates," Jackson said. "Not at all. We'll just say that. If guys were to pick guys to be on their team (for various competitions tracked by coaches), he probably would have been picked last, especially for work ethic, accountability, all those things. He has won over his teammates."
When Jackson announced to the team that Williams was the most recent pick for Workout Warrior of the Week, "everyone cheered, grabbed him, screamed, 'Speech!' It was a big, big deal."
The change was noticeable from Day 1 of summer conditioning, according to Jackson.
"The first week, he was incredible," Jackson said. "I was like, 'All right, let's see.' Second week, same. Third week, same. So I finally said, 'You've achieved a new standard. Is this who you are? Or are you going to fall back to the old you?' 'No, coach. This is who I am.' And he has not deviated from that one day."