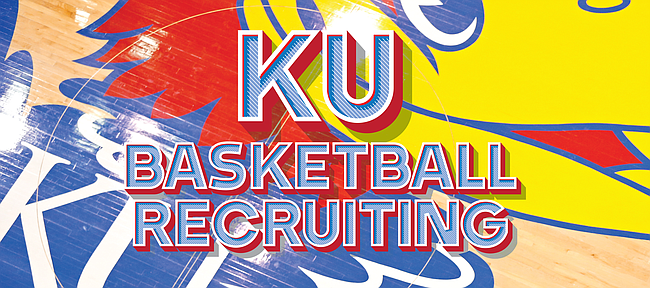 L.J. Goolsby, who as head coach of KC Run GMC (formerly Pump N Run) the last 13 years has established himself as one of the top youth basketball coaches in the country, this week tries to turn a star-studded group of blue-chip high school basketball players into a true team.
His USA Under 19 squad, which includes KU recruiting targets Josh Jackson, Terrance Ferguson and Jarrett Allen, as well as Duke signees Jayson Tatum and Frank Jackson and Kentucky signee De'Aaron Fox, will meet future KU forward Udoka Azubuike's World squad in the Nike Hoop Summit at 2 p.m., Central time, Saturday (ESPN2) in Portland's Moda Center.
"I'm truly honored. I think the main thing for me personally is to be involved with USA Basketball, period. It's very humbling," Dodge City native Goolsby, who played college ball at both Ole Miss and Wichita State, told USA Basketball.
"To be the head coach (after serving as assistant to Eric Flannery last year for the U.S. team that lost, 103-101) and the opportunity to work with coach Flannery again, regardless of if I'm the head coach or not, it is a tremendous experience.
Goolsby was asked about the team's strengths.
"(It's) their versatility," Goolsby said.
Jackson, a 6-foot-7 senior from Prolific Prep who figures to announce for KU, Michigan State or Arizona likely next week, is the main attraction for 145 NBA scouts on hand for this week's six practices and the game.
"There are guys who can play different positions. We can guard different positions, so that will give us the flexibility to play different line-ups quite a bit. And our length is a huge difference this year versus last year, especially on the perimeter," Goolsby said.
Goolsby, who also helped the USA to gold medals as an assistant coach at the 2013 FIBA Americas U16 Championship and the 2014 FIBA U17 World Championship, said the World team is "able to shoot the basketball. They've got some skilled guys, and we are going to have to make sure we know where they are. A couple of their bigs can make some things happen. It will be interesting because a couple of pieces have changed in the last week, but we will be ready."
The World Team has won three of the last four Hoop Summits.
Ferguson update: Terrance Ferguson, a 6-6 shooting guard from Dallas Advanced Prep International who is ranked No. 12 nationally by Rivals.com, tells Rivals he hopes to choose a college on April 13. He is considering KU, Arizona, Baylor, North Carolina, Maryland and N.C. State after decommitting from Alabama.
"I've already taken unofficial visits to Kansas and Baylor so I probably don't need to visit them. But North Carolina has really been trying to get in the mix and hitting me hard this last week so I am considering a visit to them and I've put them in my final six," Ferguson told Rivals.com.
Maker talks NBA: Thon Maker, a 7-foot senior from Orangeville Prep in Mono, Ontario, who has applied for admission to the NBA Draft, explained his reasoning to draftexpress.com.
"I was excited to visit Kansas, St John's and Indiana," Maker said. "Those three coaches all showed me different approaches to winning and developing.
"When I had the chance to enter the Draft, I started thinking about college vs. pro. The NBA game, talent, spacing, rotations, terminology, clock and practice time is so much more different than college. I watch a lot of ball, both games and practices. I felt that if I could do this full-time, it would be great. If I went to college I could not see myself not taking my academics seriously. I would want to take serious classes and do well in them. I would have to split time in my focus. My approach is to always go all out and try to be the best if I'm going to do something," Maker added to draftexpress.com's Jonathan Givony.
Maker, 19, reportedly graduated from high school last June. To enter the draft, a player must be 19 and one year removed from high school graduation. The NBA still must decide whether to let him in the 2016 Draft.
The odds: KU, which is hoping to add the country's No. 1 prospect, Jackson, and others in recruiting, is currently listed 10/1 to win the 2017 national title, according to Bovada. Duke leads the way at 9/2, followed by Kentucky 6/1 and Villanova 8/1.
More like this story on KUsports.com