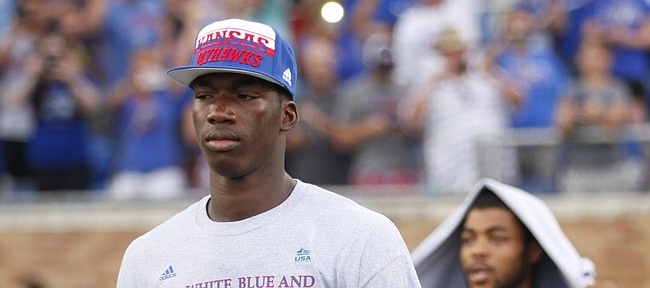 Kansas University freshman Cheick Diallo has been named to the 20-member watch list for the 2016 Kareem Abdul-Jabbar Center of the Year Award, the Naismith Memorial Basketball Hall of Fame announced Friday.
Diallo, a 6-foot-9, 220-pounder from Mali, enters college as the No. 5-rated player in the recruiting Class of 2015 by Rivals.com.
He averaged 17.6 points, 10.5 rebounds and 2.5 blocks per game during his senior season at Our Savior New American High of Centereach, New York, and was named MVP of the McDonald's All-America game and Jordan Brand Classic.
Other players up for the award are Kaleb Tarczewski, Arizona; Mamadou Ndiaye, UC Irvine; Josh Scott, Colorado; Egidijus Mockevicius, Evansville; Przemek Karnowski, Gonzaga; Thomas Bryant, Indiana; Jameel McKay, Iowa State; Skal Labissiere, Kentucky; Diamond Stone, Maryland; Stephen Zimmerman, UNLV; Kennedy Meeks, North Carolina; Zach Auguste, Notre Dame; AJ Hammons, Purdue; Jakob Poeltl, Utah; Damian Jones, Vanderbilt; Daniel Ochefu, Villanova; Josh Hawkinson, Washington State; Joel Bolomboy, Weber State; and Devin Williams, West Virginia.
Winner will be named on April 8. Last season, Frank Kaminsky of Wisconsin won the award.
Lightfoot to announce in one week: Mitch Lightfoot, a 6-8 senior forward from Gilbert (Arizona) Christian High, will announce his college choice a week from today at the Arizona Preps Fall Showcase at Glendale (Arizona) Community College, showcase organizers reported on Twitter.
Lightfoot, who is ranked No. 117 in the Class of 2016 by Rivals.com, visited KU on Sept. 18-19. He has also visited Arizona, Stanford, Utah and St. John's.
Lightfoot was born in Kansas City, grew up in Tucson, then moved to Gilbert last year. He has been a KU and Arizona fan most of his life. He committed to University of New Mexico in the summer of 2014, but reopened his recruitment last spring.
Lightfoot's AAU coach, John Ortega, told Josh Gershon of Scout.com, "Mitch hasn't decided yet. He's really got a tough decision, but I feel like he can be successful at any of his final five. All five schools have been fantastic through this process."
Embiid attitude questioned by S.I.: Former KU forward Joel Embiid of the Philadelphia 76ers has been accused of having a questionable attitude in his recovery from foot surgery that sidelined him his rookie season.
Sports Illustrated has sources that say "some people in Philadelphia's front office wonder whether a second surgery (on same foot this past summer) would have been necessary if Embiid had worn a boot as much as he was told to."
Also, despite the Sixers front office not wanting Embiid to travel to Las Vegas to watch the Sixers play in the NBA summer league, S.I. reports, "Embiid was determined to go to Vegas to party for the balance of the 10 days of summer league. While Embiid was in Vegas, he was mandated to wear the walking boot in advance of the second surgery, but Embiid not only refused to wear the boot, but he carried himself as if nothing was wrong with the foot, shooting jumpers and even occasionally dunking. These actions have given rise to the theory that Embiid actually re-broke his foot, rather than the initial injury not healing properly. It also led to Embiid having the surgery a month later than the club originally had hoped."
S.I. also has sources saying, "Embiid's conditioning and dietary habits are a constant source of strife for the Sixers front office." And, the magazine website, SI.com, says he was sent home from a road trip last year for reportedly physically threatening a member of the training staff. To read about Embiid's alleged problems see the web address http://on.si.com/1MHFw8T