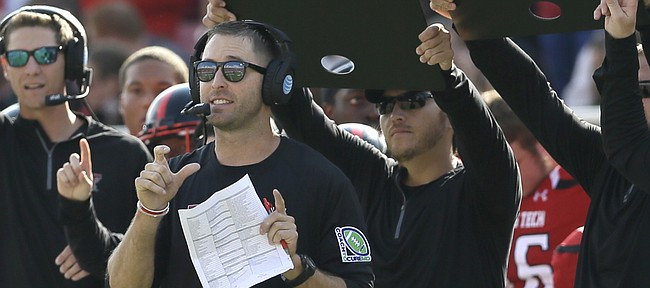 David Beaty's "Hey There, Old Friend, Tour" continues when Kansas University football welcomes Texas Tech to Lawrence for an 11 a.m. kickoff Saturday at Memorial Stadium.
During his first five games as head coach of the Jayhawks, Beaty has squared off against a handful of former colleagues, mentors and friends on opposing sidelines. He'll add another to this list this week, when he faces Texas Tech head coach Kliff Kingsbury.
Beaty and Kingsbury worked together for one season at Texas A & M. Earlier this week, Beaty said Kingsbury played a crucial role in getting him on A & M coach Kevin Sumlin's staff.
With Kingsbury serving as Sumlin's offensive coordinator in 2012, the Aggies entered the year in need of a wide-receivers coach. Beaty, having just completed his second stint at Kansas, under recently fired KU coach Turner Gill, was in need of a job. As it turned out, a 2010 matchup between Kingsbury, at Houston, and Beaty, at Rice, might have been responsible for Kingsbury encouraging Sumlin to add Beaty to the staff.
"We did not have a great team," Beaty began. "But we were coming on offensively. We were doing OK, and I think we won that game on a last-second play. We threw a little corner route out of a three-by-one set. I'll never forget that.
"(Kliff and I) had routinely texted back and forth, but the text (after that game) was a little different. It was like, 'Hey, man, you did a great job. Man, congratulations.' He's that type of a humble guy. ... I think I got the call from him because of that game. I think he was impressed with maybe some of the things we did in the passing game that day."
Although Kingsbury this week did not get into the specifics of that game — a 34-31 Rice victory at Rice Stadium in Houston — it was clear that positive memories stuck with him from his time working with Beaty in College Station.
"Tremendous recruiter," Kingsbury said. "I think when we got to Texas A & M, he had a veteran group of wide receivers and (future first-round draft pick) Mike Evans, who was a young guy, (and) it was just really impressive to get Mike Evans to the level he did that quickly and manage those older guys and gain their respect very quickly. I think he's a tremendous football coach. I know he's trying to build something special out there."
The feeling seems to be mutual and, at least for Beaty, goes well beyond football.
"I don't know if I know five humans better than Kliff Kingsbury," Beaty said. "I really don't. He's a humble, hard-working, blue-collar, up-at-4:30-every-morning (guy).
"I thought I worked hard. This dude works."
Well versed as a player and coach in the Air Raid Offense — Kingsbury recorded more than 12,000 passing yards from 1999-2002 as a Texas Tech quarterback under Mike Leach — Kingsbury brings to Lawrence the nation's No. 1 passing offense. Led by sophomore QB Patrick Mahomes, Kingsbury's Red Raiders average 439 passing yards and 53 points per game and last week set a school record with 776 yards of total offense in a victory over Iowa State.
As has been the case at Tech for years, the quarterback is the one who makes the whole thing go. And Beaty had some high praise for Mahomes, who last season appeared in seven games and threw for 1,547 yards and 16 touchdowns in relief of former Tech starter Davis Webb.
"He had a couple of scramble throws against Baylor that were, like, 'Oh my goodness, how did he do that?'" Beaty said of Mahomes. "He reminds me a little bit of (former A & M QB) Johnny (Manziel) in regard to the escapability that he has, for sure.
"We've got another great opportunity this week against another really good football team, one of the best offensive football teams in the country," Beaty said. "They're good, now. They've got some of the most explosive guys that play Div. I football."