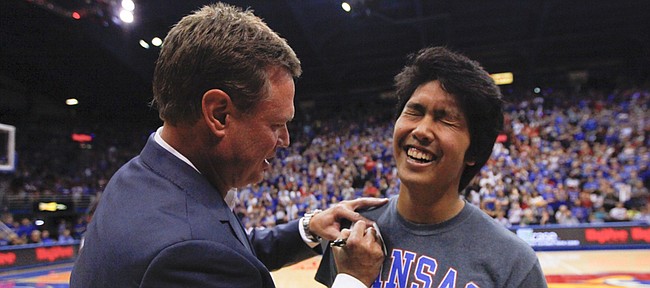 Seven years after his playing career ended, Brennan Bechard on Friday night wound up as No. 2 highlight on ESPN "SportsCenter Plays of the Day."
Bechard, Kansas University's director of basketball operations who was a walk-on guard for the Jayhawks from 2007-09, stepped up and swished a halfcourt shot, winning $10,000 for KU sophomore Jerrod Castro as part of a promotion at the 2015 Late Night in the Phog in Allen Fieldhouse.
"Just a guy with a lucky shot," Bechard told the Journal-World on Saturday from Horejsi Center, where his dad, Ray's, KU volleyball team swept Iowa State in three sets to go 17-0 on the season.
Taking the advice of KU coach Bill Self, who paid the $10,000 from his own checkbook account, Castro (who had the option of shooting two halfcourt shots himself or picking someone in the arena) went with Bechard.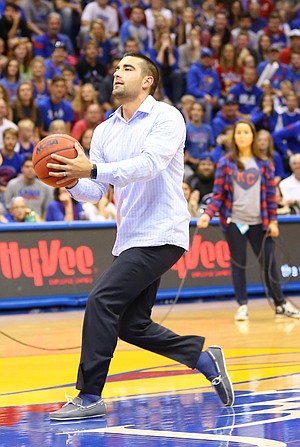 Brennan Bechard fired a shot off the top of the backboard as his practice try. He then missed just to the right, clipping the rim. Finally, on the second and final official try, Bechard swished the shot for Topeka-native Castro, who told KU officials he plans to pay off tuition and student loans with Self's money.
"I told him going in, 'Are you sure you don't want to shoot it? I mean, no promises with this,'" Bechard said. He was more than willing to step up when Castro told him to go for it.
"I was nervous when it got down to one shot. I thought it was going to be short, but it was all net. I'm glad it worked out. It was more relief for me than anything, to not let him down."
KU's players mobbed Bechard and Castro after the swish.
"He (Castro) just kept saying, 'Thank you,' just how appreciative he was," Bechard said. "It's really cool it turned out to be a student that goes here."
Former KU guard Bechard actually warmed up for the Late Night shooting exhibition, as did former KU forward Darnell Jackson, who misfired on his two shots and practice shot for a female contestant.
"He (Castro) was in the practice gym when he saw us take a couple practice shots. He was feeling all right when he saw me shooting," Bechard said. "Coach had a hand in helping him make the best decision (to choose Bechard), I guess."
Self had told the media last week that Jackson, who plays in China, was going to be in Allen for Late Night and that Bechard would be a good choice to shoot a halfcourt shot for somebody.
"Evan (Manning), Tyler (Self) and I have some contests after practice quite a bit, so I shoot them a lot. I was confident I could make one out of two or three," Bechard said. "I'd say normally I can make five or six out of the 40 we shoot probably. There's a little added pressure when 10 grand is on the line and you can make it happen. It's a pretty cool thing to help someone out."
Current players were ineligible to take the shots for contestants.
"Evan and Tyler are good at it," Bechard said. "We go back and forth, so it's fun."
The Journal-World's Benton Smith caught the moment on tape and posted the video (http://ljw.bz/1Orx0MJ), as did many fans. Bechard's dad was another to record the shot for posterity.
"I had my camera out. I knew it was in," proud papa Ray said after the volleyball match Saturday. "I know he spends a lot of time with Evan Manning, Tyler Self and those guys messing around after practice. In that circumstance, I thought, 'Oh, that's a little bit of a long shot.' It was pretty pure. That was fun. It was pretty cool stuff."
More like this story on KUsports.com