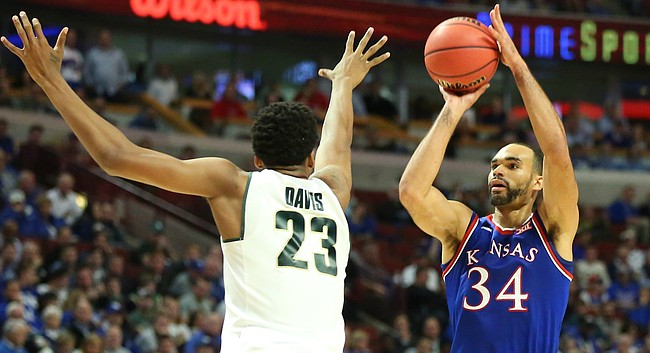 Chicago — In victory or in loss, whether Perry Ellis has a big scoring game or a quiet one, a high-volume shooting night or a low-volume one, I always seem to find myself thinking the same thing driving out of the parking lot: They should have fed the ball more often to Ellis.
Tuesday night in the United Center, where Michigan State stormed from behind to defeat Kansas University, 79-73, was no exception, except that I didn't have to wait until I made it to the parking lot this time. It was painfully obvious throughout a second half in which others clanked shots before Ellis touched the ball. That can't happen again.
Not that Ellis is perfect. Nobody is. He missed some shots close to the basket, faked when not needed once or twice, and missed a wide-open jumper from the left elbow that would have given KU a two-point lead with a minute-and-change left. If teammates had fed him more patiently earlier in the half, the game would have been in the bag well before that miss.
Photo Gallery
Kansas basketball v. Michigan State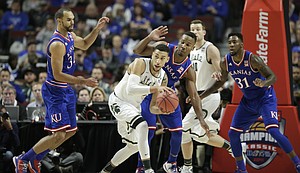 View a gallery of images from Tuesday night's Champions Classic game between the Jayhawks and Spartans at United Center in Chicago.
Good things generally happen when the ball finds its way into Ellis' hands. Ellis put up 11 shots in the first half Tuesday and scored 14 points in 16 first-half minutes, leading the Jayhawks to a 41-35 advantage at intermission. He hit a three from the top of the key, scored on a drive and made a bundle of easy buckets on post-ups, using his fancy footwork to make the guys guarding him look as if their two sneakers were tied together.
Sure, Ellis missed a number of easy shots and attempted 18 field goals. That might sound like a lot, but it didn't look like enough. He made half of them. The rest of the team shot 14 of 48 from the field, a 29-percent accuracy rate. Again, Ellis isn't perfect. The Jayhawks (1-1) needed more than six rebounds from him on a night that Michigan State won the battle of the boards, 45-35, but that doesn't have anything to do with teammates not doing a better job of making him the focal point of the offense for 40 minutes, not just 20.
Podcast episode
Bill Self tries to make sense of KU's Champions Classic loss to Michigan State
The lack of shot-distribution wisdom extended beyond not feeding Ellis. Kansas attempted 15 shots from beyond the three-point semi-circle and made just three. None of those attempts flew off the hands of the Jayhawks' two top long-range shooters, Brannen Greene and Sviatoslav Mykhailiuk, who in 21 minutes combined to go 8-for-8 from the line and 0-for-0 from three.
Frank Mason III, Devonté Graham and Wayne Selden Jr. combined to shoot 9 for 36 from the field (25 percent) and 2 for 13 from three (15 percent).
Selden could have detailed an X-and-O reason based on a defensive adjustment to explain why the team didn't feature Ellis as much in the second half as the first and nobody would have been the wiser. He didn't take that escape hatch from blame. Good sign.
"It's our guard play," Selden said. "We weren't aggressive enough and we weren't throwing it in there. That's on me, Devonté and Frank. We've got to get the ball in there and we didn't do that."
Kansas coach Bill Self's critique wasn't as harsh as Selden's self-critique.
"That wasn't a strategy or anything," Self said of going away from Ellis. "We went to Perry early a lot and he delivered. But there were some shots Perry had the ball down tight several times too and we didn't come away with as much as we had hoped. We played to Landen a few times and got the ball down tight. He's our best sealer, but really, they did such a good job of jamming it up and then when you don't make shots it puts pressure on you to drive and they're a hard team to drive against."
Lucas, who played 14 minutes to Hunter Mickelson's three, made 1 of 5 shots.