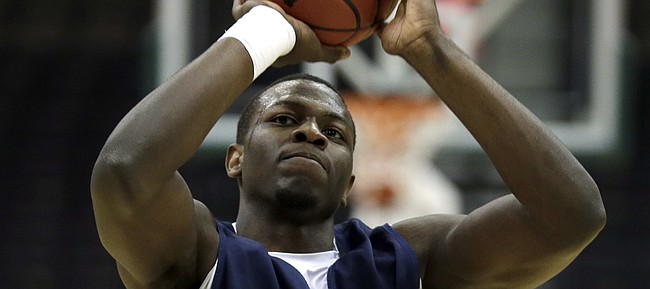 Former Ole Miss center Dwight Coleby, who on May 19 announced plans to leave the SEC school after his sophomore season, has decided to transfer to Kansas University, Coleby said Sunday night.
The 6-foot-9, 240-pounder — he averaged 5.4 points and 4.8 rebounds while logging 16.5 minutes a game in 34 games his sophomore season for 21-13 Mississippi — is the brother of former Wichita State forward Kadeem Coleby.
"I am excited to be a part of something special here at Kansas," he posted on Twitter in announcing his decision.
He told the Journal-World he committed while on his campus visit and in fact remained in Lawrence on Sunday night.
"I just knew it was the best place for me, the overall history and the history with big guys, how they challenge the bigs here and how they play," Coleby said.
He did not list any other schools that might have been on his list of possible transfer destinations.
"Other schools were interested in me. Once Kansas called I knew that was it so it didn't matter the rest of the schools," he said.
A native of Nassau, Dwight is the youngest member of the Bahamas National team. Since he was not born in the U.S., he is ineligible to play for KU's World University Games team. Thus he said he'll be playing for the Bahamas National team this summer.
"I may be here in July for summer school," Coleby said.
Coleby, who started three games a year ago, hit 67 of 126 shots for 53.2 percent and 51 of 64 free throws for 79.7 percent. He also had 29 blocks.
Coleby scored in double figures six times in 2014-15. He had 11 points, nine rebounds and three blocks on Feb. 2 at Florida. He had 10 points, six rebounds and four blocks vs. the Gators on Jan. 24 at Ole Miss.
He also appeared in five games, averaging 2.6 points and 2.2 rebounds in 6.6 minutes per game as the Bahamas won the gold medal of the Caribbean basketball championship last July.
"It is exciting. It is great," he said of signing with KU. where he will sit out next season then have two years of eligibility remaining. "The history and tradition ... I have to prove I am worthy of being here."
More later in the Journal World and on kusports.com.