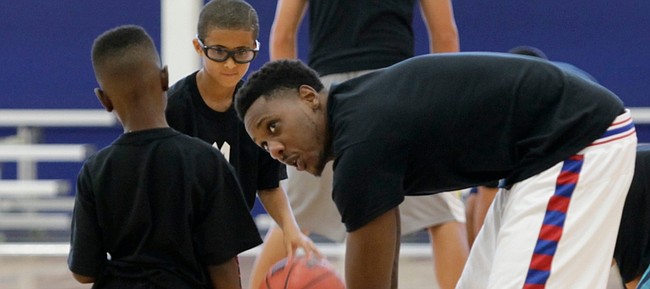 Former Kansas University standout Mario Chalmers watched his alma mater with pride when the Jayhawks won a gold medal at the World University Games in South Korea earlier this month.
Chalmers said he talked with coach Bill Self and junior guards Wayne Selden Jr. and Frank Mason III one day after they beat Germany in the gold-medal game on July 13.
"They could be real dangerous," Chalmers said of the Jayhawks. "I think that's good. They bring it all together, they could be another 2008 team."
Chalmers is preparing for his eighth season in the NBA with the Miami Heat. He's been a part of trade speculation this summer, heading into the final year of his contract ($4.3 million) this upcoming season.
"It's part of the business," Chalmers said from Sports Pavilion Lawrence, where he was hosting a five-day youth camp. "For me, I don't really think about it. I try to control what I can control, and I'm just working on me and my game.
"I would definitely love to stay in Miami. I think we have a good chance this year to go all the way. It's just bringing everything together."
Chalmers, a two-time champion with the Heat after winning one at KU, said he has settled into a comfort zone in the NBA, which is "a dream come true." His father, Ronnie, a former director of basketball operations at Kansas, serves as his agent and helped run the youth camp while keeping his son updated on trade rumors.
The younger Chalmers doesn't take the trade talk personally, but he's always ready to prove doubters wrong.
"I've always got a chip on my shoulder because I've always been counted out," said Chalmers, who has a new tattoo on his right arm of Super Mario — the video game character — holding a basketball. "That's how I keep going."
After the youth camp, Chalmers will host his seventh-annual Mario V. Chalmers Golf Tournament Monday at Alvamar.
Eight years after leaving Lawrence, some things have changed for the 29-year-old.
"Now nobody really recognizes me, and I just walk around," Chalmers said with a smile. "That's the only difference right now, but it's always good to come back."
What draws him come back to Lawrence?
"Lawrence is like another home to me," Chalmers said. "I felt so welcome here when I was during my college days, so it's always good to come back and give something to the community that gave to me."
More like this story on KUsports.com