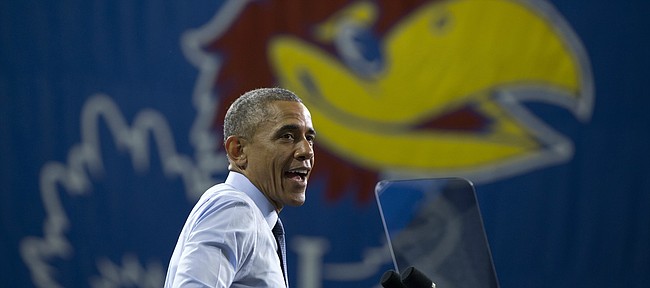 Kansas University's basketball players and coaches presented President Barack Obama with a KU hoops jersey and basketball before Obama's speech this morning in Anschutz Pavilion.
The Jayhawks met the president in Hadl Auditorium, just a few strides from Anschutz.
"He was great. We had a chance to meet with him before his speech. He knew about our team," KU coach Bill Self told the Journal-World at the conclusion of Obama's speech. "He talked to all the guys about his basketball experiences. I know the guys (Jayhawks) felt very blessed to be there today."
Self said, "it was a huge thrill for everybody. Everybody was proud to be there."
Self was asked what Obama told him.
"Best of luck and keep working hard. Basically don't accept being good, strive to be great," Self told the J-W.
Self met Obama a couple years ago at a reception in Osawatomie.
"He's a great guy," said Self.
Self and the Jayhawk players spoke in detail about the experience at an afternoon news conference.
"I think I timed it at about 14 minutes, 36 seconds, seriously probably 15 minutes," Self said. "He shook everybody's hand. He wanted to know everybody's name, took a couple pictures, group pictures. He shared a few words of wisdom.
"He said, 'You need to worry about your academics, too. You didn't come here just to play ball.' I said, 'Hey Mr. President, overall team GPA 2.93.' You know what he said? 'You've got to get it up to 3,' which basically tells you, 'Don't ever be totally satisfied,' which I thought was pretty cool for our guys to hear," Self added.
Self said the Jayhawk players were awed by the experience.
"I think I've got a pretty good relationship with our guys, most of them, and a pretty open line of communication. Very rarely do they just text me out of the blue and say, 'Hey coach, how are you doing today?' After this today, half the team texted me immediately saying, 'Coach, man that was awesome, Thanks for allowing us to be part of that.' It's a big deal for everybody.
"Look at Svi (Mykhailiuk, freshman from Ukraine). Who knows how Svi has viewed the president of the United States coming from Ukraine or what Russia thinks of us? He filmed the whole thing. He was really into it. Think of kids, especially African-American kids that maybe come from tough environments, Cliff (Alexander) and Jamari (Traylor) coming from Chicago. He wanted to know right off the bat, 'What high school did you go to?' and that kind of stuff. He made those kids feel special. I'd think anybody in his business is used to crowds. He certainly made our guys feel good today."
Noted Selden: "He talked about our last game, the Oklahoma game. He talked about the games we have coming up. He talked about his game a little bit, saying he's slowing down. He has the nation to take care of and he's watching our games ... that's really big."
Selden added jokingly: "He said if we wanted any tips just ask him. Nobody asked him."
Perry Ellis stated: "It's not an opportunity many people get ... to meet him. I'm blessed and honored to get the opportunity to do that. It was an awesome experience. We'll never forget it."
During his speech, Obama said: "I've got to admit, I took a moment to meet with coach Self and the KU basketball team. I mean, we're here for other business but while I was here I thought I should talk to some basketball players. And it is January so that means the Jayhawks are at the top of the Big 12 hunting for 11 straight conference titles."
Obama also joked, "Coach Self won 10 straight. I lost two straight here (vote in presidential elections in Kansas). I might have won sections in Lawrence. That's a possibility."
For more on the President's visit with the basketball team read Friday's Journal-World and kusports.com
More Coverage
Obama at KU: Some university community members came for the issues, others for the show
President Obama drops in on Lawrence preschool before speech
More like this story on KUsports.com