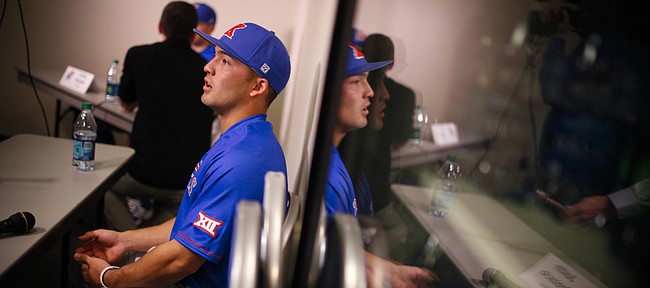 Kansas University's baseball team is no stranger to not receiving any respect in the Big 12 preseason poll, but if the Jayhawks' performance in 2014 was any indication, they'll prove doubters wrong again in 2015.
The Jayhawks were picked to finish in a tie for seventh in the preseason conference rankings after placing third last year and earning a bid to the NCAA Tournament with a record of 35-26 overall and 15-9 in the Big 12.
"We were always picked in the bottom of the standings," KU coach Ritch Price said at the Jayhawks' annual media day Wednesday. "You just go out and overachieve. That's how we prepare is to overachieve."
Price realizes that overachieving will not be easy for the Jayhawks with having to replace four of the team's five starters from 2014. Senior Drew Morovick is the lone returning starter from last year's staff, and he will be looked upon by Price to be KU's ace.
Morovick tied for the Big 12 lead in wins with 10 in 2014 after making nine starts and 25 total appearances.
"His breaking ball, I think he's improved it and it was firmer," Price said. "He actually was punching more guys out this fall. That's going to be the key if he can be a weekend starter for us is his breaking ball has to be an out pitch where he can get out of trouble with a strikeout."
Morovick will be followed by Diablo Valley junior college transfer Ben Krauth and sophomore Sean Rackoski to fill out the weekend rotation.
While the rotation lacks experience, the Jayhawks' starting lineup does not. The middle infield duo of second baseman Colby Wright and shortstop Justin Protacio both return along with corner outfielders Dakota Smith and Connor McKay.
"My three years before this, we've consistently got better every year," Protacio said. "So getting to regionals is that final step. The year before we made it to the Big 12 championship game and finally taking that next step and getting to the regional was huge."
Protacio led the conference last year in runs with 53, and McKay and Smith both drove in 40-plus runs to rank among the Big 12's best.
The development of catcher Michael Tinsley, who Price will insert in the cleanup spot of the lineup, is also expected to big a big contributor to the Jayhawks' offense.
"I hit behind him (Tinsley) in scrimmages and I basically expect to hit after he comes up. I'm not even expecting to go back and change at the end of an inning," Smith said. "All he does is hit. If he gets out, he hits it hard, but it's usually something being snagged at the wall."
The Jayhawks will have a tough test to begin the season as they hit the road to play Friday-Sunday at LSU, which is ranked No. 2 nationally by Baseball America.
"I'm really excited to see how our players respond to that environment. It will be our third trip to LSU," Price said. "I can compare it to Allen Fieldhouse where Allen Fieldhouse is the mecca of college basketball and greatest environment in college basketball in the country to play in, that's what Alex Box Stadium is at LSU. The games are completely sold out, 11,000 tickets."
Despite the Tigers being one of college baseball's perennial powerhouses, the Jayhawks are 5-1 under Price against LSU in Baton Rouge.
"I jokingly tell people I think I got a five-year ban after we went down there and won the series when they were No. 1 in the country in 2010. It's my favorite place I've ever played and I'm excited to take these young men to Alex Box Stadium."
Game times for this weekend are set for 7 p.m. Friday, 2 p.m. Saturday and 1 p.m. Sunday.
The Jayhawks will remain on the road before playing their home opener against Utah on March 6 at Hoglund Ballpark.