Kansas University's volleyball team may not have been as sharp as usual during a 3-0 first-round NCAA Tournament victory over Furman on Thursday night in Horejsi Center.
Yet the outcome was never in doubt for the (27-2) Jayhawks, who advanced into today's much-anticipated second-round contest against (27-5) Missouri, a 3-1 first-round winner over Missouri State.
Tip for the latest edition of the Border War is 6:30 p.m., in Horejsi.
"Our passing wasn't great tonight — our first pass and our serve," KU coach Ray Bechard said after a 25-14, 25-21, 25-17 victory over the (21-9) Paladins, who led most of the second set until KU reserve Tori Miller entered and won four straight serves to help turn a 20-19 deficit into a 23-20 advantage.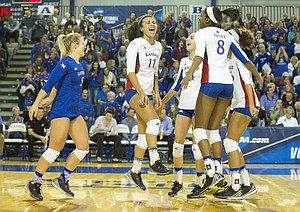 "Yes, we had 11 aces, but 10 errors in three sets is too many," Bechard added. "We usually pass on a 3-point scale around a 2.3 or 2.4 and we were around a 2.0 tonight. Part of that is it's tourney time. I don't care what sport it is, you see a lot of pretty solid performers have to kind of work their way into an NCAA Tournament."
The Jayhawk players didn't cite any NCAA jitters, but did concede the performance wasn't necessarily dominant.
"I feel we could have cleaned up a lot of things, but holding together I think is something that we do really well — coming back and getting the next point and trying to focus on that part," said senior outside hitter Tiana Dockery, who had six kills. She and sophomore outside hitter Madison Rigdon (six kills) combined on some vicious serves that buried the Paladins in the final set.
"Kind of like first-game NCAA Tournament, so we got that out (of the way). Now it's like we need to play our game from here on out no matter what," Dockery added.
Furman led by scores of 7-3, 8-4, 15-13 and 20-18 in the second set.
That's when Kelsie Payne and Janae Hall combined on a block to make it 20-19. At that point, Bechard had Derby native Miller enter to serve for Dockery. Four points later, KU was in control.
"She killed it," said KU senior defensive specialist Anna Church, who had seven digs. "She came in and did her job and what we needed her to do. Coming off the bench, it's our job to do whatever the team needs us to do. At that moment she did exactly what we needed, so she definitely deserves credit."
Bechard explained what seemed to be a puzzling move to insert Miller, who had yet to play in the all-important NCAA contest.
"Dock is a little more high-risk server, so she served for Dock in that situation," Bechard said. "The whole staff said 'It's time out, let's sub her out, because that's the hardest time to try to serve a jump serve (like Dockery's) after a time out.' Tori ... we knew she was going to serve tough and in and play good defense back there. She got us on a little run that was critical in finishing that second game. That's what this team does. They understand their role. They know what they need to do. Tori did a great job of that tonight."
Of the Payne block that preceded the Miller-led run, Bechard said: "Not only does that create tremendous energy on our side, it's extremely deflating on the other side. The most intimidating skill in the sport is when someone blocks you like that. She midway through the first set and second set was phenomenal offensively, too," he added of soph Payne, who led the way with 13 kills. KU held Southern Conference player of the year Annie Bierman to nine kills.
The 3-0 win sets up tonight's match between the No. 9-ranked Jayhawks and No. 25 Missouri Tigers. MU leads the all-time series, 51-34, and has won the last three meetings, the last match a four-set KU loss in 2011 in Horejsi.
"They've got a two-setter system. They are much more physical than Furman," Bechard said. "They have a number of ways they can come at you offensively. We had to beat a really good Creighton team a couple years ago. It's not much different than what we need to do tomorrow night," Bechard added. KU beat CU in 2013 to advance to the Sweet 16. "Creighton seems a little friendlier foe than Missouri does. When it comes down to it, we still have got to find a way to win."
Noted Hall, who, along with Tayler Soucie had seven kills Thursday, "It's really exciting just because we've never had the chance to play them before. Knowing the history of the rivalry, it's always fun to play new teams and to play a team that has history with us. We're really excited. We know they are going to be a good team and we'll have to play our best and finish that game."
Missouri's Kira Larson, who hails from North Dakota, provided her take: "My goal and my goal for my other teammates is to just go out there and play like it's anybody else. Go out there and fight for it."