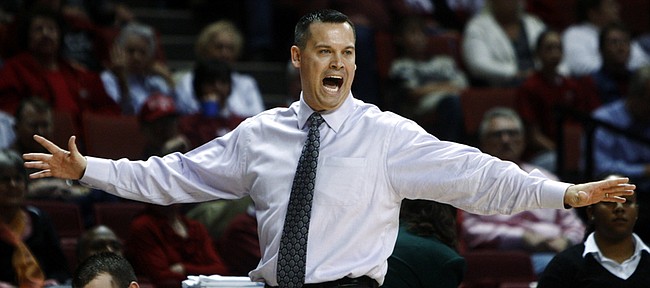 Brandon Schneider, new women's basketball coach at Kansas University, will be introduced to the program's small fan base via a 10 a.m. news conference Tuesday.
The session with the media will offer the first clues as to whether Schneider has what it takes to bring relevance to a program dwarfed by the perennial-powerhouse men's basketball team.
It's not an easy challenge Schneider has accepted after heading Div. II Emporia State for 12 seasons before leaving to coach Southland Conference member Stephen F. Austin for the past five seasons. His team won the past two regular-season conference titles. His top career accomplishment came in his last season at Emporia State when he won the 2010 Div. II national title.
Schneider has not yet coached in an NCAA Div. I tournament game but did lead his team to the title game of the 2014 Women's Basketball Invitational, a tournament for schools that didn't earn invitations to the WNIT. The Ladyjacks went 23-8 overall this season. They went 16-2 in the Southland before losing in the semifinals of the conference tournament and then getting bounced by Big 12 school TCU in the opening round of the WNIT.
In order to stimulate a stagnant fan base, Schneider will need to post winning records in Big 12 play, promote the program via community outreach, maximizing media opportunities and somehow motivating a student body that largely has ignored the program to come to games.
On smaller stages, he won on a regular basis, going 306-72 at Emporia State and 95-66 at Stephen F. Austin, located in Nacogdoches, Texas.
Schneider tweeted for the first time as a Kansas coach (@CoachBrandonKU) Monday night: "So honored to be part of the Jayhawk Family! It'll be a tremendous challenge, but I'm excited for the opportunity!!!"
The son of former Div. II women's basketball coach Bob Schneider, Brandon Schneider is from Canyon, Texas. He and wife, Ali, have two young sons, Cash and Cole.
He replaces Bonnie Henrickson, who sold her Lawrence home within days after putting it on the market and has expressed interest in coaching vacancies at Utah and UC Santa Barbara. Kansas paid Henrickson a $395,000 buyout after firing her March 9. In her 11 seasons at Kansas, Henrickson coached the Jayhawks to two NCAA tournaments and reached the Sweet 16 both times. She did not post a winning record in any Big 12 regular season.
Breaking even, or even coming close in many cases, in the competitive Big 12 generally means a ticket to the NCAA Tournament. KU athletic director Sheahon Zenger banked on several members of the department during the search, but the choice was his.
"Brandon is an excellent fit for the University of Kansas," Zenger said in a statement. "He is an exceptional teacher, and someone who has spent his entire career in Kansas and Texas. He is known as a terrific recruiter and a firm, knowledgeable coach. And we know he has coaching in his blood, having watched his dad have so much success for so many years. We are confident that Brandon's teams at KU will display the same tenacity and competitiveness that his teams have shown at Emporia State and Stephen F. Austin."
This past season, the Ladyjacks ranked 59th in the nation in scoring (70.1), 28th in field-goal percentage (44), 149th in scoring defense (63.1) and 222nd in field-goal-percentage defense (40.5), numbers that indicate a preference for up-tempo basketball.