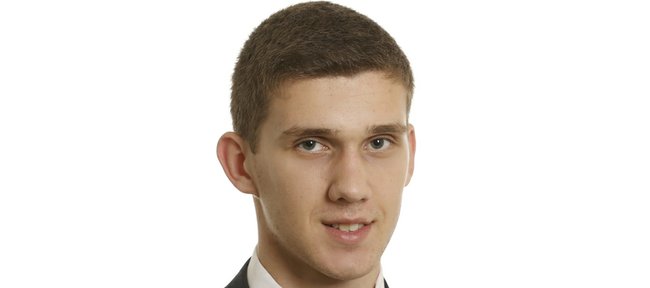 Kansas University coach Bill Self likes to address freshman guard Sviatoslav Mykhailiuk by the nickname of "Svi" — which rhymes with ski.
It seems there's another acceptable way to refer to the 6-foot-8 Ukrainian guard, Self told ESPN's Andy Katz and Seth Greenberg on an ESPNU college basketball podcast Thursday.
"Call him 'Svi' or call him 'Mick,'" Self said, the pronunciation the same as the Rolling Stones' Mick Jagger.
"I talked to Mike Fratello yesterday. He called him 'Mick.' I call him 'Svi.' I guarantee you nobody will call him Sviatoslav. That is a little too difficult," Self added.
Fratello coached the Ukrainian National team, of which Mykhailiuk was a member, at the recent FIBA World Cup.
Self said the 17-year-old Mykhailiuk has looked great in individual workouts since arriving on campus on Sept. 8.
"He is young, but he is a really nice player," Self said. "He can do a lot of everything. I think he'll have a chance to be one of the better players we've had in our program as he gets a little stronger and spends a little time here."
Cliff's looking good: Self on 6-8, 240-pound freshman power forward Cliff Alexander, who was out more than a month this summer with a severe ankle sprain:
"What has impressed me is his conditioning. I thought he'd be way behind. He's not only caught up, but kind of surpassed where we thought he'd be this early," Self said of the Chicago native. "His body looks good, everything looks good. His foot feels good. He missed out on most of the summer of individual skill instruction. So naturally he's a little behind in that area. He's competitive. He's trying hard. There's nothing we've seen that would temper our enthusiasm on what a good player we think he can become."
Tatum to attend Late Night: Jayson Tatum, a 6-foot-7 junior shooting guard from Chaminade High in St. Louis who is ranked No. 4 in the recruiting Class of 2016 by Rivals.com, will attend the Oct. 10 Late Night in the Phog with his dad, Justin, Jayhawkslant.com reported Thursday.
Tatum has received scholarship offers from KU, Duke, Arizona, Kentucky, North Carolina, Wake Forest, St. Louis and many others.
Self made a trip to St. Louis to see Tatum on Wednesday.
Ballock ranked 24th: Eudora High sophomore Mitchell Ballock has been ranked No. 24 in the Class of 2017 by Rivals.com, the website reported Thursday. Ballock, a 6-4 combo guard, was offered a scholarship by KU this summer.
Tourney on TV: For the first time in league history, the entire Phillips 66 Big 12 Men's Basketball Championship will be televised nationally on ESPN networks, the league office has announced. The final is set for 5 p.m., Saturday, March 14, in Sprint Center on ESPN.