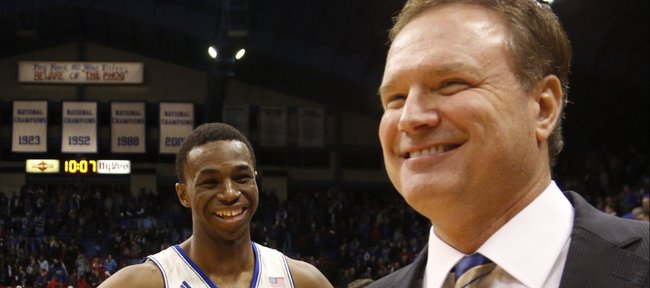 Eleventh-year Kansas University coach Bill Self, who emphatically denied interest in filling any of the NBA's coaching openings at Friday's DeBruce Center dedication outside Allen Fieldhouse, did acknowledge being a follower of the pro game Friday on 610 radio.
"I am an NBA fan, no question. Of course, the playoffs take a whole different turn," said Self, who enjoyed watching bits and pieces of five first-round series that went seven games — Oklahoma City over Memphis; Los Angeles Clippers over Golden State; Brooklyn over Toronto; Indiana over Atlanta; and San Antonio over Dallas.
"If you study it, there are no easy baskets in the fourth quarter," Self added. "Guys may score and get rhythm in the first three (quarters). In the fourth quarter, it's ridiculous how tough it is to score.
"It's been fun for me," Self added. "It's unbelievable the best teams in the NBA are separated by such a razor-thin line from the teams that are not supposed to necessarily be the best teams."
Of playoff strategy, Self noted: "I think it's a lot about matchups. Everybody has a pro who can be the best player in the world that night. A best-of-seven usually eliminates that (upsets), and the best team usually wins. It's the team that gets hot over a week-and-a-half."
The OKC Thunder rallied to win the final two games of their series, coincidentally after the headline "Mr. Unreliable" appeared in the Daily Oklahoman. The tag was for superstar Kevin Durant, who was sensational in Games Six and Seven. The paper apologized for the headline being "overstated and unduly harsh."
"I know Kevin a little bit. I would say it was very, very dumb," Self told 610 radio. "Whoever wrote that, that was not bright from a perspective on the Oklahoman and the respect it will gather nationally. If I was the Grizzly brass, I would say, 'Oh, gosh,' as soon as that came out. That dude (Durant) is motivated already. I think he had a little more motivation after that. The team may have rallied around it. I don't think it was a negative thing for the Thunder."
As far as fans worrying about him taking an NBA job this offseason, Self said Friday: "There's nothing about me and the NBA. Zero."
Asked about leaving anytime soon, he told 610 radio: "No, I don't think so. We've got so many good things going on right here. You add the DeBruce Center (for Naismith rules and training table) and add the living quarters (new apartment complex to be built) to go along with the way we'll be fed, from a recruiting standpoint we've done pretty well. I think we can even take a step up."
Jacque to stay: The Orlando Magic recently exercised a team option for coach Jacque Vaughn, meaning he's under contract through the 2015-16 season. The former KU point guard is 43-121 in his first two years in Orlando while coaching a rebuilding team. Orlando went 23-59 this past season. The squad has two lottery picks in the June draft.
"Jacque has been unfailingly polite and outlandishly upbeat through all this misery," writes the Orlando Sentinel's Brian Schmitz. "I hope he has a clause in his contract that states that the Magic can't start keeping track of his wins and losses until his fourth season."
Vaughn recently told the Sentinel: "We do know this team is better than it was two years ago. The goal that we'll establish is this time next year we'll be better than the year before."
Brown on radar: KU is recruiting Jaylen Brown, a 6-foot-7 junior small forward from Wheeler High in Marietta, Georgia, Rivals.com reports.
Brown, who is ranked No. 11 in the recruiting Class of 2015, recently had in-home visits with KU, Florida, Oklahoma State, Georgia Tech, UCLA, Kentucky and Georgia.
"A big-time athlete who plays above the rim and with power, Brown is a beast on the glass and in transition," writes Rivals.com's Eric Bossi.
Zimmerman list: Stephen Zimmerman, a 7-foot, 215-pound junior center from Bishop Gorman High in Las Vegas who is ranked No. 4 in the Class of 2015, recently narrowed his list to eight: KU, UNLV, North Carolina, Indiana, Louisville, Kentucky, UCLA and Arizona.
Dad can dunk: Clifton Terry, the 40-year-old dad of KU signee Cliff Alexander was taped dunking the basketball at last weekend's Ball Is Life all-star game in Long Beach, California. For a video of the dunks, go to http://ljw.bz/1hqFNcU
More like this story on KUsports.com