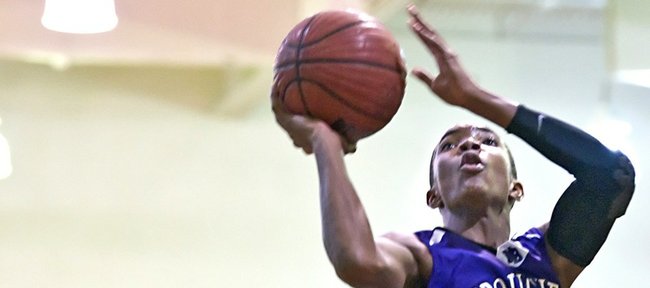 Devonte' Graham can't wait to lob the basketball to, say, Cliff Alexander for a resounding dunk off the fast break next season at Kansas University.
"I've seen him play. It's going to be great. I'm going to feel like Chris Paul throwing the ball to him," said Graham, a 6-foot-2 point guard from Brewster Academy in New Hampshire, who on Friday signed a letter of intent to play for Bill Self's Jayhawks.
Graham, who is originally from Raleigh, North Carolina, chose KU over runner-up N.C. State. A true playmaker who averaged 17.2 points and 5.0 assists last year for national prep champion Brewster, Graham describes his game as, "being a leader, being able to control the team, being able to control the tempo of the game, being able to facilitate and get players shots that they need, also being able to score."
He was his team's top three-point shooter at 40 percent beyond the arc.
"We got good today," KU coach Self said after receiving Graham's letter of intent. "He's a late bloomer that will continue to get better. I think we have a true point guard back there (Graham) with two other guys that can play point or off the ball. It gives us more an opportunity to play small because Devonte' is a big strong kid.
"At the position we have Conner (Frankamp), we have Frank (Mason). Wayne (Selden, off guard) will develop into a guy who can do that from time to time. That may be as deep a position we have on our team if guys continue to get better and improve," Self added.
Graham just might start from Day One.
"If I'm not mistaken, Tyshawn Taylor started (as a freshman). If I'm not mistaken, Aaron Miles started at point guard as a freshman. We've had some inexperienced point guards on some really good teams. I'm not saying who will start. Of course, you'd rather play with juniors and seniors at certain positions. These guys will play beyond their years," Self said.
Graham would love to be opening-day starter.
"Of course," he said. "I'm not going to come in and say, 'Ooh, I'm the starter.' I'm going to go in and compete for a starting spot. I think we have a chance to do something very special next year with the players coming in (Graham, power forward Alexander, wing Kelly Oubre) and the players already there. I'm looking forward to having a great season," Graham added.
He joined KU's program about 23 hours after fellow Brewster grad Naadir Tharpe left, which opens up a lot of playing time for Graham.
"Yes, it was," he said of playing time being a pivotal factor in his choosing KU over the Wolfpack. He also had Providence, Virginia and Virginia Tech on his list since being released from his letter of intent to Appalachian State on April 10. "With Naadir leaving and that whole situation, it played a part in my decision."
Graham said he reached his decision a couple days ago, but wanted to wait to sign to "make sure the feeling was right."
"The deciding factor was talking to my family and my mom and figuring out which school was the best for me. (The main factors were) winning, the opportunity to play right away, the school I felt would develop me as a person and player," Graham said.
As a then-unranked player, Graham originally signed with Appalachian State in the fall of 2012, his senior year at Broughton High in Raleigh. Eventually he asked out of his letter of intent, but was not granted a release by coach Jason Capel. So he enrolled at Brewster Academy and finally received a release after Capel was fired and Jim Fox hired.
He just recently vaulted to No. 36 in Rivals.com's final rankings.
"He wasn't ranked coming out of high school, signed with Appalachian State and blew up. He went from not being ranked to 35. He's better than 35 in our opinion," Self said. "We felt good about him ever since he visited. He wanted to take his time and make a very good decision based on the first time when he kind of rushed into it."
Of the rankings, Graham said: "I didn't really pay attention. I've always been kind of an underrated guy. It didn't really bother me, but being able to be ranked 36 is a great feeling."
Like pretty much all top players, Graham is hoping for a career in the NBA.
"If something happens and I'm blessed enough to be able to leave early, then that would happen," Graham said of leaving college for the pros. "If not, I'll be there four years and get my degree."
The Jayhawks have one scholarship remaining in recruiting after losing out on Texas big man Myles Turner earlier this week. Dozens of transfers remain on the market if Self decides to award the final scholarship.
NBA talk: With many NBA jobs open, Self was asked about fans' concerns he might be headed to the pros after 11 years at KU.
"There's nothing about me and the NBA. Zero," Self said. "Anybody that would waste any time on talk radio talking about that ... surely there are some Royals games or something like that going on that people can talk about. The Chiefs are getting ready to start football here pretty soon. (They) can talk about that, maybe how certain golf courses are in great shape. Certainly there's nothing with me (and NBA) to talk about."
More on Tharpe: Self was asked about Tharpe a day after the junior guard elected to transfer to be closer to his daughter, Amara Grace, who lives in Worcester, Massachusetts.
"Naadir gave us three good years. He's a great kid who I totally respect," Self said. "Hopefully this will be a better situation for him and his family. Stop to think about it, from a common sense standpoint, his chance to play professionally is overseas. If he plays overseas, he will not see his daughter for eight to 10 months at a time. If that's true, why not be close to her at a time that is so important to her? The (health) issues she's had ... though she's better now. I applaud that. I think it's a good decision on his part, one I think he'll be really glad he made as he gets older."
Tharpe could apply for a waiver to play immediately and not sit out a year if he indeed transfers to a school close to home. The NCAA decides on a case-to-case basis.
Correct spelling: Graham told the Journal-World he definitely prefers an accent over the E in Devonte'.
Self's official statement from KU regarding the signing of Graham: "We've had our fair share of guys from Brewster over the years, primarily Naadir and Thomas (Robinson). We're very familiar with that program. We certainly solidified our situation in the backcourt by bringing in a quality guy and I think Devonte' is one of the premier point guards in the country. (Brewster's) Jason Smith is not a good coach, he's a great coach. He's been at Brewster for a number of years and has coached many, many great ones. He definitely made me feel Devonte' is as good as any he has had in the backcourt."
Brewster coach Smith to Rivals.com: "He's as good as any point guard we've had during my tenure at Brewster. He's kind of a combination of a few different guys. He's explosive like Semaj Christon (Xavier). He runs the team and makes decisions well. He guards like Dogus Balbay, who played at Texas, so I knew once Devonte' received his release, he'd be recruited by the highest level programs. He's a little bit of both (point guard/shooting guard). Devonte' can score if you need him to score, but he really shoots the ball well and he can defend. He was our leading scorer this year, but he still shot over 50 percent from the floor, 40 percent from behind the arc and nearly 80 percent from the foul line."
Peters retires: Former KU forward Zach Peters, who played at Arizona this past season, has given up basketball. UA said Peters will remain on scholarship as a medical exemption. He's had a problem with concussions in the past. Peters said in a statement he will remain a student at Arizona.
More like this story on KUsports.com