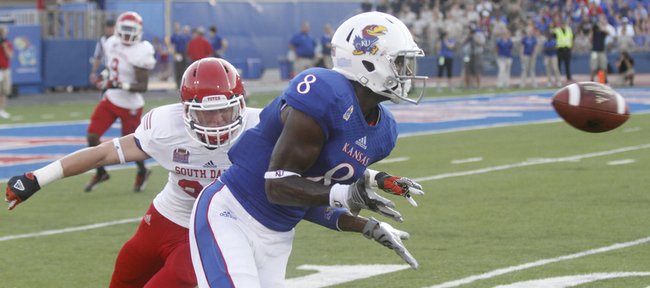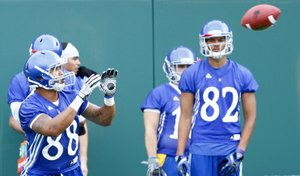 For the past two years, it seemed, Kansas University wide receivers mimicked the stock market of Sept. 29, 2008 — one drop after another.
Eric Kiesau, hired in February to coach the Jayhawks' pass-catchers, came into this job with eyes wide open.
"That was the whole thing I heard about from everybody before practice started," Kiesau said of the rash of drops.
Kiesau came to Kansas from Washington, where he was offensive coordinator and wide receivers coach the past two seasons. Before that, he was receivers coach in his second stint at Cal for a season, and offensive coordinator at Colorado the five seasons before that.
During his career he helped to turn a walk-on (Colorado's Scotty McKnight) into a school-record-breaking receiver and helped to develop a natural talent (Cal's DeSean Jackson) into an NFL All-Pro receiver.
Based on the statistics of KU's receivers the past two seasons, Kiesau could be in the early stages of the toughest challenge of his career. His history suggests he is not one to shy away from tough tasks. But this tough?
In 2012, not a single Kansas wide receiver caught a touchdown pass. In 2013, four players tied for the most wide-receiver TD catches with one apiece. Tight end Jimmay Mundine had the team's other five TD receptions, not that he was immune from drops.
"The two biggest problems these guys had — and they all do it, so I don't know if they were taught this in the past or what — it's their hand placement and their eye placement," Kiesau said.
He wasted no time in demonstrating the importance of eye placement. At the end of the first spring practice, he pulled junior-to-be Rodriguez Coleman out of line.
"I said, 'Rod, close your eyes.' I was about 5 yards away," Kiesau said. "I said, 'Catch this ball with your eyes closed.' I threw it at him, it bounced off of him, and obviously he couldn't catch it. Then I go, 'Now open your eyes.' I threw it at him and he caught it. I said, 'That's my point.' You've got to look that ball into your hands. I think it's 85 percent of balls are dropped because they take their eyes off it. They want to dart away. They're starting to look up field."
Mundine, the best playmaker in the passing game a year ago, appeared guilty of that often. Perhaps because of the lack of playmakers, he put too much pressure on himself to make plays and got ahead of himself.
"Your hands are the instruments you use to catch the ball, but you catch the balls with your eyes," Kiesau reiterated.
Or, if your hands are in the wrong place, you catch the football with your eyes and then drop it with your hands.
"No. 2, is hand placement, how you place your hands," Kiesau said. "A lot of these guys, they have their hands back here by their bodies (palms up, just in front of chest, like Josh Ford pictured here). There is no room for error. If that ball comes in and it goes through your hands, it's going to bounce off your chest. You need to extend your elbows off your body, (then) there is a little bit of room where you can correct yourself and then use your body (extends hands well in front of body, fingers pointing up, almost forming a triangle, like the picture here of Nick Harwell) to secure the ball."
Such techniques are taught at levels well below college, which doesn't necessarily mean the instruction continues into a more advanced level.
"Pretty simple. But it's a lot of things receiver coaches take for granted," Kiesau said. "They just assume a guy can do it and do it correctly. If that's our job, to catch the ball, I would refine that skill, make sure they know it and they get better at it. I always tell guys, 'You can be the fastest guy in America. If you're not catching the ball, you're just a fast guy out there running around.'"
Football coaches love to use film with pupils to reinforce their words.
"Every one of these guys, when they caught the ball when I first got here, they were turning their hands over like this (palms up), literally two inches from their chests," Kiesau said. "I'd stop the film: 'Guys, tell me what's wrong with this picture.' They're seeing themselves on tape when they drop a ball, where their eyes and hands are."
It's not just the bad plays the coach shows the receivers.
"We had one (catch), I probably spent five minutes on it, way too much time," he said. "But it was a great picture of Rod Coleman, maybe in one-on-ones, great extension, and you see the whole room seeing the correction. When you can see the correction, it helps your learning curve go through the roof. They were like, 'Oh, I understand. It makes sense now.' But they'd never been taught this stuff. You can't expect people to do stuff if they've never been taught it. Now that I'm teaching them, I can expect it out of them."
In his first season as a wide receiver, former running back Tony Pierson led KU with 24 receptions and 333 yards. He missed five games to injury. Among wide receivers, Coleman was second with eight receptions and 208 yards. Kiesau praised the strides both fleet receivers have made, as well as the presence of Harwell.
"Will they be unbelievable?" Kiesau said of the all the players who make up the much-maligned unit he coaches. "I don't know, but they'll get better. It's not going to happen overnight. You're retraining a habit they've probably been doing forever. The first couple of days we had some drops. They're getting a little better, but we need to get a lot better. We have a long way to go."
Kiesau said he looks forward to the challenge and will try to create an environment that makes the receivers look forward to going to work.
"Playing receiver should be fun, catching balls and having a lot of fun doing it," he said. "It shouldn't be, 'Oh, here it comes.' You shouldn't be scared of it. Go get it. If not, go play DB and back-pedal."
More like this story on KUsports.com