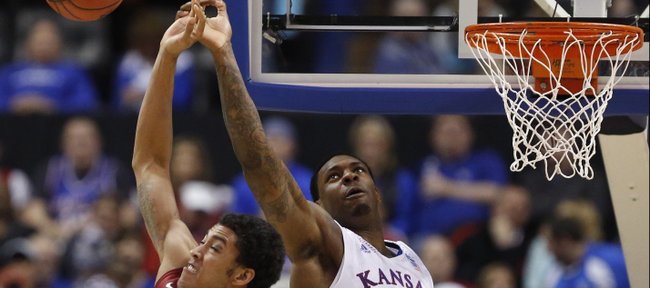 Photo Gallery
Kansas v. Stanford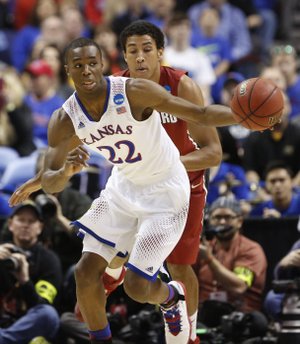 Images from Sunday's game between the Kansas Jayhawks and Stanford Cardinal.
Podcast episode
Kansas basketball coach Bill Self, freshman Conner Frankamp and sophomore Jamari Traylor discuss KU's season-ending loss to Stanford, in the round of 32, Sunday in St. Louis.
Podcast episode
Coach Johnny Dawkins and players Chasson Randle and Dwight Powell discuss Stanford's win over Kansas on Sunday in St. Louis.
KEEGAN RATINGS
STANFORD 60, KANSAS 57
St. Louis — With his team trailing by two points and his college basketball career in jeopardy, Kansas University senior Tarik Black made a pit stop on his way to the Kansas bench after picking up his fifth foul during the Jayhawks' 60-57 loss to Stanford Sunday at Scottrade Center.
The detour at the 5:26 mark was short and sweet, and it went right through Stanford big man Stefan Nastic, something the rest of the Jayhawks (25-10) were unable to do throughout the day.
Black, who finished with 18 points and six rebounds on 6-of-8 shooting from both the floor and the free-throw line, briefly stopped to have a couple of words with the 6-foot-11 Nastic on his way out of the game. After whispering something to the Stanford center, Black patted his counterpart on the butt before rushing to the KU bench for the final time in his college career.
Although neither player divulged exactly what was said during the exchange, the theme of the message was crystal clear.
"It's just a respect thing," Black said. "He's a good competitor and you have to respect that. Just like after the game he told me good job. We were going at each other tough, but neither one of us backed down from each other."
In the winning locker room, Nastic was nothing but gracious when talking about his mutual fondness of Black.
"He's a great player, man," said Nastic of the one-year Jayhawk. "He seems like a great teammate and he's a huge player for them. I have a great deal of respect for him and I wish him the best."
In comparison to Black, who did all he could to extend his career at least one more game, Nastic's final numbers were modest — 10 points, four rebounds, four fouls — but his presence was menacing. Along with teammates Dwight Powell and Josh Huestis, Stanford's front line kept the Kansas offense out of sync all afternoon.
"Defense is the biggest part of winning," Nastic said. "Offense can be here and there, but your effort defensively, to help each other out, that's always gonna be there."
While the mutual respect displayed by Black and Nastic on Sunday was the kind that college athletics has been known for, another type may have played a small role in KU's loss.
After the game, Stanford point guard Chasson Randle was asked if he had heard about the Saturday comments from a couple of KU players who admitted that they did not know much about the hard-nosed junior from Rock Island, Ill.
"We definitely saw that video," said Randle, who finished with 13 points and six steals while playing all 40 minutes. "(Stanford coach Johnny Dawkins) told me not to talk about it, but, you know, I definitely took it as a challenge. So did my teammates. It wasn't just a stab at me, it was a stab at our team. And we took it as a challenge. And it was a little bit extra motivation for today's game."