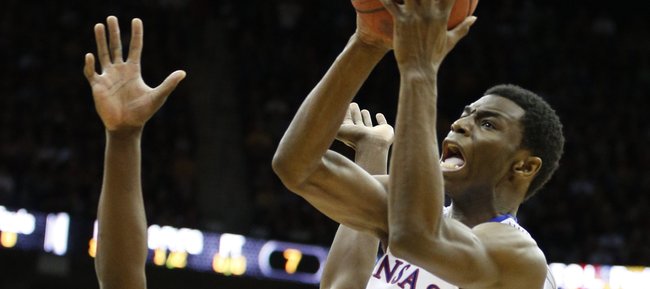 Photo Gallery
Kansas basketball v. Iowa State (Big 12 Tournament)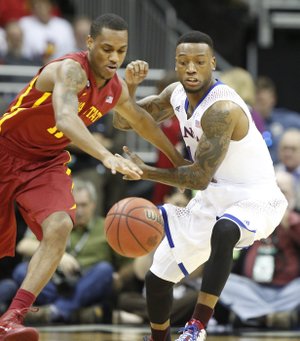 Images from the semifinal round of the Big 12 Tournament between the Jayhawks and Cyclones at Sprint Center in Kansas City, Mo.
Podcast episode
Kansas coach Bill Self, as well as post players Perry Ellis and Tarik Black, react to KU's BIg 12 semifinal loss to ISU, and discuss how the Cyclones broke down the Jayhawks' defense to reach the Big 12 championship game.
KEEGAN RATINGS
IOWA STATE 94, KANSAS 83
Kansas City Mo. — Kansas University freshman Andrew Wiggins, who has yet to play in the NCAA Tournament, has heard there's a significant difference in a team being a No. 1 or 2 seed.
"It's always a factor.  A one seed ... you are playing the easiest route," Wiggins said after the Jayhawks' 94-83 loss to Iowa State in a Big 12 tournament semifinal on Friday night in Sprint Center.
The (24-9) Jayhawks, in coach Bill Self's words, stand "no chance" of being granted a one-seed on Selection Sunday, more likely a 2 or 3.
Not that it matters.
"We don't fear anybody," Wiggins said after scoring 22 points off 7-of-21 shooting (7 of 10 from line). "We don't care who is in our path. We are in it to win, you know?"
He said he's confident his team can win six in a row and the NCAA title. Asked why he feels that way, Wiggins said: "My team, my coaches and the fans we've got. We are all competitors. Everybody on this team ... we know we are capable of beating any team on any given night."
Of Selection Sunday, Self said: "We're not going to be disappointed with whatever happens. But certainly I don't know if there's any magical thing right now that we'll definitely be in this region or anything like that. Right now I don't know. A lot depends on what happens in other league tournaments."
Backdrop talk: Self had a slight problem with the backdrop for his postgame news conference outside the Jayhawks' locker room in Sprint Center.
"Do I have to stand in front of that damn Iowa State deal?" he said with a smile, looking at the Cyclone logo directly behind him. "I've seen enough of them today." He scooted over to stand in front of a Jayhawk.
Fatigue: Self said the Jayhawks would forget about this game by Sunday.
"We played like a team — this isn't an excuse because they played yesterday, too — we played like a tired team defensively," Self said. "When you are not playing with unbelievable energy and fatigue has set in a little bit, it usually doesn't hurt your offense as much as your defense. That was the case tonight."
Different halves: Perry Ellis on scoring nine points the second half, after 21 in the first.
"I definitely could tell they clogged the lane a lot more off their shooters," Ellis said. "We definitely had to drive more. That was the key thing.
"I felt like we were on our heels defensively throughout the game. I felt in the first half we did a lot better than the second half. We left too many straight line drives to the basket in the second half."
No pressure: Senior forward Tarik Black on if he feels pressure on the defensive end with Joel Embiid out of action.
"He's a big piece of our team," Black said. "So everybody on the team has to make up for his absence. We have to rotate on defense as a team because we're missing our shot blockers on the floor. On the ground defense has to be better. On offense we have to play with one another and the offense has to move smoother without him on the floor. The whole team takes up their pressure."
This, that: Ellis' 21 first-half points tied his own mark for the third-most points scored by a Jayhawk in a single half (21, 2nd half vs. TCU, 2/15/14). Since records started being kept in the 1988-89 season, only two Jayhawks have scored more points in a half (22 by Sherron Collins at Oklahoma, 2/23/09; 24 by Andrew Wiggins at West Virginia, 3/8/14). ... Wiggins missed his first six shots. His first point came from the free throw line with 11:50 remaining in the first half. Eight minutes later (3:51), he connected on his first field goal. ... Wiggins now has 574 points. He now only trails Ben McLemore (589, 2013) as the all-time freshman scoring leader at Kansas. ... Wiggins passed Ben McLemore (400, 2013) for the top spot on the freshman field goal attempts chart with 403 after shooting a career-high 21 times on Friday. ... Naadir Tharpe dished seven assists and no turnovers in the first half and ended his night with nine assists and two turnovers.