Photo Gallery
Kansas basketball v. Oklahoma State (Big 12 Tournament)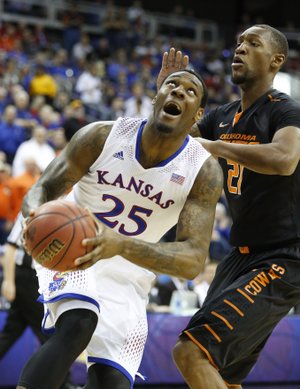 Images from the Jayhawks' second-round game of the Big 12 Tournament against Oklahoma State.
Podcast episode
Kansas basketball coach Bill Self, as well as freshmen Andrew Wiggins and Wayne Selden, discuss KU's OT win vs. Oklahoma State in the Big 12 Tournament quarterfinals.
KEEGAN RATINGS
KANSAS 77, OKLAHOMA STATE 70 (OT)
Joel Embiid's dad, Thomas, says he believes his injured son will play in the 2014 NCAA tournament.
"Yes he can play before the end of the NCAA. I don't know if it will take one or two weeks, but I know he will come back soon. He will be back soon. The only thing I can say is he will be back soon," said Thomas Embiid, in town for the Big 12 tournament with his wife, Christine.
"It will not take a long time. It is not serious," Thomas Embiid added of Joel's lower-back stress fracture.
Thomas Embiid, a colonel in the Cameroon military, basically repeated what coach Bill Self has said, that the 7-footer would definitely miss the Big 12 tournament, then be a longshot for the first weekend of the NCAAs, but likely be able to play at some point, if KU can keep winning.
"Yes he wants to play but he is injured and he cannot play," said Thomas before entering Sprint Center on Thursday, where he attended the KU-Oklahoma State game and sat a few rows behind KU's bench.
Thomas said he and KU's staff agreed a recent second opinion regarding the stress fracture was in order this past Monday in Los Angeles.
"Yes, because the staff and I were convinced we want to have a second opinion. The second opinion was like the first opinion (showing a stress fracture)," Thomas Embiid said.
As far as whether Embiid will return to KU for a second season or head to the NBA, Thomas Embiid said no decision had been reached.
Thomas said he would return to Cameroon next week, then come back to the U.S. at end of the NCAA Tournament.
"First we will let the NCAA Tournament finish then we will have a decision," Thomas Embiid said. "Very soon, after the NCAA Tournament," he added of the when the decision would be reached.
Asked if he was pleased with KU's handling of his son's injury, he said: "Yes. I am the fan No. 1 of KU."
Alley-oops dazzling: Andrew Wiggins on his flushing a pass from Wayne Selden, which followed an alley-oop from Naadir Tharpe to Tarik Black, and KU grabbing a 65-62 lead over OSU with 2:41 left.
"We were living for the moment. It was a great feeling, especially with alley-oop plays. It's what gets fans more into the game," said Wiggins.
Of the alley-oops, point guard Tharpe said: "Once they went into zone we had a chance to run our stuff. We executed like we're supposed to."
Revenge: KU point guard Tharpe said the Jayhawks were inspired to defeat OSU.
"We didn't forget that they rushed the court on us at their place. It was definitely a win we wanted," he said.
OSU fans stormed the court after the Cowboys' 72-65 win over KU on March 1 in Gallagher-Iba Arena. "We thought about that the whole game, before the game. Coming into it, that's what we were thinking," Tharpe said.
Tharpe on Wiggins, who has scored 71 points in the last two games. "He's shown he's the No. 1 player like he is, coming out of high school. He is getting better each and every game. It's what we need from him to continue."
KU is 2-0 against tonight's semifinal foe, Iowa State. KU won, 77-70, on Jan. 13 in Ames and 92-81 on Jan. 29 in Allen Fieldhouse.
"I think this could be one of those epic type matchups," KU coach Bill Self said. "They are terrific offensively. I thought all along Iowa State was the most talented team in our league that we played.
"One thing about (losing) Jo," he added of Joel Embiid, "it's great to have a rim protector in there like Jo (but) it also drags him away from the basket (in guarding ISU's tall bigs who can shoot threes). Maybe it won't affect us as negatively dragging other big guys from the basket. They are used to playing out there more."
Self on Iowa State's large contingent of fans: "Going back to Big Eight days, they travel here as well as anybody other than us and K-State," Self said. "Last year, our semifinal game (88-73 victory over ISU in Sprint Center) was the most talked about game of the conference season after the way we won the first two games (OT in Lawrence and 108-96 in Ames)."
Andrew Wiggins on Iowa State: "They have a lot of scorers, a lot of options. We have to bring it like we did today. They have a lot of weapons. We have to have a defensive mindset and try to lock in on defense."
Wayne Selden on how to stop the high-scoring Cyclone Melvin Ejim: "He's a great player. We just have to be able to guard him. They've got players who can score all over the floor."
Stats, facts: Wiggins' 30 points was one shy of the KU record for points in a Big 12 postseason game (31, Wayne Simien vs. Missouri, 3/12/04) and marked the most by a Jayhawk freshman in the event. ... Wiggins now has 552 points. He now only trails Ben McLemore (596, 2013) as the all-time freshmen scoring leader at Kansas. ... Tarik Black had 12 boards, his most as a Jayhawk. ... Jamari Traylor tied a career high with nine boards.