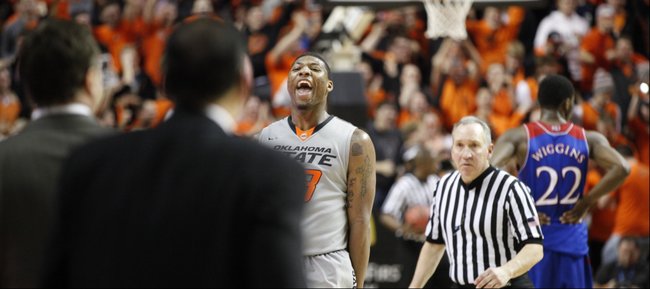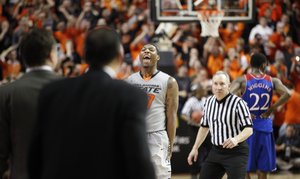 Oklahoma State sophomore guard Marcus Smart caused quite a stir on Saturday night by saying one of the reasons he played so well against Kansas the second half was his desire to keep the Jayhawks from cutting down the nets in Gallagher-Iba Arena.
"Before the game, the coaches showed us a quote of Bill Self saying he was coming here cutting down our nets, and he was gonna win it outright in Stillwater," Smart said of the Big 12 regular-season title.
"We couldn't let that happen in our house, so I just knew I had to keep pushing until the end," added Smart, who had 21 points (20 the second half) in OSU's 72-65 victory.
KU coach Self provided the Journal-World a rebuttal to Smart's accusation on Sunday night.
"I heard and saw the postgame interview (with ESPN's Shannon Spake) after the game," Self said. "I don't know where Marcus got his information, but it was totally inaccurate. I've never said anything about cutting down nets or anything like that. I never said anything about cutting down nets in their building.
"Strange ... we've won the league 10 years in a row. I don't know if we've even cut down nets at home. I'd never disrespect another program, especially my alma mater, by doing anything like that. It's disappointing that was said. Certainly he obviously had some bad information however he received it."
KU still clinched the undisputed league title courtesy of losses by Iowa State and Texas.
"Sure it would have been nice to have an 'in-locker room celebration' had we won the game. That's something hopefully we'll be able to do next time we play, hopefully, if we're successful."
Kansas will host Texas Tech at 7 p.m. Wednesday.
Embiid might sit a bit: KU freshman center Joel Embiid, who tweaked his aching back with five minutes left in Saturday's game, might miss some time. Previously, he was held out of the TCU game Feb. 15 because of the bad back and in the last four games has played 32, 21, 30 and 29 minutes.
"He was really sore today," Self said Sunday.
KU, which now is playing for NCAA Tournament seeding, has two regular-season games left: Wednesday vs. Tech and Saturday at West Virginia.
"We haven't made a decision (about sitting Embiid). We'll probably make a decision (today) after visiting with doctors," Self said.
Embiid was in obvious discomfort as he left Gallagher-Iba on Saturday night. He shed a few tears as he visited with a parent of a KU player before heading to the team bus.
Other bruises, illnesses: Junior guard Naadir Tharpe dislocated his left thumb in the loss.
"I know Naadir's thumb was sore (Sunday)," Self said. "It shouldn't be anything to keep him out of play, though."
Senior Justin Wesley didn't make the trip to OSU because of a stomach virus. His Senior Night game is Wednesday.
More like this story on KUsports.com