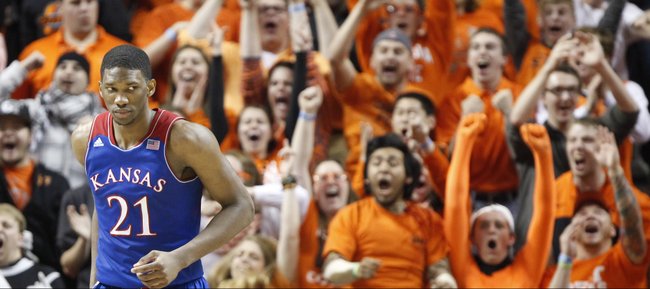 Basketball notebook. ...
Former Kansas University center Joel Embiid stirred up United States soccer fans Sunday by tweeting congratulations to Portugal soccer star Cristiano Ronaldo for setting up the tying goal in Portugal's draw with the United States on Sunday.
The draw prevented the U.S., for now at least, from advancing into the World Cup's Round of 16.
"Ronaldo my boy #halamadrid," was the Embiid tweet to cause the commotion.
Deadspin printed some of the tweets attacking Embiid.
One read: "Joel Embiid...if it wasn't for the USA you'd still be living in a third world country, show some respect."
Other tweets included ...
"Shut up."
"Really?"
"Cameroon is the worst team in the World Cup."
"Your country embarrassed itself bro."
"Unfollowed, go heal your foot."
"That's some Donald Sterling (bleep) you just pulled."
Much of the reaction, however, was in support of Embiid in the comments section of the Deadspin story, including, "There's a line between trash talking and being really hateful. It just makes Americans look classless when they gang up to trash a kid cheering on his favorite player."
Bucks to pass on Joel: Milwaukee Bucks co-owner Marc Lasry said Monday the Bucks will likely take either Jabari Parker or Andrew Wiggins in Thursday's NBA draft, passing on the injured Embiid if he is available. Cleveland picks first, followed by Milwaukee and Philadelphia.
"I think it's hard to take Embiid," Lasry said Monday at a breakfast. His quotes were reported by ESPN and the Associated Press. "I think he's a phenomenal individual, but with the injury and not knowing how severe or long it will take to recover, I think for us today we're going to want somebody who's going to help us on day one. A lot is going to be dependent on what Cleveland does. But I would tell you right now it's probably either going to be ... one or the other," he added.
ESPN sources say Embiid is still under consideration at No. 3, No. 4 (Orlando) and No. 5 (Utah). It is believed Boston will not pass up Embiid at 6 if he is available.
Ellis, Alexander at camp: KU junior Perry Ellis and freshman Cliff Alexander are attending the Nike Elite Youth Basketball (EYBL) Big Man Skills Academy this week in Union, N.J. It used to be referred to as the Amar'e Stoudemire camp. NBA players Anthony Davis and DeMarcus Cousins as well as NBA coaches are on hand instructing 10 college and 20 high school big men.
Makers slated to visit: Thon Maker, a 7-foot, 200-pound junior center from Carlisle School in Martinsville, Virginia, who is ranked No. 3 in the Class of 2016 by Rivals.com, is scheduled to visit KU this week with his brother Matur, a 6-10 sophomore from Carlisle School, Zagsblog.net reports. They also reportedly will make upcoming trips to Missouri and Duke.
According to Zagsblog.com, Thon Maker has received offers from KU, MU, Kentucky, Louisville Memphis, Arizona, Georgetown, LSU, Ohio State and others.
He will decide in January whether to reclassify to the recruiting Class of 2015.
"There's a lot that goes into that. You have to see what you have to go up against and you have less time for academics and getting your game ready," Maker told Rivals.com.
He switched from youth soccer to basketball in 2010 and enrolled in middle school in Louisiana in 2011. He's played two years of high school ball at Carlisle School.
"I've gotten a lot stronger and I've narrowed down a few moves even if I don't get to show them every game," Maker told Rivals.com. "I'm learning to control myself and pace myself and I'm getting to my spots on the floor and getting in position."
Analyst Eric Bossi writes: "Because of his size, athleticism and ability to maneuver up and down the floor, Maker has long been one of the most intriguing and fan friendly players to watch. At times, he's settled too easily for deep jumpers or tried to dribble too much, but now he is more about getting where he needs to be and making the game simpler rather than more difficult."
Maker recently played at the Adidas Eurocamp in Italy and the NBA Top 100 camp in Virginia.
"Defensively, he was very good on the ball and exhibited great lateral speed for a player at 7 feet," Maker's mentor, Ed Smith, said of the Italy trip in an interview with Zagsblog.com. "His areas of improvement are functional and core strength related and team defensive concepts related. Both of these areas we will address in the upcoming high school season as I seek to improve his high school coaching experience."
Gordon lists KU: Eron Gordon, a 6-2 junior guard from Indianapolis Cathedral High, visited Duke on Monday and will visit Michigan on Friday, Zagsblog.com reports. Gordon, who is ranked No. 35 in the Class of 2016 by Rivals.com, also will visit KU, Kentucky, Indiana and Butler, his dad told Zagsblog.com. He has already visited Purdue and Louisville.
Black update: Former KU center Tarik Black is expected to work out for the Indiana Pacers today. Reportedly at least 15 NBA teams are serious about Black and at least 10 NFL teams. It's believed Black has a shot at being a late second round pick. At the worst, he'll be joining an NBA summer league team as a free agent.
Fulford hired: Missouri coach Kim Anderson has announced the hiring of Huntington (Virginia) Prep coach Rob Fulford as an assistant on the Tigers' staff. Fulford coached KU's Andrew Wiggins at the prep school.
More like this story on KUsports.com