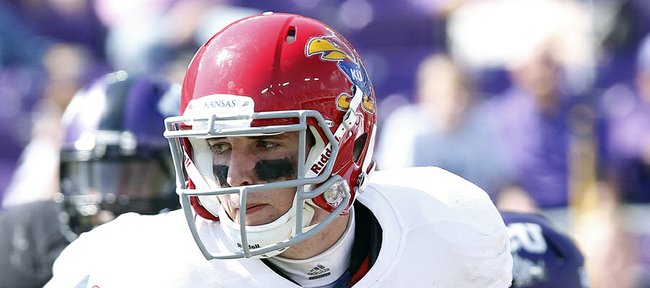 Two days after the Kansas University football program announced that Jake Heaps was graduating and transferring, the Jayhawks' 2013 starting quarterback confirmed to the Journal-World that he was headed to play for the Miami Hurricanes.
"I feel really good about heading into this next step in my career," Heaps told the Journal-World on Sunday. "I wanted to have a chance to play and I'm excited about having the opportunity to compete for the starting job at Miami."
Heaps, who came to KU as a transfer from BYU in early 2012, sat out the 2012 season and started nine games a season ago before being replaced by freshman Montell Cozart for the final three games.
The former No. 1 ranked pro style passer in his high school class is on track to graduate from KU later this month. Doing so will make him eligible to play at Miami immediately via the same senior transfer rule that brought Dayne Crist from Notre Dame to KU in 2012.
Heaps' opportunity to lead the Jayhawks as a senior disappeared when KU coach Charlie Weis and new offensive coordinator John Reagan named Cozart the starter for 2014 following spring practices in April.
It was around that time that Heaps first entertained the idea of leaving KU and he said he got in touch with the coaching staff at Miami early in the process.
"I was just trying to be meticulous with the process and trying to make sure I was making the right decision," he said.
Heaps made an official visit to Miami about a month ago and decided this weekend to officially pursue the opportunity. He'll compete for the starting job with a pair of true freshmen and a red-shirt freshman.
Despite being benched at the end of last year and losing the QB battle in the offseason, Heaps and his wife Brooke leave Lawrence with a good feeling about his two years at KU.
"We had to make the decision that was best for us and our future," Heaps said. "Kansas fans have been so classy during this whole process and it's been a tremendous experience being here. I'll be pulling for these guys and I'll be watching them closely. I really loved my time at KU and really had a good experience in Kansas."