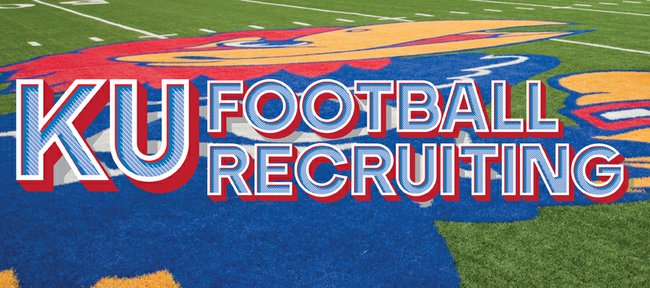 Always in search of upgrading the talent at his team's positions of greatest need, Kansas University football coach Charlie Weis enjoyed a productive weekend on the recruiting trail.
Five junior college prospects who made official visits to campus over the weekend orally committed to KU before leaving town.
The first two — defensive tackle Jacky Dezir (6-3, 305, College of DuPage) and offensive tackle Jarek Smalley (6-6, 315, Garden City C.C.) — made their intentions known on Friday and the next wave came Saturday evening, when offensive linemen DeLonte' Murray and Will Smith joined wide receiver Raeshawn Lee in telling Weis they planned to join the Jayhawks.
In Murray, Smalley and Smith, the Jayhawks added three offensive linemen already over 300 pounds who not only have good size but also good versatility.
Murray, a 6-foot-5, 315-pound tackle from Lackawanna Community College in Scranton, Pa., chose KU over interest from Oklahoma, South Florida, Eastern Michigan, Utah State and Temple. Offensive line coach and offensive coordinator John Reagan did the heavy lifting for Murray and seemed to make a big-time impact.
"He (Reagan) came out to my school in the spring and then they started staying in touch with me," Murray told Jon Kirby of JayhawkSlant.com. "Coach Reagan said he liked my physicality and how I can play tackle and guard. He really liked that. Right now they have talked to me more about guard."
Smith is the latest in-state juco prospect to pick Kansas. He's one of a trio of Butler County C.C. offensive linemen getting looks from big-time college programs across the country and he chose KU over Iowa and North Texas.
Defensive coordinator and former Kansas juco standout Clint Bowen was the lead recruiter for the 6-4, 315-pound offensive guard.
New wide receivers coach Eric Kiesau played a big role in landing Lee, a 6-1, 185-pound receiver from College of San Mateo, who has shown an ability to line up all over the field. In addition to the personal relationship the two built, Kiesau's reputation, along with that of Weis, enticed Lee to pick Kansas.
"Coach Kiesau has been recruiting me pretty hard for the last month," Lee told Kirby. "I know he was the offensive coordinator at Washington when they had a good offense. I know their head coach Charlie Weis is familiar with the NFL and coached Tom Brady. Coach Kiesau told me he thinks I can be a big-time player for them. He said I can be a deep threat and can make plays. I hope to be one of those type players if I choose Kansas."
All three players Weis picked up on Saturday are expected to be December graduates, which would put them on campus in time for spring ball next season.
The Jayhawks are now up to six commitments in the Class of 2015.