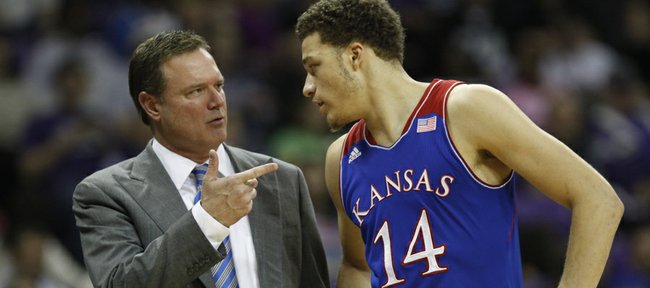 Overland Park — Brannen Greene didn't play a lot, in fact, he didn't crack the regular rotation, during his freshman season at Kansas University.
Though that came as somewhat of a surprise to the confident 6-foot-7 wing, he says he never, ever considered fleeing to another school via transfer.
"No. No chance. I'm here right now, aren't I?" said a smiling Greene, Rivals.com's No. 29-rated player in the recruiting Class of 2013, on Monday after working as camp counselor with KU teammate Evan Manning at Blue Valley Northwest coach Ed Fritz's College Stars Camp at the Fieldhouse of Kansas City.
"I love it here. I love it at KU. I love coach (Bill Self). I trust in coach. I trust in the program. I never even thought about leaving at any point in the season," Greene added.
Greene — he scored 66 points total (10 of 30 from three) while averaging 6.6 minutes a game in 28 games, faced some rugged competition at his position from teammates Andrew Wiggins and Wayne Selden, with Conner Frankamp and Andrew White III also fighting for time at the shooting guard/small forward slot.
For his soph season, KU has wing players on the roster in Greene, Selden, Frankamp, Kelly Oubre and Sviatoslav Mykhailiuk with Frank Mason and Devonté Graham at point guard, along with Frankamp.
"I wouldn't necessarily say it's a crowded perimeter," Greene said. "I mean it's going to be great competition at practice. I know at the end of the day we're going to have a nine-, 10-man rotation, so somebody's going to have to be left out.
"Obviously that it'll be great competition," Greene added, when asked what Self has told him about the 2014-15 season. "It will be good to go against a bunch of good players. I'm happy, honestly, with the players we get. That's good players for me to go against in practice, to work on my game."
Self let the public know what he thinks of Greene's vast potential at the season-ending KU basketball banquet when he said Greene "can be a pro, can be an NBA player in time."
Greene didn't drop his knife and fork in shock upon hearing those words.
"Honestly I think I'm an NBA player, so ..." Greene said, confident enough to agree with KU's veteran coach.
"Of course I'm always confident," Greene said. "I know what I'm capable of. I know what the team is capable of and I'm ready to help the team out in any way possible."
He plans on working on his game this summer.
"I'm going to work out, take summer classes. (His goal is) just to get better, also to get better as a team," said Greene, who also has tentative plans to attend the adidas Nations camp that includes various college players as counselors. "We fell short last year where we shouldn't have. My goal is to focus in and get everybody else to focus in too."
Greene should have some additional support this upcoming school year. His parents are moving from Juliette, Georgia, to Overland Park. Juliette is where Brannen was born and raised, however, Greene's mom, Lori, was born in Kansas City and raised in the area. Her mom, dad and other family members live in Kansas, Missouri, Arkansas and Oklahoma. Brannen's dad, Jeffrey, was a standout basketball player at Pittsburg State.
"They want to be closer to me, to be able to watch games. There's not much point in staying back where they are from originally," Greene said, noting his mother will be the volleyball coach at Kansas City (Kansas) Wyandotte High.
Manning on Mykhailiuk: KU walk-on Evan Manning was in Lawrence during the recruiting visit of Ukrainian standout Mykhailiuk.
"He's a really good kid. He speaks English pretty well. I was really surprised by that. He's a nice guy. We're excited to have him here," Manning said.
Everybody but Mykhailiuk is expected to be in town for summer school this week. Players will go to school, work some camps, lift weights and play in pick-up games.
"We play basketball for KU. We love what we are doing. We are always out there working," Manning said of the Jayhawk players. "It's always fun to have good competition, but during the summer we always wish the season was here because we get tired of beating up on each other. We want to go play some other teams."
Nothing going on with NBA: KU coach Self on Monday said he hadn't talked with any NBA teams this offseason about their job openings.
"I've talked to guys (about various matters including his draftable players). They haven't talked to me about a coaching position. There's nothing going on and that doesn't bother me one bit," Self said, speaking on the podcast of ESPN's Andy Katz and Seth Greenberg. "I think I've got a better situation than a lot of the franchises in the league. People may think that's hard to believe, but they haven't been here or know what's gone on here. Very content where I am."
Self added: "It would be hard (to coach in pros). From an ego standpoint, we all are used to winning and we like to win. We went 25-10 this year and it sucked. I say that jokingly. We haven't lost 10 games in one season in 14 or 15 years (Tulsa in 1999) something like that, since my second year at Tulsa or maybe longer than that. Can you imagine losing 50 or 60 games in a year?" he added, noting that the NBA "pays you to be patient."
"I'm not saying never, but certainly this is a pretty good situation."