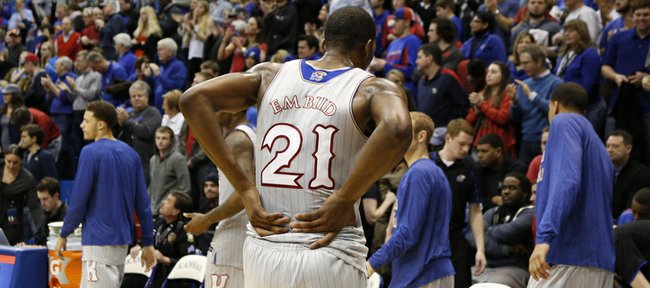 Kansas University basketball coach Bill Self assured a pair of Philadelphia radio talk show audiences last week that Joel Embiid's once-injured back is healed.
"I would have worries if the doctors and experts said there should be worries," Self said on the Jon and Sean Show on 97.5 The Fanatic. "He's got a stress fracture in an area I guess 25 percent of all (football) linemen have and play with. Twelve percent of every gymnast has it. They said every student-athlete coming on campus has potential to have this injury. It happens (and) you don't do anything for it except rest it and rehab it and you are back to being yourself.
"This is one area in his back that will create zero problems for him moving forward. All it did was create symptoms and pain initially but those things are all gone from what I've seen," Self added.
Seven-footer Embiid missed the 2014 Big 12 and NCAA tournaments because of a stress fracture.
"I've talked to him and watched his workouts on YouTube. He looks 100 percent to me," added Self, who also appeared on Philly's Mike and Ike show last week talking about Embiid and Andrew Wiggins, expected to be taken in the top three of the June 26 draft. Philly picks third in the draft. Cleveland is No. 1 and Milwaukee 2.
"These guys can provide immediate help," Self said. "Will they be All-Star type material as a rookie? I would think not. I do think in three, four or five years they will be all stars. They will be multiple-time All-Stars.
"I've had a chance to coach some good guys. I haven't had a lot of guys that have translated to (being) great pros," Self added. "When I talk about 'great pros' I mean All-Star type pros. We have 14 in the league right now. These two are by far the best prospects that I've been around."
Hosts Jon and Sean remarked that it sounded as if Self was leaning toward Embiid being taken ahead of Wiggins (and Duke's Jabari Parker).
"I can't say that. You ask more questions about Embiid," Self said, drawing laughs from the hosts, who admitted they did pepper the coach with more Embiid questions than ones about shooting guard Wiggins.
"He is intriguing in large part because of how long he's been playing (just three years). When you think of Andrew and think of a 44-inch vertical and the best first, second (step) and quickest second jump. When his skill set catches up ... he did shoot 33 percent (from three) as a freshman and did average 17 and a half (points). He leaves you sometimes wanting more in the college game, but the NBA game translates very well to him. He comes from a great family. Both parents were world-class athletes."
In other words ... Self won't be favoring one of his pupils over another publicly heading to the draft.
Svee talk: Self on Ukrainian sensation Sviatoslav Mykhailiuk, who recently signed with KU over Virginia and others.
"I'm going with 'Svee,'" Self said, asked how to pronounce the 6-foot-6 standout's name. "How 'bout this?" Self added. "This kid is 16-years-old. You've got all these NBA people and everybody just raving about him. You are not eligible, I guess, for a European contract until you turn 18, which is a blessing for us. Most kids from Europe, international players, come to the States, play a year (at prep school) then begin their college play. There's still some that come straight from overseas (and enroll in college). Certainly we got lucky here. We found out about him late. Then we kind of got involved.
"One thing I did do on this one ... my rhetoric gets very stale and very old, but they (Mykhailiuk and his coaches) didn't understand anything I was saying, so it worked out well for us," he added jokingly.
Mykhailiuk, by the way, will wear jersey No. 10 this season. Newcomers Cliff Alexander and Kelly Oubre will wear Nos. 2 and 12 respectively. Devonté Graham hasn't settled on a number yet.
More like this story on KUsports.com