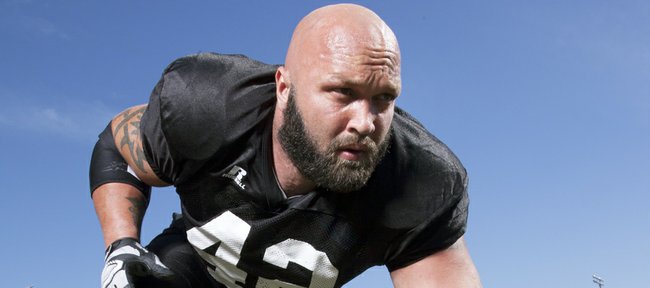 He owes his very existence to KISS, so it's no surprise that Joe Mortensen withstood punishing hits on behalf of the quirky rock band.
Mortensen played football for the LA KISS of the Arena Football League in the spring and appears on TV on Tuesdays in a worth-watching reality show. The third episode of "4th and Loud" airs today at 8 p.m. on AMC (50, 250 on WOW!).
Mortensen, former Kansas University linebacker, played a big role in the first two episodes. Bearded and bald, Mortensen landed on the right side of the bubble and opposite side of the field from that he had played since graduating from high school. He was the team's starting fullback until fracturing his ankle midway through the season.
Gene Simmons and Paul Stanley of KISS are among the owners of the franchise that tries to fuse football and entertainment. The docu-series tracks the inevitable behind-the-scenes conflicts between the raw nature of football and the glitzy nature of show biz. The show opens a window to football players at once not quite prime time and not ready to say goodbye to the sport. So far, Mortensen has been the most interesting character.
He was destined to meet the KISS members. For Joe, life started with a post-KISS kiss. Never one to fear speaking the truth, Mortensen shared with the TV audience how he came into the world.
"My mom was a huge KISS fan, in 1986 went to a concert, met a guy, uh, later on that night, I was conceived," Mortensen said, 20 minutes into the first episode. "So you can say that, Gene and Paul, you're kind of like my illegitimate father, man, so, you know, child support, let's go (rubbing fingers together, laughing)."
For such a big, nasty-looking guy, Mortensen sure knows how to tell a touching, romantic story.
"I wish they could give me some signed memorabilia," Mortensen said, explaining it would violate AFL compensation rules to do so. "A couple of years ago, Gene sang the anthem before an NFL game in London. He was chewing a piece of gum right before they were ready to go, and he handed it to a guy and told him, 'Hang onto that. It will be worth something.' The next day, the guy put it on eBay and sold it for a quarter-million dollars. I didn't believe him, but it's true. I looked it up on Google. I wish I could get a signed guitar and put it on eBay for like $300,000."
Instead, he plays for a modest salary and works odd jobs (bouncing, etc.) in the summer to make ends meet.
A free agent, Mortensen said he enjoyed his season working for an organization that blends football and show business.
"We had movie stars at our games," Mortensen said from Oregon, where he shares his rented home with his wife and 4-year-old daughter. "We had girls dancing in cages, 80 feet above where we were playing. We had live bands performing, BMX riders doing back flips and front flips off ramps. It was nuts."
When I shared with Mortensen my belief he has potential as an actor, he said that wasn't the first time he had heard that.
"In one of the later episodes, you'll see I actually take some acting classes in Hollywood," said Mortensen, who added his career goal is to become a college football coach. "I'm open to it, for sure. It would be cool. I'm a big fan of cinema."
The key to acting, Mortensen said, is being, "socially fearless. You can't be embarrassed. ... I think I could play a mercenary, an army guy, or prison dude. I don't think I'm ready for a romantic film or anything like that. There's a lot of work for big, scary-looking guys. And I think I could be one of those guys in 'Game of Thrones.'"
A three-year starter at Kansas (2006-08) out of Oakland, California, Mortensen has played three seasons in the AFL and before that played in the United Football League, which paid better. He said he wants to play at least one more year of professional football, if not for KISS, then maybe for the expansion franchise in Las Vegas owned by Mötley Crüe.
Reality TV, loud music and football fit Mortensen the way peanut butter fits chocolate.
More like this story on KUsports.com