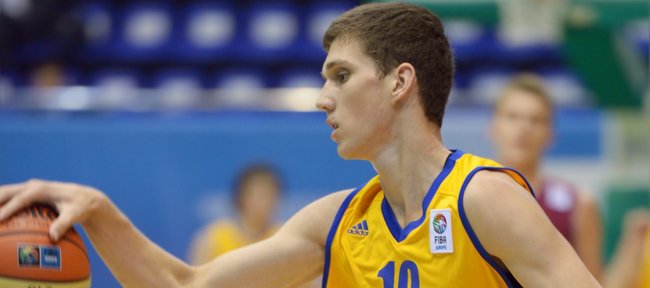 The FIBA World Cup basketball tournament starts Saturday in Spain — five days after the opening bell of Kansas University's academic school year.
The fact KU freshman Sviatoslav "Svi" Mykhailiuk is entered in the Cup as a member of Ukraine's national team makes some wonder how he'll be able to pass the 12 hours of schoolwork he's required to take first semester at KU.
"We'll enroll him, obviously," Jayhawk coach Bill Self said Monday, speaking from his Boy Scouts benefit golf tournament at Lawrence Country Club. "And then we'll talk to his professors to make sure that there's a way to do some things. We may even have him do some things potentially online that could get (him) caught up.
"He's a really, really bright kid. I mean, really, really bright, considering his English is good. But it's not exceptional yet. He's in that Sasha Kaun-type category, so I would still predict he'd be a 3.5 student at the end of the semester," Self added.
Self figures if Ukraine doesn't make the medal round, the 6-foot-8 Mykhailiuk could be on campus between Sept. 8-10. The tourney concludes Sept. 14.
"I'm more concerned about him strength-wise. He wasn't here with Andrea (Hudy, strength coach) all summer, and of course he needs it. He weighs 193 pounds, still yet he's not strong," Self said. "You don't get strong overnight. It takes time. But we've sent him programs. He knows what he's supposed to be doing. He's pretty responsible, so he's probably doing it. He'll be behind from a basketball standpoint. But the kid is so bright. I can't believe he can't get caught up faster than most."
Self said he's pleased Mykhailiuk made his country's national team.
"I talked to (Ukraine coach) Mike Fratello before the event, and he told me what his plans were, to play with the junior team (Under 18 Div. B European championships in July) and let him practice with the national team. He said, 'I really doubt he will make the team. He's going against men. Let him hang out over here. He'll get some good training,'" Self said.
"I guess they trained him well enough he made the team. I'm happy for him. I'm a little concerned he's going to come in well behind, which he will. Without putting too much pressure on him, I was hoping he would be really ready to be a major contributor mid-November. It may take a little bit more time. But overall it's a great experience for him. Certainly we're happy for him."
Point guard update: Self was asked Monday about KU's point-guard position, which features newcomer Devonté Graham, plus sophomores Frank Mason and Conner Frankamp.
"Really, we're probably the deepest we've been at point guard," Self said. "Last year, I kind of screwed it up and didn't play Frank there as much as I should have. I probably didn't put enough on him to get him ready as quickly as he needed to.
"Certainly with Frank, and Conner can play some point, but Devonté Graham is good. You could see two of those three playing together a lot. That makes us real small. Our deepest position is wing. I could see one of our wings being a 4-man and playing real small, which I think would be really hard to guard. I just don't know if we could guard anybody. I think we'll have all the pieces to have a chance to have a pretty good team with the exception of standing height. One of our big guys has to play a lot bigger than what they are, hopefully that will be Cliff (Alexander, 6-8) or Landen (Lucas, 6-10) probably."
Quite an event coming: Self said ticket information on the Oct. 27 "Celebrating 60 years" — which will bring Self, Roy Williams, Larry Brown and Ted Owens into Allen Fieldhouse together for a speaking engagement — will be available in September.
"It's going to be off-the-charts cool. It could be one of the coolest things we've done in Allen Fieldhouse in a long time," Self said. "You've got 51 of the 60 years in the building that have been coached by the four guys. All of them will have their unique stories and perspectives. We'll probably get ex-players to introduce each one of 'em with highlights and tributes, that kind of stuff.
"Of course, it's Roy's first time to come back publicly (since leaving for North Carolina), and I know he's really excited about it. I think our fans will be very impressed and very happy it took place."
He said the seating arrangement will likely depend on the demand for tickets.
"We can put 10,000 people in there. We can put 5,000 in there and make it more intimate," Self said.
The trade: Self on the Andrew Wiggins to the Timberwolves trade, which is now official:
"Since I got in trouble because I said he was happy with the trade before I could say that ... officially he's happy with the trade," Self said with a laugh. He gave Wiggins' take on the deal back on Aug. 10, prior to it being made official.
"He says he's happy. So if he's happy, everybody should be happy. I'm excited for him. They do have a pretty athletic bunch in Minnesota. When you talk about Andrew and Zach LaVine and some other things they've got going, they are going to be ridiculously young, but hopefully it'll be a good foundation for his future."
He wants to be there: Self said Boot Camp likely will start on Sept. 15 and run for 10 days to two weeks. Some dates could be switched because it falls in the recruiting period.
"As important as basketball is, recruiting still takes priority over that," Self said. "I want to be there every day for Boot Camp."