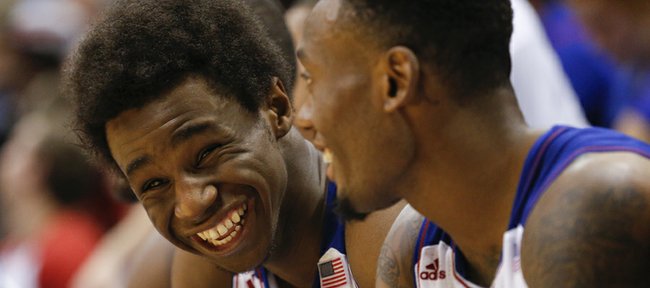 Andrew Wiggins didn't ask for expectations to soar higher and faster than he does flushing lobs.
His made-for-basketball physical tools played a small part in others selling him as the next Wilt Chamberlain, Danny Manning, LeBron James, Greg Oden, Kevin Durant, you name a superstar, some magazine will link him to Wiggins. The hyperbole surrounding his game is as much a sign of the times we live in — Madison Avenue meets cyberspace meets college basketball recruiting, where tomorrow forever is better than today because today never is quite perfect.
No teenager could be good enough to justify all the hoopla, so there is no point in measuring him against it. Certainly, all but the mean-spirited hope Wiggins doesn't feel as if anyone will consider him a failure if he doesn't earn first-team All-American honors.
Measuring him against the wall with a pencil to mark the spot, he actually appeared a notch above most five-star recruits listed at 6-foot-8. If anything, he looked a bit taller than 6-8 Perry Ellis. With a 7-foot wingspan, the quickest first step in the gym and the most explosive jump, Wiggins has all the parts. Yet, at the moment he amounts to a Double-A phenom working his way toward the big leagues. Nothing wrong with that.
Michael Jordan was Mike Jordan when he released that jumper against Georgetown his freshman season and Michael Jordan once it dropped. Everything, even his first name, changed with the shot that won the national title for North Carolina. What is forgotten is he averaged 13.5 points that year.
Times have changed since 1981. Given how early superstars are ordained, it's almost surprising Wiggins didn't earn a No. 1 ranking in the prenatal class of 1995, considering his father played in the NBA and his mother was an Olympic track medalist for Canada.
Rankings equate to empty calories. The only voices Wiggins need heed are the nourishing ones of teammates and coaches.
"He was definitely nervous," said Naadir Tharpe, who looked so comfortable running the team in Tuesday's exhibition victory against Pittsburg State. "It's only right for him to be nervous."
That doesn't mean Wiggins doesn't need to change. He's 18. Nobody knows it all at 18, other than a know-it-all snot, which from my distant view does not appear to fit Wiggins. (So far, only members of the national media have been granted one-on-one interviews with Wiggins, the first KU player with whom such a policy has been used.)
"We want him to be much more aggressive," Tharpe said. "He's kind of laid-back, but that's also a good thing because he tried to find his teammates and he's not a selfish dude at all."
When team-building, it's easier to turn laid-back into aggressive than selfish into team-first. My guess is Wiggins will exhibit eagerness to please teammates, the strongest of all springboards toward stardom.