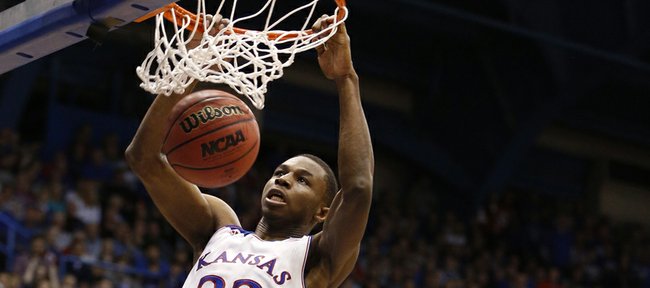 Photo Gallery
KU basketball v. Towson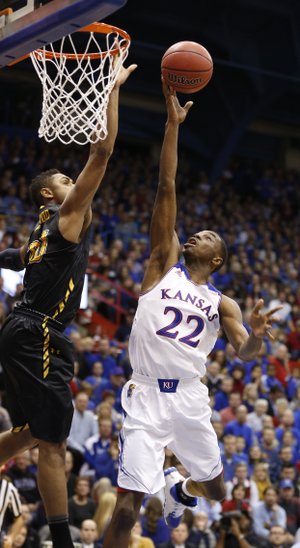 Images from Friday night's game between the Jayhawks and Tigers at Allen Fieldhouse
Podcast episode
KU men's basketball coach Bill Self talks about his team's offensive onslaught after 88-58 win over Towson.
Podcast episode
Tarik Black, Andrew Wiggins & Joel Embiid discuss playing fast and having fun after 30-point win.
Kansas 88, Towson 58
Nobody was talking about an undefeated season or anything crazy like that after Kansas University's fourth basketball victory of the 2013-14 campaign — Friday's 88-58 taming of Towson in Allen Fieldhouse.
The Jayhawks players, and coach Bill Self, were impressed enough, however, to concede that this has the makings of one special squad.
"When we are playing our game, no one can stop us," KU freshman guard Andrew Wiggins said after scoring 16 points off 6-of-8 shooting and grabbing seven rebounds. He had 14 points the first half as KU cruised to a 49-16 lead.
"When we play in the flow of the game, no one can stop us. We have too many tools, too many weapons to use, especially when we are all playing well. Hitting shots like we were today and playing unselfish, no one can stop us," Wiggins added.
KU had four players in double figures on a night no Jayhawk took more than eight shots. Andrew White III hit three threes in four tries and had 13 points; Wayne Selden 12 and Perry Ellis 10. Joel Embiid had eight points and eight boards on a night the (4-0) Jayhawks hit 60 percent of their shots to (3-2) Towson's 36.7 percent.
KU outrebounded Towson, 40-28, and held the Tigers to 5-of-22 three-point shooting. 
The Jayhawks had all the flashy plays, ramming eight dunks to Towson's none.
"Potentially we could be one of the better teams without question," Self said when informed Towson coach Pat Skerry said he can't imagine a better team out there than No. 2-ranked KU.
"It was nice of Pat to say that. He caught us on a night we were better than we've practiced and played. By the end, if our young kids keep getting better, I think we'll have a chance to be in the conversation. There are a lot of nice teams out there. Certainly when we play and play with energy, we can be one of the better ones," Self added.
Senior power forward Tarik Black, who set the tone with two early dunks (in helping KU open with an 11-5 lead) said: "We have eight, nine new guys on this team. We are not going to be a perfectly flowing team. We will not be as flowing as some teams that have guys that returned, but we are looking very good. We are one of the top teams in the country and we deserve it. We are going to continue to work hard and try to move forward."
Black, a 6-9, 260-pound transfer from Memphis who had picked up a pair of fouls in the opening minutes of KU's first three games, this time had a steal and one-hand slam, giving KU a 6-5 lead at 17:11. He downed a dunk off a lob from Naadir Tharpe to make it 11-5.
"It felt real good because of the momentum thing," Black said of his first dunk off his drive to the goal. "It got everything going. It's what sparked everything. The next play, Wayne came down and had a two-hand dunk (and foul shot, following feed from Tharpe) . It gets everything flowing. It's the energy and fun we want to have as a team this year."
Black had four points and two boards in eight minutes the initial half, finishing with six points and four boards in 15 minutes.
"Coach (Kurtis) Townsend talked to me. He told me the thing about it is just be an aggressive player, because a guy like me, I'm going to pick up fouls, especially with the (new) rules this year. The whole team had fouls tonight," Black said. Towson hit nine of 18 free throws to KU's 15 of 22. "At the end of the night I had foul trouble (four). He (Townsend) told me, 'Don't be nervous. Don't be shaky out there. That's when you attract fouls. That's when the refs will say, yeah (he's committing a foul).' If I come out there and play intense and high energy, then some things will shift."
Self said Black, "is an angles guy and power guy. He did some active things tonight. He still got two quick fouls (second with 8:04 left in half). I thought one was cheap, but he's a good player. It was good to see him get off the 'schneid' so to speak."
And to finally have some fun as a Jayhawk.
"It felt great," Black said. "As a basketball player, I don't plan on coming out every night and sitting on the sideline, not at all. It felt good to be out there on the court doing what I love to do."
KU will next meet Wake Forest in a Battle 4 Atlantis quarterfinal at 2:30 p.m., Central time, Thursday in Bahamas.