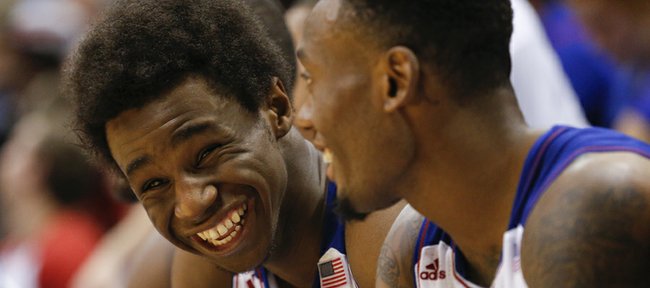 Black sweatsuit, red headphones, the long, tall college student walked slowly across the Wagnon-Parrott Athletic Center parking lot in the cover of darkness Tuesday, destination Jayhawker Towers.
On the same day the Wall Street Journal in featuring Kansas University freshman Andrew Wiggins noted that only one college football player, Texas A&M; Heisman Trophy winner Johnny Manziel, was the subject of more October tweets than Wiggins, 18, he walked undisturbed back to his dorm.
We can say with confidence that with each stride he drew one step closer to figuring out how to fit his talents to college basketball. With Andrew Wiggins, it's not a matter of if, rather when, he'll figure it out.
Blessed with the physical gifts and basketball skills to earn five stars from recruiting services and cursed with the No. 1 ranking, Wiggins has the remarkable leaping ability to make it happen inside and the blurry-quick first step that makes him difficult to guard on the perimeter.
So far, he's the one KU player who doesn't look as if he knows quite what he should do when. No sweat. It's not as if his coach didn't see this coming from the 6-foot-8 small forward.
"I think in many ways, depending on how you play, it's the hardest position to plug in," Bill Self told Mike DeCourcy of The Sporting News three-and-a-half weeks ago. "Everybody's got a stretch-four (a power forward who's a three-point threat), and you play to that. Or you've got a post guy, and you play to that. Or your prototypical two-guard, and that stuff. But here's a guy that basically is a guard in a 6-8 long frame that we will try to take advantage of him open court, posting him, utilizing him in ball screens."
In the two exhibition games, Wiggins (13 points per game) ranked second in scoring to Perry Ellis (14.5), 11th among scholarship players with a .391 field-goal percentage, first in blocked shots (four), was 0 for 5 from three and 8 for 10 from the line.
If he had played the same position and with the same energy, decisiveness and closeness to the hoop as reserve power forward Jamari Traylor, Wiggins probably would have doubled his scoring output and field-goal percentage. But is that the best way for him to help the team against the sort of competition that awaits the young Jayhawks?
Exhibition stats don't count, but there were some interesting ones, such as:
Junior Naadir Tharpe had 15 assists. Combined, Conner Frankamp and Tharpe played 57 minutes without a turnover.
In 30 minutes, Traylor had 17 points and 12 rebounds and made all seven field-goal attempts.
Freshman Brannen Greene hit 5 of 8 threes.
Sophomore Perry Ellis made all nine free-throw attempts.
In 29 minutes, senior Tarik Black totaled 10 points, 14 rebounds and seven personal fouls.