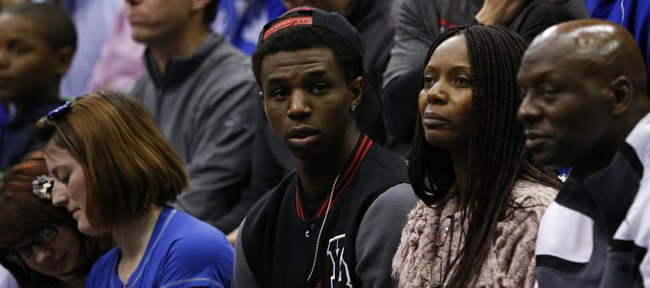 Paul Biancardi, who is ESPN.com's director of basketball recruiting, professes no inside knowledge into the decision-making process of Andrew Wiggins, the country's No. 1 high school prospect who has a final list of Kansas, Kentucky, North Carolina and Florida State.
"I have no idea where he is going to go. I will tell you that everybody who is recruiting him thinks the other guy is getting him. Nobody feels comfortable that they are getting him. It's because he keeps everything so close to himself," Biancardi said Sunday in Allen Fieldhouse.
The former Wright State head coach spent the weekend coaching at Bill Self's Fantasy Basketball Experience.
"I think he's shut it down," Biancardi added of Wiggins, a 6-foot-7 senior forward from Huntington (W. Va.) Prep. "Nobody really knows where they are standing."
Wiggins has yet to report when he will sign and how he will announce. The last day of the spring signing period is May 15.
"It's never been expressed," Biancardi said of Wiggins possibly wanting to announce on ESPN. "He isn't talking to anybody. That could change at the last minute, or he could just put it on Twitter like everyone else."
Biancardi's team went winless at Self's camp for players 35 and older.
"We didn't win any games, but the moral of the story is Dino Gaudio didn't win any games last year (at camp), and he's cutting down the nets. So my prediction is I'll come back and be the champ next year," Biancardi said with a smile.
Former Wake Forest coach Gaudio's Team Vaughn, which was assisted by KU freshmen Andrew White and Landen Lucas, did indeed go undefeated and win the title. After the final game, there was a net-cutting ceremony with "One Shining Moment" playing on the Allen Fieldhouse PA system.
"It was a phenomenal 21⁄2 days with intense competitiveness, camaraderie between players and coaches. It's the perfect world for everybody," Biancardi said.
No comment: KU coach Self said at his camp on Sunday he had "no comment" regarding any aspects of the USA Today story in which Ben McLemore's AAU coach, Darius Cobb, said he was paid $10,000 and travel expenses from a middleman, who allegedly represented agents and financial advisers this past season.
According to Cobb, the middle man, Rodney Blackstock, also paid for a birthday bowling party for McLemore and hotel rooms for some of the party attendees.
Cobb said McLemore knew "little to none" about the middleman's financial involvement in the player's life.
McLemore's amateur status may be at risk because of payments Cobb said he accepted from Blackstock. An athlete's family members, friends and coaches cannot accept money or gifts from agents or anyone working for them. An agent now is listed as anyone who "seeks to obtain any type of financial gain or benefit from securing a prospective student-athlete's enrollment at an educational institution or from a student-athlete's potential earnings as a professional athlete."
Cobb also said he helped the family financially by paying bills and buying McLemore clothes and food.
If the NCAA deemed McLemore violated his amateur status, KU could forfeit the games in which he played a year ago.
In response to the story, ESPN's Dick Vitale tweeted: "This is the SICKNESS that exists & causes nightmares 4 coaches — hustlers — Hoops needs a CZAR!"
CBSsports.com's Gregg Doyel wrote ... "This is the case of Ben McLemore and the leeches around him, a list that is long but apparently includes his former AAU coach, a runner, an agent, a marketing rep and maybe more.
"Notice the parties I left out. I left out Kansas. I left out Kansas coach Bill Self. And I left out the NCAA. Unless more information comes out — information that implicates Kansas or Self or anyone on his staff — the NCAA should heed the final sentence of my first paragraph ... and sit this one out."