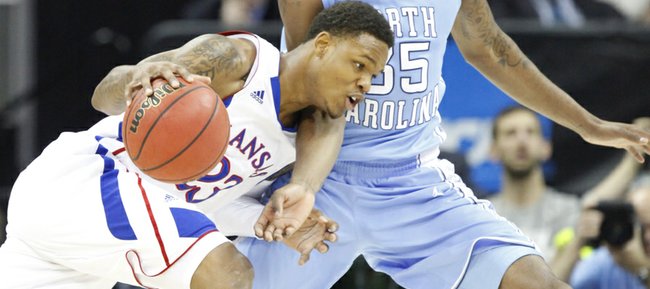 Darius Cobb, the former AAU coach of Ben McLemore who in a Saturday USA Today story confessed to receiving money from a middleman who wanted to get close to the star Kansas University basketball player, offered one additional point in a news release Monday.
Cobb, speaking through Coburn Enterprise, LLC of Florissant, Mo., said KU officials knew nothing about middleman Rodney Blackstock's paying Cobb $10,000 and travel expenses, despite the fact Blackstock attended three KU games using complimentary tickets on McLemore's KU pass list.
"I want the media, KU Fans, and public to know University of Kansas, Head Coach Bill Self, nor any members of the Athletic Department had any knowledge or involvement," Cobb said in an exact wording of his statement.
Cobb has been unable to reach McLemore; the KU player has reportedly changed his phone number, and McLemore's mother has changed her number. Cobb wants to get word to McLemore that Blackstock is not a licensed agent. The release, in fact, refers to Blackstock as an "alleged agent."
Cobb believes it is possible McLemore plans to have Blackstock represent him and says McLemore needs to know he is not licensed. Cobb also wants other players and their families to be warned Blackstock is not an agent.
Cobb, in the release, says Blackstock gave him money to give to the McLemore family, because he wanted Cobb to steer McLemore toward Blackstock, which has happened. Cobb, 41, has known McLemore since the player was in the sixth grade, and he began coaching McLemore when the player was 15 years old. Cobb no longer has any contact with McLemore or his mom, with Blackstock apparently winning an advising role. Blackstock has been unavailable for comment.
A couple of media representatives say the story isn't much of one.
ESPN's Jay Bilas tweeted: "McLemore 'controversy' laughably silly: Arrogant of NCAA to call others '3rd parties' as if only NCAA should profit."
Andy Glockner of SI.com also can't get fired up about the story.
"I can't shake my initial opinion of it, which was basically a shrug," Glockner writes.
Glockner adds: "The headline certainly is enticing enough, with a future high lottery pick and a blueblood program and 'runners'" for agents prominently involved. But the allegations — that McLemore's AAU coach took a couple of $5,000 payments and some all-expense paid trips from an apparent runner who wanted the coach's help in trying to steer McLemore toward particular agents — has nothing to do with Kansas, and very well has nothing directly to do with McLemore, either.
"There is no evidence at this point that anything connected to this issue has anything to do with the Jayhawks' program. It has nothing to do with how Kansas landed McLemore, and to this point, it has very little to do with McLemore, specifically."
To read Glockner's story go to http://bit.ly/11OVljv
McLemore, who has been unavailable for comment, tweeted this Sunday: "Keep them squares out your circle. You got people that's around you They gone try they best to down you Keep them squares up out your circle."
Ticket price increase: For the first time in five seasons, season-ticket prices have increased for KU basketball. The price for Tier 1 season tickets for the 2013-14 season is $1,600 (up from $1,255). Tier 2 seats will cost $1,225 (from $1,155), and Tier 3 is $925 (from $855).
Season tickets for the 2013-14 Kansas men's basketball season go on sale online at 9 a.m. Thursday at kuathletics.com. Applications are being mailed this week to Williams Education Fund donors and season ticket holders. The deadline to order season tickets is July 19. Actual seat locations will be determined through Select-A-Seat. To participate in Select-A-Seat, ticket orders must be received by July 19. Fans choose their seats based on their Priority Point total. Select-A-Seat will be held at KU August 12-16.