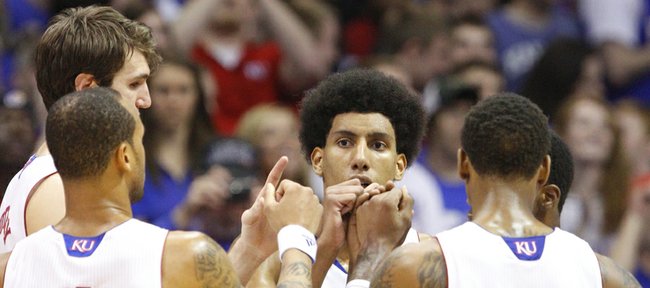 Photo Gallery
Kansas basketball v. West Virginia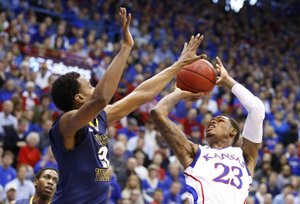 Images from Saturday's game against West Virginia at Allen Fieldhouse.
Podcast episode
Kansas coach Bill Self talks after his team's 91-65 victory over West Virginia on March 2, 2013.
Podcast episode
Kansas players Ben McLemore, Elijah Johnson and Jeff Withey talk to reporters following the Jayhawks' 91-65 victory over West Virginia on March 2, 2013.
Podcast episode
West Virginia coach Bob Huggins talks after KU's 91-65 victory on March 2, 2013.
Jeff Withey and three of his closest friends will play the final home game of their Kansas University basketball careers on Monday night in Allen Fieldhouse.
"We're excited. It's going to be an emotional game and one that we are going to remember for a long time," the 7-foot senior Withey said after scoring 14 points, grabbing 10 rebounds and blocking nine shots in Saturday's 91-65 home victory over West Virginia.
"We're ready for it," he added of himself, Elijah Johnson, Travis Releford and Kevin Young, "but at the same time we don't want it to come because it is our last home game. We know that we have to win every game from here on out in order to win the conference (title) and get into our groove for the (NCAA) tournament."
KU, 13-3 in Big 12 play with two games remaining, remains tied with Kansas State (13-3) for the top spot in the league. Oklahoma State is a game back. KSU won at Baylor on Saturday.
McLemore's finale too?: Monday also could be the final home game of freshman Ben McLemore, who exploded for 36 points Saturday and has three outings of 30 or more this season.
"The reality of it is Ben and I ... we're not going to talk about this until the season is over ... he could obviously be running out there the last time, too," coach Bill Self said. "Even though you don't talk about it, you know obviously it's something I'm sure he has thought about as well."
Asked about the possibility of it being his last game, McLemore, who has been projected to be the No. 1 or 2 pick in the June NBA Draft, said: "We just have to focus on what is in front of us right now. Our focus is just to go out there and play ball. We want to make our seniors happy and have them leave with a great year — their time here at the University of Kansas."
More than nine?: One media member suggested the ever-active Withey may have had more than nine blocks.
"Our stat crew I know does a great job," Self said. "I think that one is worth revisiting if possible. It sure seemed that way to me. He got one late they (refs) called a foul. That looked like it might have been clean. He did a great job blocking and altering today."
Withey had a triple-double earlier this season against San Jose State with 16 points, 12 rebounds and 12 blocks.
Souvenir: Self was presented a ball signifying his 500th coaching victory (against Iowa State) before the game. The fans responded with a standing ovation. Self waved the ball to the crowd.
Wiggins arrives Sunday: Andrew Wiggins, a 6-7 senior forward from Huntington (W. Va.) Prep will arrive on campus Sunday for the start of an official recruiting visit. Wiggins is the No. 1-rated player in the Class of 2013 by Rivals.com. He is considering KU, Kentucky, Florida State and North Carolina.
Individual stats: Withey is tied with Paul Mokeski (1976-79) for 10th all-time on the school double-double list. ... Johnson earned the third double-double of his career and second of the season. Johnson's 10 assists tie his career high, which he recorded against Iowa State on Jan. 11. ... Johnson is 9-of-14 from three in his last two games, after going 7-of-30 in his previous six. ... Kevin Young's six points gave him 1,004 for his career. He scored 658 at Loyola Marymount (2008-10) and 346 at Kansas.
Team notes: KU has won 24 games for the eighth consecutive season. KU has 13 conference wins for the eighth straight season. ... KU is 2-0 versus West Virginia all-time. ... KU's 61.1 three-point shooting percentage (11 of 18) is second-highest this year (15-24 for 62.5 percent vs. American on Dec. 29) ... KU has combined for 199 points in its last two games after scoring 215 in its previous three. ... KU has had players with back-to-back 30-point games for the first time since Danny Manning scored 30 and 37 against Oklahoma and Missouri on Feb. 24 and Feb. 27, 1988. Manning also had a 31-point performance on Feb. 20, 1988 versus Duke to mark the last three-game stretch where KU had a player score 30-points or more. ... KU last scored 90 or more points in two consecutive Big 12 games when it scored 90 against Missouri (Feb. 4, 2008) and 100 versus Baylor (Feb. 9, 2008) in the 2007-08 season. ... KU's 91 points are the most by a West Virginia opponent this season. ... The Jayhawks' 29 assists were most since dishing 30 against Towson on Nov. 11, 2011.
Randle wins state: Julius Randle scored 35 points and grabbed 20 rebounds to lead Prestonwood Christian Academy of Plano, Texas, to a 71-66 state-championship win over Nolan on Saturday, USA Today reports. Randle, who is the No. 2-ranked senior in the country, is considering KU, Kentucky, Florida, North Carolina State and Texas.