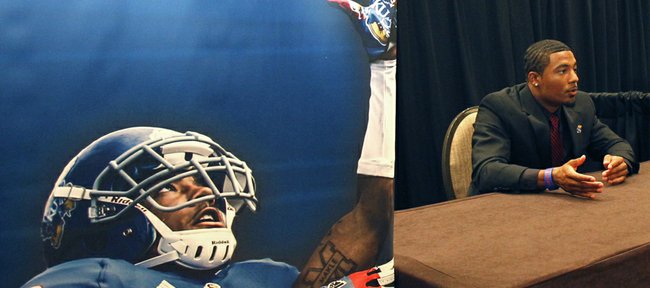 Kansas University defensive back Cassius Sendish had never been to a media days event before this week.
"I feel like I'm living a dream right now," Sendish said Monday at Big 12 media days in Dallas. "It's surreal. I'm just grateful for the opportunity. It's a blessing to represent the University of Kansas and my family."
Perhaps it's fitting that Sendish was answering a variety of questions about KU even though he's yet to play a down for the Jayhawks. More than 20 newcomers, including Sendish, have joined KU this season from the junior college ranks.
"I think the experience that we've had on the field will definitely help," Sendish said, "because we've been in the situations that we're probably going to be in again."
KU coach Charlie Weis approached Sendish, a junior who played at Arizona Western College last season, about coming to media days because he believed the DB would be a good ambassador for the school.
"If (the juco guys) are all like that, sign me up," Weis said.
The 6-foot, 187-pound Sendish said his transition has gone smoothly so far, mostly because the structure at Arizona Western closely mimics a Division I program. The weights, conditioning, practices and even class scheduling are set up to prepare athletes for their next stops.
"I didn't really have any bumps in the road," Sendish said, "or anything where I was like, 'Wait, I didn't know I couldn't do that.'"
Because many media members didn't know the players' backgrounds, Sendish answered a lot of questions about last year's 1-11 season even though he wasn't a part of it.
The Waldorf, Md. native said the opportunity to help turn around a struggling program was one of the biggest draws to KU.
"We understand that we got picked 10th (in the Big 12) because of what we produced on the field the last few years," Sendish said. "We understand that until we prove something on the field that they're going to rate us how they rate us. We're looking forward to producing."
Sendish has been impressed by how much KU's veterans have welcomed in the new arrivals this offseason. He also believes the team has bonded through tough workouts with strength coach Scott Holsopple.
"We have to do what it takes to go where we want to go," Sendish said. "I feel like the team is buying in, and that's what it takes."
More like this story on KUsports.com