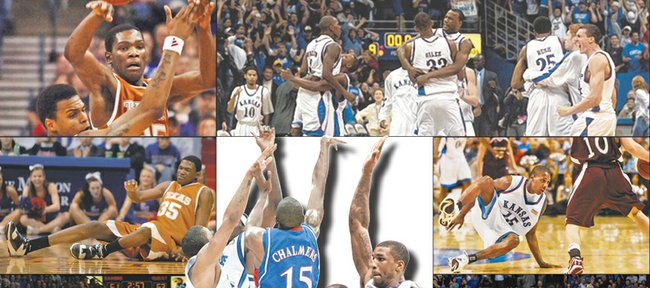 For the first time all summer, the four Journal-World sports writers formulating the lists for our annual summer series were able to come to a consensus in a category.
In Part 9 of our 10-part series that has looked back on the best players and most memorable moments of Kansas University men's basketball coach Bill Self's first 10 years in town, we'll tackle the games that most likely sent the blood pressure of all of those reading this to new heights — comebacks.
Because each of us would have plastered KU's come-from-behind, overtime victory against Memphis in the 2008 national title game and the surge back from a 19-point deficit against Missouri in Allen Fieldhouse in 2012 at the top of our lists, we elected to make those ineligible for inclusion on our lists.
So, essentially, what you're getting this week is a Top 7, because we all agreed that there was no way to leave those two off of the top. Those games are as big in Kansas basketball lore as nearly any, and by now you all know about Mario Chalmers' miracle shot to send it to overtime in the title game and Thomas Robinson's big-time block in the final seconds against Mizzou to send that one to OT, where the Jayhawks won what may go down as the final game ever played between the two Border War rivals.
So instead of rehashing those games, which include memorable moments that many of you know inside and out, we decided to challenge ourselves and give you five more apiece. There are some repeats, but the lists include a few games that probably would not have made it if we had all included Memphis and Mizzou.
Here's a look:
Gary Bedore
1. KU 88, Texas 84, OT, March 11, 2007, Oklahoma City: How can I not go with the greatest comeback in school history (22 points) as No. 1? The amazing Kevin Durant scored 37 points but did not score a point in overtime. KU actually trailed at one point, 32-10, but managed to win thanks to 20 points from Sherron Collins and 19 from Brandon Rush and Julian Wright.
2. KU 90, Texas 86, March 3, 2007: Kevin Durant scored 25 points in the first half, but was injured the second half as the Jayhawks erased a 16-point deficit to win in Allen Fieldhouse. Julian Wright had 17 points and 13 rebounds in that game, which gave KU a league title.
3. KU 70, Georgia Tech 68, Jan. 1, 2005: Aaron Miles had 14 points, eight assists and five rebounds in a game KU trailed by as many as 16 points. Keith Langford's shot in the lane with three ticks left in OT was the winner.
4. KU 97, Iowa State 89, OT, Jan. 9, 2013: Ben McLemore's bank shot from three with a second left in regulation erased a three-point deficit and forced overtime. McLemore had 33 points in a game that the Jayhawks seemed destined to lose. KU had trailed by six with four minutes remaining.
5. KU 108, ISU 96, OT, Feb. 25, 2013: Iowa State led by five points with :44 to play, but Elijah Johnson wouldn't let the Jayhawks lose. He had 39 points — yes, 39 points — as KU stormed to the win.
Tom Keegan
1. KU 108, Iowa State 96, OT, Feb. 25, 2013: Elijah Johnson had the night of a lifetime, scoring 39 points, 30 after halftime. He scored 25 of KU's last 36 points, enabling KU to storm back from a seven-point deficit with 5:17 left in regulation. From relentless drives to the rim to tightly guarded three-pointers, Johnson made everything he put up. Afterward, Iowa State booster Melvin Weatherwax charged toward KU coach Bill Self and made derogatory remarks about Self's players.
2. KU 88, Texas 84, OT, March 11, 2007: Mario Chalmers hit a three-pointer in the final seconds to send the game into overtime. (Where have I heard that line before?) Kansas won the classic Big 12 tournament title game that had the look of a blowout at the beginning. Texas led 32-10 with 8:10 left in the first half, and nobody from KU quit believing a comeback was on its way.
3. KU 64, Ohio State 62, March 31, 2012: Down 13 points in the first half and nine points at the break, the Jayhawks stormed back to win the national semifinal, triggering a celebration from Bourbon Street in New Orleans to Mass Street in Lawrence.
4. KU 85, Kansas State 74, Feb. 14, 2009: The K-State students, stationed so close to the floor, were at their rambunctious best and so were standout guards Denis Clemente and Jacob Pullen. That tandem led the Wildcats to a 16-point lead, one that guard Sherron Collins and center Cole Aldrich worked together to eradicate. They combined for 40 points.
5. KU 70, North Carolina 58, March 24, 2013: Down nine points at the half, KU rode Jeff Withey's emotional halftime to a senior-led domination to start the second half on a 29-8 run. With freshman sensation Ben McLemore unnerved by NCAA Tournament pressure, senior Travis Releford made sure that didn't end the team's ride. He totaled 22 points and eight rebounds in what his coach called his best game ever.
Matt Tait
1. KU 63, Purdue 60, March 18, 2012: On a night nothing seemed to be going KU's way, and everything — especially early — went Purdue's way, Thomas Robinson and Tyshawn Taylor helped the Jayhawks find a way to stay within arm's length all game and then stole a victory down the stretch. I'm sure to this day the Boilermakers still don't know how they lost. Because of the late tip time and our deadline, I had written 10-12 paragraphs of my story about how Purdue pulled the upset only to find myself using the delete key a few minutes later when Taylor, Elijah Johnson and company turned up the defense in the final minutes to help the Jayhawks advance to the Sweet 16.
2. KU 64, Ohio State 62, March 31, 2012: If this one cracked my favorite games a week ago, it makes sense to see it on my memorable comebacks list, too. Down nine at the break, the Jayhawks outscrapped the Buckeyes by 11 in a rugged second half to advance to their second national title game in five seasons. There were a couple dozen possessions in this one that had a do-or-die feel to them, but none was as big as Travis Releford's dunk as time expired that cut the OSU lead (which had reached 13 in the first half) to single digits and gave KU some momentum.
3. KU 88, Texas 84, OT, March 11, 2007: Although this went down as the largest comeback in school history (KU was down 22 late in the first half), I'll always remember it as the day the Jayhawks overcame one of the best college players I've ever seen. As was the case every time he faced the Jayhawks during his lone season at Texas, Kevin Durant was lights-out in this one, but the Jayhawks and Mr. Clutch, Mario Chalmers, upped the intensity to force overtime and rode the momentum of getting there to a heck of a Big 12 tournament title-game victory.
4. KU 108, ISU 96, OT, Feb. 25, 2013: It's hard to say which of the Iowa State comebacks during last year's regular season was more impressive, but I went with this one because this was the one where the Jayhawks looked the most dead in the water, and the other one — 97-89, also in overtime on Jan. 9, 2013 — was aided by a Ben McLemore banked-in three, which, like it or not, was kind of lucky. There was nothing lucky about KU's comeback in Ames, though. Instead of dropping their heads and giving in to a talented team that had them on the ropes, the Jayhawks, most notably Elijah Johnson, kept fighting and found a way to get it done.
5. KU 61, Southern Illinois 58, March 22, 2007: This one stood out because of how physical the Salukis played. One round before running out of gas against second-seeded UCLA in the Elite Eight, the top-seeded Jayhawks were pushed to the brink of elimination and beaten up by a squad Self called the "toughest" they had played all year. Self's crew was up to the challenge, though and managed to overcome a six-point second-half deficit thanks to a strong finish from sophomore Brandon Rush. KU was out-rebounded on the offensive glass 17-6, made just six of 13 free throws down the stretch and could not exhale until a half-court heave to tie it missed the mark.
Jesse Newell
1. KU 88, Texas 84, OT, March 11, 2007: Still stands as the biggest comeback in school history. After falling behind 32-10 with 8:10 left in the first half, the Jayhawks stormed back, with a Mario Chalmers three forcing overtime with 19 seconds left. KU won the Big 12 title game despite 37 points from Texas freshman Kevin Durant.
2. KU 90, Texas 86, March 3, 2007: KU didn't look like it had a chance early when Durant scored 25 first-half points on 10-for-14 shooting while making all five of his threes. The Jayhawks, who trailed 51-35 late in the first half, used a 24-7 run to take the lead back early in the second half before holding on late. Durant — slowed by a sprained ankle in the second half — finished with 32 points.
3. KU 63, Purdue 60, March 18, 2012: Purdue's Robbie Hummel lit up KU for 22 first-half points before KU coach Bill Self switched to a rarely used triangle-and-two defense to help spark the second-half rally. KU trailed by as many as 11 in the first half and by nine (45-36) with 14 minutes left before a dramatic finish. The memorable play was an alley-oop with KU down three and a minute left, as Elijah Johnson never hesitated in throwing a tough transition pass to Tyshawn Taylor that the senior slammed home.
4. KU 97, Iowa State 89, OT, Jan. 9, 2013: Ben McLemore's game-tying three-pointer at the buzzer was so far off that it hit the backboard and fell through, sending the fieldhouse fans into a frenzy and giving the freshman his most memorable moment as a Jayhawk. McLemore's 33 points were two off the KU freshman record set by Danny Manning in 1985.
5. KU 59, Oklahoma 58, Feb. 4, 2006: Trailing 50-34 with 10:22 left, KU ended the game on a 25-8 run. Chalmers provided the game-winner, hitting a runner in the lane with 19 seconds to go. Oklahoma missed three shots that would have won it, including one from Terrell Everett that was blocked by KU's Brandon Rush.