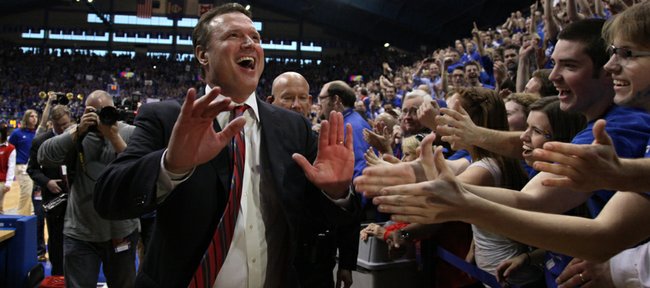 The NCAA on Tuesday revealed something that fans of Kansas University basketball have believed to be true for a long time.
Allen Fieldhouse was named as the loudest, most intimidating arena in college basketball in a High-Five feature on NCAA.com, the website announced Tuesday.
Duke's Cameron Indoor Stadium was ranked second followed by the Carrier Dome at Syracuse, Gallagher-Iba Arena at Oklahoma State and The Pit at New Mexico.
Here's the video feature on the loudest and most intimidating arenas in college basketball.
KU's home hoops venue, which opened on March 1, 1955, with a 77-67 win against rival Kansas State, has a long, prestigious list of notable facts. Here are a few:
• Allen Fieldhouse has sold out each of its last 200 games back to the 2001-02 season.
• Kansas won its 700th regular-season game in Allen Fieldhouse with an 80-63 victory against ULM on Nov. 18, 2013. KU is 703-168 all-time in the venue.
• Five of the eight KU head coaches have coached in Allen Fieldhouse. Ted Owens has the most victories with 206, followed by Roy Williams (201), Bill Self (164), Larry Brown (71), Dick Harp (51) and Phog Allen (9).
• Current head coach Bill Self is 164-8 in Allen Fieldhouse and has won more conference titles (9) than lost games in AFH.
• Starting with Wilt Chamberlain in 1957, 12 of KU's NCAA-leading 28 Consensus All-American First Team selections played in Allen Fieldhouse.
• Kansas has led its league in home attendance each of the last 27 seasons dating back to 1986-87 and 32 times in the last 36 years.
• Kansas is second all-time with 2,108 wins and the Jayhawks won victories 1,000, 1,100, 1,200, 1,300, 1,400 and 1,900 in Allen Fieldhouse. The 1,900th all-time win also won the 2007 Big 12 regular-season title outright.
• Kansas has won 30-straight home season finales in Allen Fieldhouse, including 29 consecutive Senior Nights. In 2006-07, Kansas did not have a senior on its roster.
• Entering Saturday's 11 a.m. game against Georgetown, Kansas has won 66-straight games against non-conference competition in Allen Fieldhouse.
Here's more on the Jayhawks returning home to their beloved fieldhouse for the first time in a month.