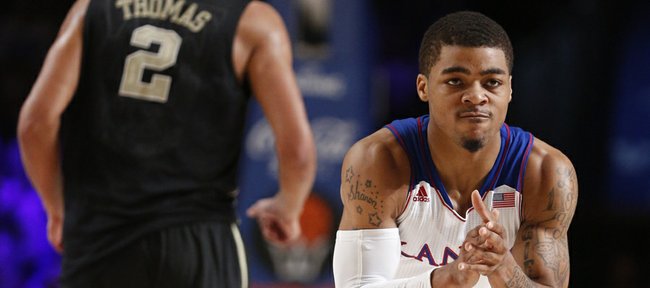 Kansas University basketball coach Bill Self, who has used the same starting lineup the past six games, will alter the opening five Saturday at Colorado.
Self says he has decided to go with freshman Frank Mason at the point-guard position in the 2:15 p.m. game in place of junior Naadir Tharpe, who has started all but one game — the season-opener, in which he served a suspension against Louisiana at Monroe.
Mason, a 5-foot-11, 185-pounder from Petersburg, Va., who averages 8.9 points with 20 assists against seven turnovers, started that contest.
"We're going to put Frank out there to start the game," Self said. "He's been one of our more consistent, better performers so far this year. I think he deserves the opportunity."
Of Mason, Self added: "Frank doesn't talk, but he's been great. He had about as bad a two minutes against UTEP as a guy could possibly have to end the game ... but if you're going to line up the games that are hard to win on who our best player has been, you can make a case it's been Frank, whether it be Duke, Villanova, Wake. I'm really pleased with him. But he's got a lot to learn, too, but he's trying. He tries hard every day. Every day he tries."
Tharpe, 5-11, 170 from Worcester, Mass., averages 6.3 points with 30 assists against 12 turnovers.
Practicing hard: The Jayhawks (6-1) have had fruitful practices since winning two games and losing one Thursday through Saturday in the Bahamas.
"We've had a good week. We've gone hard this week," Self said. "This is one thing about my guys that I need to be careful of: It's a marathon, and you're going to have games where you don't play your best. The key is to win the games where you don't play your best, and we didn't do that one time against a top-20 team (Villanova) on a neutral floor. And with young kids, it's going to happen.."
Buffs fans to pack Coors Center: Self expects a vast majority of 11,064-seat Coors Events Center to be occupied by Colorado fans for Saturday's KU-CU game. In past years, the building was referred to as "Allen Fieldhouse West" because of all the KU fans in the crowd.
"We'll have our fair share of people there. I bet we have a thousand fans there. But I think a thousand may be a high number, whereas in the past we probably had half the building. That's a compliment to Tad (Boyle, fourth-year CU coach)," Self said.
Road trip: KU is about to play back-to-back nonconference road games (Colorado on Saturday, Florida on Tuesday) for the first time since Roy Williams' Jayhawks headed to Oregon and Tulsa in the 2002-03 season.
"It's going to be a hard road trip. I don't know whoever did our scheduling … I don't really understand. I'm the one who did it," Self said with a laugh. "But it's probably not the wisest thing to have done because ... but you know what, we'll come together. The Atlantis trip didn't serve its purpose for coming together, so hopefully we'll do a much better job when we go to Boulder."
More like this story on KUsports.com