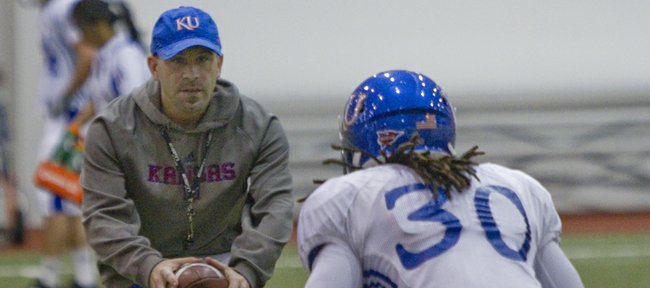 When Kansas University football coach Charlie Weis promoted Scott Vestal into a role as a full-time assistant during the offseason, Weis knew he was turning up the volume.
"He is exactly what I thought he'd be," Weis said. "He's wired for sound."
At times, when Vestal reached deep into his lungs and began belting out instructions as if a bullhorn were attached to his face, Weis hit him with verbal jabs.
"We can't hear you," Weis would joke.
There's a reason that Vestal, who spent a season with Weis at Florida and also was a part of KU's support staff in 2012, has been so comfortable flexing his vocal cords during his first season as the Jayhawks' assistant defensive backs coach — confidence.
"I've got a great relationship with coach Weis," Vestal said. "He's a guy that, through two years of relationship-building with him and working with him and for him, I felt very good that if there was an opening on the staff, I'd be the right fit."
That was exactly the scenario that unfolded last winter, when linebackers coach DeMontie Cross left for TCU. When he first heard Cross was leaving, Vestal, who served as KU's assistant director of football operations in 2012, said he felt good about his chances of a promotion. A few days later, the feeling was validated, and, as soon as it was, one thought raced through his mind.
"To be really honest, it felt natural," Vestal said. "I was very, very pleased, but my first thought was, 'I gotta make a lot of recruiting calls. It's time to roll up the sleeves.'"
In elevating his status with the Jayhawks to full-time assistant, Vestal not only can have a more hands-on approach during practices and games but also will be counted on to use his energy on the recruiting trail.
"Knowledgeable, student, well-received by the players, tough, energetic, high-vibing when the time's appropriate," said Weis, listing Vestal's top traits. "I think he has a chance to be really good. Don't tell him that."
Unlike most coaches who slide into new jobs, Vestal needed little time to adjust to his surroundings. Not only did the Jayhawks already know him, but they also appreciated the fact that he knew them as well.
"That's invaluable," Vestal said. "All these players, all these coaches ... they say you build trust and you earn faith. Well, the trust and faith is already there with the coaches and the players. I think that gives me an inherent advantage just because I know their strengths and weaknesses."
That history is not lost on the players.
"He's a great coach," said red-shirt freshman cornerback Greg Allen. "I've been learning from him ever since last year, and he always points out the little things that really count. From last year to this year, he's just really fit in, and it's been an easy transition."
Vestal's coaching philosophy is simple and revolves around the idea that there are three types of mistakes players make.
The first is a physical mistake like a technique error, a missed tackle or something similar.
"That's my fault," Vestal said. "It's my job to teach you."
The second is a mental mistake like a blown assignment, a bad read or something similar.
"That is also my fault," Vestal said. "If you don't know what you're supposed to do, that's my fault."
The final category has to do with effort, and Vestal is not about to take the blame for bad effort.
"The third one's yours," Vestal said. "That's the one that's unacceptable, and that's the one where I'll get upset."
Mistakes happen, and Vestal's defensive backs certainly made a few of them this offseason. But with his first fall camp now behind him and the 2013 season right around the corner, Vestal can't help but feel thrilled about his new gig.
"I'm pumped," he said. "Coach Weis gave me a shot that I won't forget."