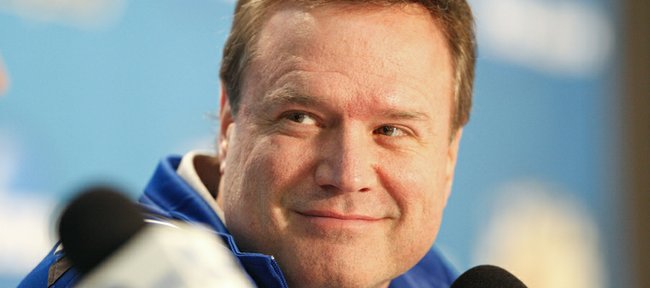 Armed with a new contract to lead Kansas University basketball through the 2021-22 season, Bill Self on Friday was asked what he might say to any fans concerned that he'll someday head to the NBA.
"I always thought I had one of the best jobs in the country, and that is college, NBA, any level," Self told the Journal-World after it was announced that he'd agreed to a deal, that, if fulfilled, will guarantee him just over $53 million over the next 10 seasons.
"I am never going to say never, but I will tell you this: I can't imagine being anywhere other than the University of Kansas. We (he and wife Cindy) bought a new home three years ago and look forward to living in it many, many more years to come."
KU athletic director Sheahon Zenger approached Self about a four-year extension (including more dollars) of a contract that had six years remaining after last year's appearance in the NCAA title game.
"It's very nice that Sheahon and the chancellor and all the people that have input in this do this for our family," Self said. "Also, I hope it's for a performance well done but also for a performance that is perceived to be well done moving forward, too. We've already done what we've done. Now we've got to do more.
"We're excited, fired up," he added, speaking to the J-W while on a golf outing following Friday's Boot Camp session and before the start of a recruiting weekend. "I'm really pleased at the direction of the athletic department. I'm really pleased with the direction Sheahon has this thing moving. Our entire athletic department is on great footing."
Zenger said he did not seek out Self for an extension as a reward merely for the Final Four season.
"For me, more importantly whether he got to that point of the tournament or not, was we want Bill here long-term. So the 10-year contract is what was most important to me," Zenger told the Journal-World. "People probably don't remember when I took the job, I said one of the biggest reasons I came here was Bill Self and getting to work with him. It has turned out to be one of the true joys of the job."
Asked if this proves Self wants to stay and decline future overtures from the NBA, Zenger said: "I believe so. I believe coach Self loves it here. We just want to make it so that he doesn't worry about going to the NBA. I believe he and I have the greatest coaching and AD jobs in the country, and we just want to enjoy it together."
Self has learned to make no absolute statements regarding his own future.
"Something that kind of goes unsaid too much is I learned never to say never when I put my foot in my mouth at Illinois saying I was going to be there for the long haul. The long haul by definition I don't think is three years ... but Kansas called," said Self, who replaced Roy Williams at KU after spending three years at U of I.
"I don't really know if people really gather what a great situation I had there that we left to come to a situation that was even a lot better. I know there are other great jobs out there. I certainly don't think it takes long to call roll for the best of the best. I feel I'm fortunate to have one of those positions. You never say never, but I can't imagine myself coaching anywhere else as long as the people here at KU want me to be here."
As with his previous contract, no taxpayer or tuition funds will be used to pay this new contract.
Self's current contract, which runs through June 2018, pays him $3.376 million, including base salary and annual service payments, as well as retention payments that are payable in 2013 and 2018. In total, he can receive up to $22.4 million in bonuses if he stays through the length of the contract.
The new contract pays Self $3.856 million annually, an increase of $480,000 per year. In addition, Self, who nets a retention bonus of $3.27 million at the end of the upcoming season, will earn a retention bonus of $876,000 per year, payable in 2015 and 2018. That second retention bonus is replaced in 2019 by an agreement to pay Self a one-time sum of $6 million if he remains KU's coach through March 2022. In order for Self to earn the maximum amount of the contract, including retention bonuses, he must remain as head coach at KU through the 2021-22 season.
The contract also includes the following incentives:
• Regular-season conference championship ($50,000).
• Conference postseason tournament championship ($25,000).
• AP Coach of the Year ($100,000).
• Final Four appearance ($150,000).
• NCAA Championship ($200,000).
He has no buyout if he leaves KU for another job.
"I felt great about the contract we re-did in '08," he said of an extension granted by former AD Lew Perkins. "Of course, extending it four years I think is terrific. I'm excited. I don't know if I'm going to be giddy about, or lay awake at night thinking, 'Hey, I have a contract until 2022.' Hopefully if you do a good job they are going to want you around. If you are not doing a good job, they won't want you around. A contract is only as good as the paper it's written on. There are ways if you are not doing a good job … they could still make a change."
It's believed that only Kentucky coach John Calipari (5.39 million per annum) makes more money in the college ranks, when one considers retention bonuses. Zenger says Self is worth every penny.
"Not only do I admire what he does with the X's and O's ... it's how he handles the young guys, interacts with them, the relationship he has with them," Zenger said. "How he handles the constituent groups and for us that work with him on a daily basis. It's safe to call him a 'celebrity coach,' but he acts like anything but a celebrity coach. He's absolutely a joy and pleasure to work with."
To review all details of Self's contract, read the official pdf file at kusports.com. The web address is http://bit.ly/RplIt9
Recruiting: Frank Mason, a 5-foot-11, 160-pound senior point guard from Massanutten Military Academy in Woodstock, Va., is scheduled to visit KU this weekend. Mason, who is ranked No. 131 nationally by Rivals.com, signed with Towson last November, but elected to attend prep school for academic reasons. He now has KU, South Carolina, Tennessee, Oklahoma State, Virginia Tech and others on his list. Mason averaged 27 points a game last season at Petersburg (Va.) High. He was region player of the year for the two-time state runner-up team.