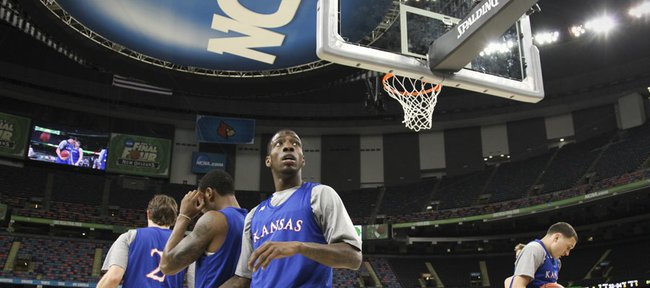 One of the smallest key players in the Final Four also happens to be one of the biggest pests. That's so often how it works, isn't it? His name is Aaron Craft and teammates talk tall about him.
How tall? The 6-foot-2, 190-pound Craft steals more than just the basketball, according to backcourt mate Lenzelle Smith Jr.
"I've seen him steal so many souls out there on the court," Smith said.
Wow. Strong words. Couldn't wait to bounce them off the man Craft will guard, Kansas point guard Tyshawn Taylor, a good soul. So, Tyshawn, have you ever had your soul stolen on a basketball court?
"Never," Taylor said slowly and with wide eyes. "And I don't plan on that changing, either. I think Aaron Craft is a terrific guard and I think he's a great on-ball defender, but I'm too confident in my abilities and my team's abilities to give him that much credit."
Smith explained what he meant.
"Whenever you can guard someone who's considered one of the top guards in the country and make them pick up the ball and panic in pressure and turn the ball over, that's the toughest thing to do," Smith said. "Once you do that, maybe once or twice, they start to doubt themselves as a player and you can steal their souls."
He didn't mean Craft is a grave-robber. Quite the contrary.
"He has so many different sides to him," Smith said. "He changes like a chameleon. Off the court, he's the sweetest, nicest, smartest gentleman you'll meet. On the court, he turns into a beast. He's so little, but if I was going into a fight, I would always want him on my side."
Craft and Taylor, heading into their second confrontation of this basketball season, like having the guards they bring into battle with them.
Ohio State's Smith and KU's Elijah Johnson have followed similar paths. Early, they concentrated on defending and on facilitating the scoring opportunities of teammates. As the season deepened, both developed into consistent scoring threats.
At last check, Johnson led a KUsports.com reader poll asking to name the Jayhawks' Most Valuable Player so far in the tournament with 44 percent of the vote, quite an honor for the lone Kansas starter who did not earn Big 12 Player of the Week honors. Johnson has scored in double figures in each of the last six games and did so in less than half the games before that streak started.
Smith didn't have a double-figure scoring output in the first 14 games and has had five in the last nine. He averaged 17.5 points in the East Regional in Boston, where he made six of 10 three-point shots.
Scoring opportunities abound for teammates of both schools' All-Americans, Ohio State center Jared Sullinger and Kansas power forward Thomas Robinson.
"If they don't double Jared, he's going to score every time," Smith said. "I haven't seen Jared miss a shot against one-on-one coverage since fourth grade. Any team that doesn't double him, it's kind of a bad idea because he's going to score."
Ditto for Robinson.
The game has the feeling of one that could be decided at the buzzer, which would be far from a first in Superdome history. Thirty years ago in the national-title game, freshman Michael Jordan hit a jumper that pushed North Carolina past Patrick Ewing's Georgetown team.
When hard-core KU fans picture a player from their school doing the same, it's Johnson's hands the ball leaves. He has developed into his team's Mr. Big Shot.
Someone wanted to know Friday, does Johnson envision the same when he closes his eyes?
"No, man, I'm playing ball," Johnson said. "I can't keep dreaming. I can't keep dreaming. I've got to be conscious. I've got to think realistically. Now, if that happens, that happens, but I'm not going to just sit here and daze off into this fantasy world about a game-winning shot. That's not the right focus right there."
Giving Taylor a break with point-guard duties, even when he stays on the court, is a more concrete responsibility for Johnson.
Craft is not asked to do as much offensively for his team as Taylor does for his. So if Taylor senses Craft is defending him into exhaustion, he'll tell Johnson to bring the ball up for a while until he regains his spark.
It always helps to have an extra point-guard soul on hand, just in case.
More like this story on KUsports.com