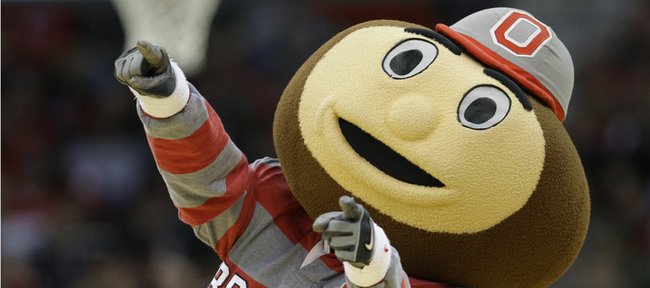 Perhaps some of you will be going to the Final Four in New Orleans this week, where surely you'll run into an Ohio State Buckeye.
If so, ask them this: Why are you such a worthless nut?
No, we're not trying to arrange for you to come back with a souvenir black eye. On the contrary, Ohio State boosters apparently take some pride in being worthless nuts. The Journal-World dug deep into its research budget this week to find out more about the Buckeyes — Kansas University's opponent on Saturday night — and we decided to start with the actual Buckeye. As in, what the heck is it?
Brutus Buckeye is Ohio State's beloved mascot, which is why we were a bit surprised with how Ohio State's official Web site described an actual Buckeye.
For those of you who have let your Arbor Day Foundation membership expire, a Buckeye is a tree that grows well in the Ohio River Valley. The folks at the OSU media relations department try to sell the value of the Buckeye, noting that for years — until a little something called plastic came along — artificial limbs were made out of Buckeye wood. They even noted some believed carrying a Buckeye nut in your pocket would ward off rheumatism.
But finally, the Ohio State site just comes out and says it: "However, in general, the trees and its nuts are of little practical use: the wood does not burn well, the bark has an unpleasant odor, and the bitter nut meat is mildly toxic."
Geez, it makes you wonder whether Ohio State offers a marketing degree.
Thankfully they don't write the copy for our beloved Jayhawk mascot, which according to KU's official Web site is "a mythical bird with a fascinating history."
Here's a look at some other potential conversation-starters about Ohio State and KU, as culled from both universities' Web sites.
Size doesn't matter (at least that's the hope)
Ohio State University has the third-largest enrollment of any university in the country with 56,867 students at its Columbus campus. KU's fall 2011 enrollment totaled 23,966 at its Lawrence campus.
How many lawn mowers does that take?
Ohio State isn't just big in terms of enrollment numbers. The campus itself is expansive. The Columbus campus stretches over 1,765 acres. KU's Lawrence and West Campus sites total 871 acres.
A little late to the party
Both universities are members of the prestigious American Association of Universities, but a Buckeye was in line behind a Jayhawk on that one. KU has been a member since 1909, OSU since 1916. Part of that may be that Kansas University is six years older than Ohio State University, which was established by the legislature in 1870.
Research leaders
Ohio State had $828.5 million in research expenditures versus $346.7 million for KU. According to a fiscal year 2009 ranking, Ohio State ranked eighth among all public universities in terms of research expenditures. KU ranked 50th among public institutions. (But Ohio State's medical school probably received at least $200 million in research grants to debunk that Buckeye cure for rheumatism.)
The Rhodes more traveled
Despite its size advantage, Ohio State trails KU in the number of Rhodes Scholars that have attended the university. Ohio State has had five. KU's Rhodes Scholars now number 26, with the latest coming in 2011. Technically, the Rhodes Scholarship folks note that with the way Rhodes scholarships are apportioned across the country it really isn't fair to compare the totals of universities, and yada, yada, yada.
Call it red, already
Ohio State's official school colors are listed as scarlet and grey. Scarlet, not red. One thing is for sure. It certainly isn't crimson.
Well-endowed
The Kansas University Endowment Association is part of the $1 billion club with 2011 investments totaling $1.25 billion. But Ohio State University is part of the $2 billion club, with investments totaling $2.12 billion.
More money
The larger Ohio State University has an operating budget of $5.01 billion, compared to KU's budget of $1.12 billion. OSU gets 18.2 percent of its revenues from tuition and student fees, compared to 21.1 percent for KU.
Less money
Typical in-state tuition and fees for undergraduates at Ohio State University totals $9,309 per year, compared to $9,222 at KU. Out-of-state rates are $24,204 for Ohio State and $22,608 per year for KU.
Rankings review
U.S. News and World Report ranks Ohio State at No. 55 among all national universities — both public and private. The publication ranks KU at No. 101. And here I thought we were both No. 2 seeds.
Hey, do we get a microphone?
College basketball fans are probably already aware that CBS college basketball analyst Clark Kellogg is an Ohio State alum. But fans may not be aware that he serves on Ohio State University's board of trustees. (So does the leader of the Smuckers jelly company.) Kellogg is scheduled to announce the Final Four game, but that surely won't cause a problem. He's a pro, and I bet KU folks will even help him out if he needs it.
Like if he has a rules question. KU folks, I believe, know where to find a copy of the basketball rules.
More like this story on KUsports.com