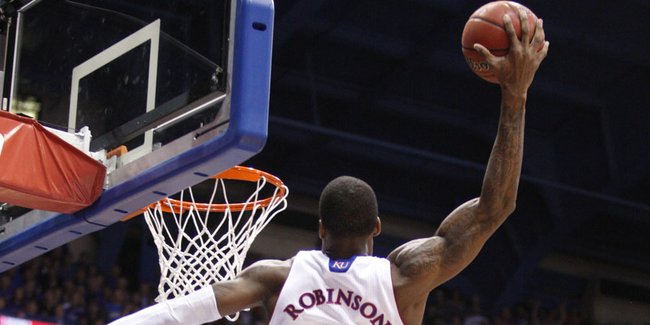 Dick Vitale removed his headphones, leaned forward in his press row seat and proceeded to lavish praise on Kansas University's basketball team late Monday night in Allen Fieldhouse.
"Today it was the Robinson/Taylor show. The inside/outside combination now of Taylor and Robinson is really special," ESPN broadcasting legend Vitale said after Tyshawn Taylor matched his career high of 28 points (for the second-straight game), and Thomas Robinson chipped in 27 points and 14 rebounds in the Jayhawks' 92-74 rout of previously undefeated Baylor.
"Robinson to me is my choice today as the Player of the Year," Vitale added. "Kansas was great. I said this on the air: 'This is probably the least talented team one through eight he (Bill Self) has had since he's been at Kansas, but as a team they really believe in each other and really are playing as a unit.'"
Oh, there was a lot to praise on a night No. 7-rated KU improved to 15-3 overall and 5-0 in the league. No. 3 BU fell to 17-1, 4-1.
Senior point guard Taylor hit 10 of 14 shots, including four of six threes with six assists and five turnovers in 33 minutes. Junior power forward Robinson cashed 11 of 18 shots and five of six free throws in 35 minutes.
"In big games, the best players have got to play. Thomas played, and Tyshawn played," Self said. "Not too many players in America played like those two did tonight."
KU's tallest player, 7-foot junior Jeff Withey, also was big with 10 points, 10 rebounds, three steals and three blocks in 30 minutes.
"He played like a man tonight," Taylor gushed.
"He's one of the best shot-blockers in the country. And those two fouls he had were not fouls," Robinson said, cracking a big smile.
Withey went straight up and stuffed Perry Jones III, but was whistled for a foul to the crowd's chagrin five minutes into the second half.
Also for KU, Travis Releford and Elijah Johnson chipped in 11 points apiece against BU's zone and man-to-man defenses. Johnson played 29 minutes, leaving the court for a while in the second half after suffering a dizzy spell.
"It happens sometimes. I'm fine," Johnson said.
The Jayhawks actually trailed, 27-22, with 5:57 left in the first half. That's when Taylor took over, scoring 11 points in a half-ending, 17-2 run that gave KU a 39-29 lead at the break. He finished the half with 14 points to Robinson's 12.
He also took part in perhaps the best play of the season, lobbing a pass to Robinson, who threw down a one-handed slam for KU's second basket of the game.
"He pressed the up button and went up," Taylor said.
Robinson admitted the vicious dunk might have been the best of his career.
"It'll go down with the lob I caught at Arizona," he said of a lob dunk Taylor tossed him, actually last year in Las Vegas versus Arizona.
Back to basics, the Jayhawks who led just 43-37 with 17:34 left, then went on a 16-5 run to build a 59-42 advantage. Releford had four points, Robinson three and Taylor two in that run. Up 63-52 at 10:32, KU used an 8-0 run to put the game away effectively for good.
"I think we made a statement (as far as the league race). Going out with 11 minutes (before tipoff), I told the guys we had to make a statement," Taylor said. "The last few games we showed we can be one of the best teams."
Self noted: "We played terrific. That's the best game we've played all year. The energy level was great."
There were an awful lot of smiles in the interview room after the game, with players joking around after KU took a one-game lead over the Bears in the standings.
"Turnovers don't come up too much when we are winning," Taylor said of the coaches and fans getting on him for bobbles.
Yet Self tossed a barb Taylor's way, concerning a clutch three-pointer Taylor hit with five seconds left to conclude the first-half scoring.
"It was a called play," Self said. "I said, 'Go flat, let's get Conner (Teahan) a three.' He did exactly what I asked. He shot it himself," Self added, smiling. "I should have said, 'Shoot it.' He'd have passed to Conner. We went flat, and (Taylor) was feeling it."
The Jayhawks will meet Texas at 3 p.m. Saturday in Austin, Texas.