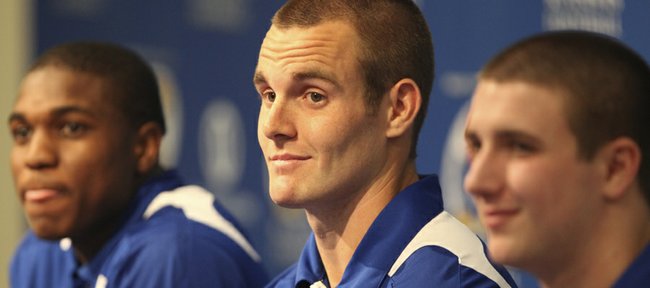 Nobody in the room knew the quarterback as well as the coach. And nobody on hand knew the coach as well as the quarterback.
That's the way it's supposed to work but generally doesn't when both men are new to the scene.
Charlie Weis, the coach, and Dayne Crist, the quarterback, were going to win a national title together at Notre Dame.
A Weis firing and Brian Kelly hiring — replete with a new offense and markedly different personal style — sandwiched between two Crist knee surgeries rewrote that script. Now the happy ending promises to take place with the Campanile, not Touchdown Jesus, overlooking the football stadium.
Charlie knows quarterbacks. He has proven that with athletes as ordinary as Matt Cassel of the Kansas City Chiefs and as extraordinary as Tom Brady of the New England Patriots.
Weis knows better than to let the numbers of a quarterback playing in a system and for a coach not ideally suited for his talents tell him how to judge his trigger man's value. Charlie trusts his gut.
"I don't think you can look at (the stats)," Weis said. "Anything that's happened with Dayne Crist in the last two years, as far as I'm concerned, is null and void. I knew what I had two years ago when I left there, and I'm fired up to have him right now, that's all I can tell you. And so should you be."
You're preaching to the choir, Charlie, one ticket sale at a time.
What Weis has in Crist is a strong-armed, 6-foot-4, 235-pound drop-back passer reunited with a coach whose offense he knows as well as we all knew how badly Kansas football needed a new coach, a new quarterback and a new sense of discipline.
Asked about the day in which Weis secured three years of starting quarterbacks, the day he received commitments from Crist and Jake Heaps in a two-hour span, Weis talked about more than physical attributes.
"Let's start with Dayne," Weis said. "To walk in the door and have some guy who carries himself the way Dayne does is good for everybody on the team, plus he's a resource for these guys to know who I am."
So Dayne, who is Charlie Weis, other than a guy who can show you how to get to the NFL?
"The players will quickly find out that he's going to be honest with you every day, whether it's something you want to hear or not," Crist said. "That's something I completely respect. It's the greatest feature I find in him."
Not that riding Weis' knowledge to a professional football career is incidental.
"That was something that was huge for me," Crist said. "That was not the end-all for me, but that's always been a dream of mine since I was 6 years old. I've always been told to follow my dreams and follow my heart. That's something I plan on doing still."
He's mature enough to realize the best path to take to reach individual goals.
"I know if I play as well as I plan on and am capable of and get the team better as a whole at the quarterback position, then hopefully I'll have a chance," Crist said.
A future NFL quarterback playing for a former pro coach? At Kansas? No need to pinch yourself.