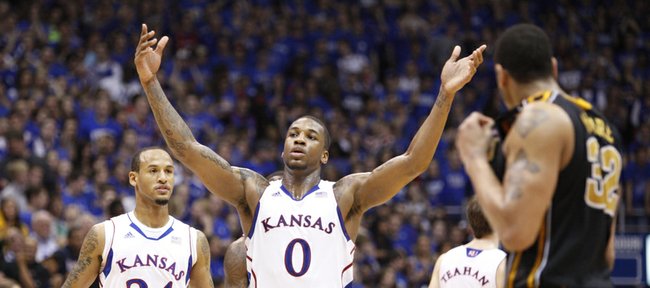 Podcast episode
Kansas coach Bill Self talks to reporters following the Jayhawks' 87-86 overtime victory over Missouri on Feb. 25, 2012.
Podcast episode
KU players Tyshawn Taylor, Thomas Robinson and Conner Teahan talk about the Jayhawks' 87-86 overtime victory over Missouri on Feb. 25, 2012.
KU vs. Missouri
Kansas University basketball coach Bill Self had a heart-to-heart talk with junior forward Thomas Robinson on Thursday — a day after Robinson was whistled for a technical foul in the final minute of a 66-58 victory at Texas A&M.;
"I was really disappointed in him Wednesday. I think he was feeling pressure. Today he didn't (feel pressure). He played to win. In no way did he think about anything but winning the game," Self after watching Robinson score 28 points and grab 12 rebounds in KU's 87-86 overtime victory over Missouri.
"He was great today. That's what the best players do. They make plays with the game on the line," Self added of Robinson, whose basket and foul shot tied MU at 75 with 16.1 seconds left.
His block of Phil Pressey's driving layup with two ticks left assured overtime.
"Without being too critical, he was the polar opposite today than he was in College Station. That wasn't him in College Station. Here's a guy who didn't play last year or as a freshman, wasn't a McDonald's guy (out of high school), not a highly recruited kid by highly recruited standards. He's now one of two for national player of the year and has his family counting on him to do things and has everybody in his ear, doesn't have people in his family necessarily tell him, 'I'm proud of you regardless of what happens,'" Self added.
Robinson was beaming after the victory.
"It was big. Revenge, payback … it definitely feels good," he said. "It felt like someone just jumped us (in building 19-point lead) and ran away, and finally we caught up with them. I can't even put this into words. I don't think I'm ever going to be part of something as big as this game was tonight. Just when I thought we couldn't get to another level, we stuck together and got better tonight.
"I don't think you can put a team in a tougher situation at home," added Robinson, who hit 10 of 21 shots and eight of nine free throws. "We were down 19 against a Top Five team and we stuck to it and got through it."
Withey ankle OK: KU junior Jeff Withey, who twisted his left ankle in the opening minutes, had two points and a rebound in nine minutes.
Withey did not need X-rays after the game. He will receive treatment in preparation for Monday's 8 p.m. game at Oklahoma State.
He reported on Twitter on Saturday night that the ankle is OK and he'll be in the lineup Monday.
"Thanks for all the support Jayhawk nation. My foot is fine. I sprained it, but I'll be ready to play Monday. Rock Chalk," Withey wrote.
Coach Bill Self said he asked Withey at the end of regulation, "Can you win the tip (if he jumped center in overtime)?"
"He gave me, 'Uhhh.' I said. 'OK, you just answered my question.' I don't think he thought he could do it. I knew he couldn't run."
Self added: "It's unfortunate he turned his ankle right off the bat. We played seven, eight minutes with Jeff and Thomas together and somehow won the game. Conner (Teahan, 4-for-4 from three for 12 points) played 37 minutes. Who would have ever thought that's what we need to do to win? Kevin Young (five points, eight boards, 28 minutes) gave us good minutes, too."
Series to end: Self reiterated Saturdays' game would be the last the two teams play in Lawrence.
"The next coach (at KU) may play. The next president, next AD may force me to play, who knows?" Self said. "Missouri has to market their future. We are their past. For it to end like this is pretty cool for us, especially the way we lost the first game (blowing eight-point lead in 74-71 loss on Feb. 4 at MU). It's a great rivalry. It's two schools that fiercely don't like each other hooking up and going at it. We saw the best they have to offer in Columbia. They saw the best we have to offer. It's a shame it's going to end, but it's definitely going to end. Playing them once a year with nothing on the line doesn't carry the same value as playing twice a year with a championship on the line."
Recruits in the house: No. 1-rated Shabazz Muhammad, a 6-foot-6 senior forward from Bishop Gorman High in Las Vegas who is considering KU, Kentucky, Duke, UCLA, UNLV and Arizona; No. 33-ranked Tony Parker, 6-9, 250-pound center from Miller Grove High in Lithonia, Ga., who is considering KU, UConn, Duke, Georgetown, Georgia, Kentucky, Memphis, Ohio State, UCLA and others; and JaKarr Sampson, 6-8, 205-pound senior forward from Brewster Academy in New Hampshire, attended. A former St. John's signee, Sampson was the No. 51-ranked player in the Class of 2011. He was not cleared academically by the NCAA, thus decided to attend prep school a year.
Semi Ojeleye, a 6-6, 215-pound junior small forward from Ottawa High, also attended. He has received scholarship offers from Kansas State, Marquette, Missouri, Nebraska, Northwestern, Oklahoma State, UCLA and Wisconsin.
Also, KU signees Landen Lucas, a 6-10, 245-pound senior center from Westview high in Portland, and Perry Ellis, 6-8 senior from Wichita Heights, attended. Conner Frankamp, a 6-3 junior guard from Wichita North who has committed to KU, was there, as was Brannen Greene, 6-6 junior commit from Mary Persons High in Monroe, Ga.
Faces in crowd: Former KU coach Larry Brown, as well as former KU assistant coach Lafayette Norwood, plus ex-Jayhawk players Eric Chenowith, Nick Collison, Xavier Henry, Matt Kleinmann, Raef LaFrentz, Christian Moody, Brady Morningstar, Marcus Morris, Markieff Morris, Kevin Pritchard and Wayne Simien attended. Also in attendance: actor Rob Riggle.
Stats, facts: Tyshawn Taylor played 44 minutes, a season high for any Jayhawk and most since Brandon Rush went 44 against Texas on March 11, 2007. Taylor's 44 minutes are most in a conference game since Aaron Miles, Wayne Simien, J.R. Giddens and Keith Langford all played 45 or more minutes against Texas Tech on Feb. 14, 2005. ... Taylor's nine points in overtime are most points in an overtime period since Raef LaFrentz scored nine in the first overtime against Missouri on Feb. 4 1997 ... It's KU's first overtime win against Missouri since a 92-80 decision on Jan 13, 1992 at MU ... It's the first OT game KU has won in Lawrence against MU, and only the second OT game against Missouri in Lawrence (Jan 22, 1920 was the first). ... KU is 4-3 all-time in OT versus MU. ... KU is 172-95 versus MU all-time. ... KU has won 24 games for seven straight seasons. ... KU has at least a share of an eighth-straight Big 12 title. Overall, KU has won 12 Big 12 titles and a Div. I-leading 55 conference crowns. ... KU has won 21 straight in Allen. ... KU has won 13 in a row over MU in Allen. ... Kevin Young had a career-high four blocks and career-best eight boards. ...
l
Larry on MU: Former KU coach Brown, who has spent the past several days in Lawrence watching practice, commented on MU leaving the Big 12 for the SEC.
"I don't feel good about them leaving. They should stay in the Big 12 so Kansas and Missouri could play all the time," Brown said.
"Oh man," Brown exclaimed, asked if it was sad the Tigers were exiting. "I did a clinic a while back and spoke before the Missouri High School Coaches Association ... and coach Stewart (Norm, MU) came by and we spent a lot of time just thinking about the tradition and the rivalry. It's pretty special, you hate to see it end."
More like this story on KUsports.com