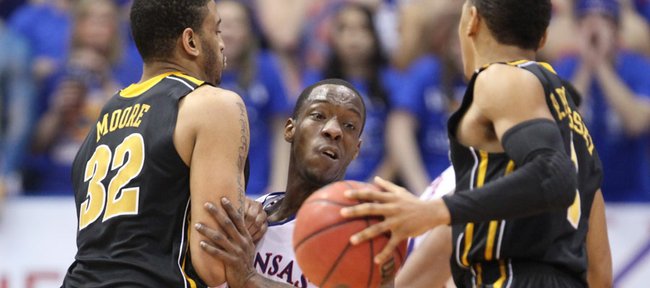 Podcast episode
Kansas coach Bill Self talks to reporters following the Jayhawks' 87-86 overtime victory over Missouri on Feb. 25, 2012.
Podcast episode
KU players Tyshawn Taylor, Thomas Robinson and Conner Teahan talk about the Jayhawks' 87-86 overtime victory over Missouri on Feb. 25, 2012.
KU vs. Missouri
Big comeback against the bitter rival ends with the home team winning, and we all know what happens next. The students make like water breaking through a dam and stream onto the court, forming a sea of flailing bodies.
Not here. On game day, those who pay to walk through the door for a two-hours-and-change show don't make it about themselves in Allen Fieldhouse, not when the athletes are under the same roof. They know the stage belongs to the players and don't believe in desecrating it with the footsteps of mere mortals, even when the show happens to have been greater than any they had ever witnessed, replete with a plot twist as improbable as it was delightful.
The patrons left the building Saturday sweating and smiling, shaking their heads over an affirmative response to a pair of questions they no doubt couldn't stop asking themselves:
1. Did I really just witness my Kansas basketball team recover from a 19-point, second-half deficit to defeat the nation's third-ranked team with Missouri on its chest in what could be the final time the rivals meet in a long, long time?
Yes.
2. Did the coach who has on his roster a band of basketball players who lead more with emotion than intellect, so often don't take great care of the basketball, shoot well only in streaks, are cursed with a penchant for spacing out, really just clinch a tie for his eighth consecutive Big 12 title? Even with an eight-man rotation that has two former walk-ons and a mid-major transfer still trying to find his way, and, oh, by the way, just one returning starter from a team that lost two lottery picks and a pair of starting perimeter players?
Yes.
How and how?
The answers to both questions can be traced to the same qualities. The team that defeated Missouri, 87-86 in overtime, is packed with bold players who believe in their ability to win every battle. And they believe their general, coach Bill Self, will prepare them better than the other team's general. What the players might lack in style, they more than compensate for with a loud competitive streak. Competing is what they do best.
They believe nothing they face in games can be any more difficult than what they face daily in practice. The bigger the challenge, the better they play. The next time the coach looks the other way when a player doesn't try to meet the high standards he sets will be the first. It's not easy playing basketball at Kansas, but who wants easy? Not these strong-willed fighters.
When the so-hard-to-guard Marcus Denmon answered a Tyshawn Taylor three-pointer with yet another of his own, the Missouri lead stood at 58-39 with 16:24 left.
The stage was set for a monumental comeback, and the players pulled it off with a methodical assault on the deficit. Making his bid for best supporting actor to Taylor and Thomas Robinson — the names on the marquee — Elijah Johnson triggered the comeback by nailing a pair of three-pointers in 65 seconds. Now Missouri's lead was 13. Robinson's jumper made it a much more manageable 11-point deficit. But Missouri's undersized scoring machines kept ringing up points. Even during a stretch in which Conner Teahan lit the crowd with one of his four three-pointers (in four attempts), Kansas nearly was all the way back in the hole it had started to climb out of when a Kim English drive put the Tigers up, 67-51, with 10:51 left. Expending all that energy on a treadmill to nowhere might have broken less competitive spirits. Not the Big 12 champs.
Kevin Young, the junior transfer from Loyola Marymount, drew another eruption from the audience with a powerful, two-handed flush, and this time Missouri couldn't curb the momentum. Young's dunk started a 19-4 run that lasted 8:10. During the blitz, Johnson kept making passes into small openings with Todd Reesing accuracy. Teahan stayed hot. Travis Releford turned up the defensive heat. Taylor patiently yet relentlessly attacked the hoop, and Robinson dominated inside. Robinson not only had the blocked shot that extended the rivalry five more riveting minutes, he also scored 11 points in the final 8:58 of regulation.
Spectators who have been coming regularly for decades to the building that next month turns 57 could not remember it ever being louder than it was during the comeback. As the decibels rose, so too did the temperature. More than just the players were sweating, especially in the upper regions. Body heat rises.
Now it was time for Robinson to cede the spotlight to his co-star Taylor, the excitable, exciting senior guard from Hoboken, N.J., hometown of another great performer, the late crooner, Ol' Blue Eyes himself, Frank Sinatra. For the day's script to remain on the too-corny-for-fiction track, Taylor needed to be the one to carry this band of misfit toys to the finish. After all, it was Taylor who played so brilliantly for all but the final two minutes in Columbia, Mo., when it was the Tigers who stormed from way behind to victory. And then he gave it all away. In that one, he dribbled the ball away for one turnover, charged for another and missed a pair of free throws, all in the final two minutes.
In this one, Taylor scored nine points in the overtime. Until these rivals meet again, Taylor can lay claim to having scored the final points, the final field goal and the final free throws against Missouri. He opened the overtime banging a three-pointer and again gave KU a three-point lead with 2:46 left on a sweet one-hander. Twice in a 20-second span of the last half-minute, Taylor turned a one-point deficit into a one-point lead. First, he cut back-door, and Johnson threaded a beauty to him, setting him up for a two-hand slam. And after Denmon hit a baseline shot with 12 seconds left, Taylor drove and was fouled.
He made both free throws to give KU an 87-86 lead that stood as the final score. On a day Taylor and Johnson combined for 13 assists and one turnover, Taylor and Robinson combined to make 15 of 17 free throws. Maybe now the gas bags who can't seem to stop obsessing on the unsightly warts of Taylor's game can instead appreciate its breathtaking beauty while a few grains of sand remain in the hour glass of his compelling KU career.
Nobody personifies this team better than Taylor, so amazingly quick but at times not quick enough to get out of his own way, yet in the end best described in one word: winner.