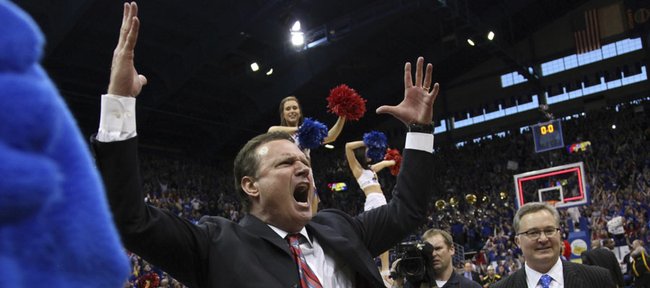 Podcast episode
Kansas coach Bill Self talks to reporters following the Jayhawks' 87-86 overtime victory over Missouri on Feb. 25, 2012.
Podcast episode
KU players Tyshawn Taylor, Thomas Robinson and Conner Teahan talk about the Jayhawks' 87-86 overtime victory over Missouri on Feb. 25, 2012.
KU vs. Missouri
Thrusting his arms into the air while peering into the Allen Fieldhouse stands, Bill Self let out a primal scream as the final horn sounded in Kansas University's 87-86 overtime victory over Missouri on Saturday afternoon.
"I'm not the most emotional guy, but that's as good as it gets. It's as exciting of a game as I've ever been part of. It's the best home win I can remember us having," Self, KU's ninth-year basketball coach, said after his Jayhawks successfully completed a comeback from a 19-point deficit — the largest second-half deficit overcome in program history.
"Playing Missouri does mean something. It means something to me. But to me, it wasn't about this being the last time we played (with MU moving to SEC next season). To me, it's about our team winning its eighth-straight championship. For this team to come as far as it has, winning that eighth straight ... these guys committed to it. They've amazed me."
The Jayhawks, who trailed, 58-39, with 16:20 left, avenged a 74-71 loss to the Tigers on Feb. 4 in Columbia, Mo. — a game in which KU blew an eight-point lead in the final two minutes. In doing so, KU (24-5) improved to 14-2 in the Big 12 with two games to play. Second-place MU (25-4) dropped to 12-4, meaning the Tigers can do no better than tie KU for the crown if they win out and the Jayhawks lose Monday at Oklahoma State and Saturday at home against Texas.
"We've got eight of those things now," KU senior guard Tyshawn Taylor said of Big 12 championship trophies. The 2011-12 hardware will be delivered by the league office to KU at a later date per Self's wishes.
"That's what we play our season for. After every huddle, every timeout, we yell, 'Big 12 champions.' We got that today. It feels good," added Taylor, who scored 24 points, including nine of KU's 12 points in overtime.
His two free throws with 8.6 seconds left in OT erased an 86-85 deficit. Remember: He missed two down the stretch in the meltdown loss at MU.
"I talked to one of my best friends after the last game, and he told me, 'Next time you see them, you're going to be in a bigger situation and a bigger stage, and it's going to mean more.' He was absolutely right," Taylor said. "It was the same team again, and I came through this time. I'm actually glad I got to shoot those free throws. And I knocked them down."
"For him to make the two free throws in the same scenario as he missed them in Columbia ... I thought that was great," Self said of Taylor, who opened OT with a three. "How poised was he down the stretch? He made every play."
MU had a chance to win after Taylor's two free throws, but the Tigers' final possession didn't even result in a shot.
Michael Dixon dribbled slowly down court, then after heading left near the top of the key, dished to Marcus Denmon (28 points), who was unable to launch a long-range shot before the final horn.
Yes, the clock expired, and defender Travis Releford ripped off his jersey and stood on the scorer's table as the fieldhouse crowd roared at perhaps an all-time decibel level.
"That reminded me a little of Davidson," Self said of the final possession of KU's 59-57 victory over Davidson in the 2008 Elite Eight. Davidson launched a wild, off-balance three at the buzzer that had little chance of going in. "We did a good job. They never got the ball in scoring position."
It was junior forward Thomas Robinson (28 points, 12 rebounds) who saved the day in regulation.
First, he hit an inside shot, and free throw (following a foul by Dixon) with 16.1 seconds left, erasing MU's 75-72 lead.
"I just knew I had to get the ball off the glass, and that is all I tried to do," Robinson said. "He (Dixon) walked up from under me at the last second."
On the other end, Robinson skied to block a driving layup try of Phil Pressey with :02 left. That block assured overtime for KU and sent the crowd into a frenzy.
"I think I had my eyes closed actually, to be honest with you," Robinson said.
Noted Self: "Thomas came from guarding the corner all the way over. That was a big-time play by a big-time player."
Robinson, who like Jeff Withey had two first-half fouls, sat out the final 4 1/2 minutes of the first half, MU's lead going from two points to 12 (44-32) by halftime, a lead that grew to 19 the second half.
"We were awful," Self said. "We played so poorly. I thought we played tight, not to lose. I thought we got caught up in the emotion of the game. We played to protect it as opposed to go take. We were getting our butts handed to us. I knew something had to happen real fast or it was going to end sad. We did a much better job late. One thing as a coach ... you are down 19, and guys made plays. We showed some toughness making plays against a team that was on fire."
The 19-point comeback win tied for largest comeback in a KU home victory. KU trailed UCLA by 19 in the first half of a 85-70 win on Dec. 1, 1995. The biggest comeback in school history was from 22 down against Texas in a March 11, 2007, Big 12 tourney title game (an 88-84 overtime victory).
"It coudn't have been scripted better for us," Self said.
KU will meet Oklahoma State at 8 p.m. Monday in Stillwater, Okla.