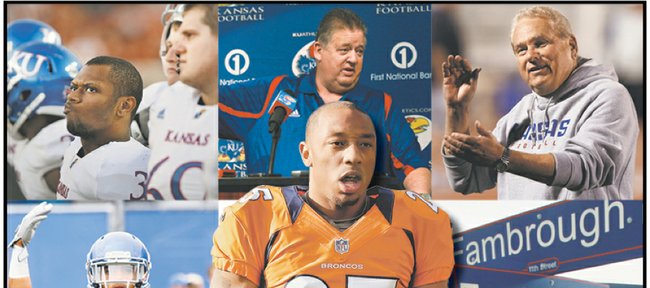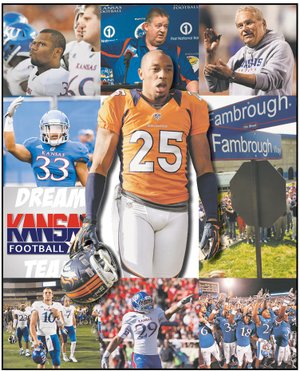 While the 2012 Kansas University football season delivered little more than losses, there were more than a few memorable things that took place — good and bad — during coach Charlie Weis' first season in charge of the Jayhawks.
As 2012 winds down and the calendar flips to 2013, let's take one last look at what the past 12 months meant for Weis' program.
10 players dismissed
Less than a month after being hired, Weis took advantage of an opportunity to set the tone for his new program by dismissing 10 players from the team for a number of reasons ranging from academics to discipline. Most notable on the list of departures were freshman running back Darrian Miller, who teamed with James Sims throughout 2011 to provide a solid 1-2 punch in the KU backfield, starting safety Keeston Terry and freshman quarterback Brock Berglund, who never could get his Kansas career off the ground. Berglund, who had been considered by many to be the future at his position just months earlier, made it to just a couple of practices and never suited up for the team he signed with out of high school despite graduating early to put himself in position to be in Lawrence for spring football.
Team GPA bump
Weis made it clear from the beginning that he was serious about academics, and during Weis' first semester in charge his players made it clear that they understood that, boosting the team's overall grade-point average from 2.46 in the fall semester of 2011 to a 3.0 during the spring. At the time, Weis said his team's performance in the classroom was a sign that the Jayhawks were willing to work and had the discipline needed to turn the football program around.
Campo hired to handle D
The January announcement that Dave Campo had been hired to coach the Jayhawks' defense brought another well-respected coach with a Super Bowl ring to Lawrence.
Campo, who spent 18 seasons as a coach for the Dallas Cowboys — including holding the title of head coach from 2000-02 — said he elected to join Weis at KU because it offered an opportunity to get back to teaching young athletes.
Campo, whose coaching career began in 1971, is one of the most widely respected defensive minds in football, and his influence helped the KU defense take a step forward in 2012.
Fambrough dedications
Former KU player, coach and diehard supporter Don Fambrough, who passed away on the opening day of the 2011 season, was honored in the hours leading up to the annual spring game in late April, when KU and city officials changed the street signs at the corner of 11th and Maine to bear his name.
A portion of 11th Street, from Mississippi to Missouri, now is known as "Fambrough Drive," and the portion of Maine Street that runs behind Memorial Stadium's west side is known as "Fambrough Way."
Said KU athletic director Sheahon Zenger at the ceremony: "Don Fambrough's passion is unparalleled, his service is unmatched, and his loyalty ... even when the going was bad, Fambrough loved KU, and that's why we're honoring him today."
Weis era begins
There certainly were a few rough spots, but there's no denying that the Weis era, on the field, got off to a wonderful start. In the 31-17, season-opening victory over South Dakota State, the Jayhawks snapped a 10-game losing skid and reminded Jayhawk fans everywhere what it felt like to celebrate a win. Although things started off on a good note, the Jayhawks quickly fell into a tough pattern of coming close but not finishing the job. KU lost five games in which it either had the lead or was within a single score in the fourth quarter. Although such efforts were signs of progress, KU finished the season 1-11 and 0-9 in Big 12 play.
James Sims shines
Junior James Sims missed the first three games of the season because of a suspension for an offseason DUI arrest and responded by becoming the best running back in the Big 12 Conference and just the 11th Jayhawk all-time to eclipse the 1,000-yard mark in a season.
Sims' streak of six straight 100-yard games established a school record, and his 1,013 yards pushed him into eighth place on KU's all-time rushing list, 1,359 yards behind leader June Henley.
It was not just Sims' statistics that made his season memorable, but more his style. His relentless approach to running the football — and his overwhelming success despite the fact that everybody knew he was getting the ball — inspired teammates and gave KU fans something to scream about.
Streaks continue
Although the season opener allowed the Jayhawks to snap one losing streak, the season ended with several others still intact.
KU will take an 11-game skid into the 2013 season and also extended its Big 12 losing streak to 21 games and its road losing streak to 22. What's more, 2012 marked the fifth straight season in which KU's win total had dropped — going 8-5-3-2-1 from 2008-12 — and the 11 losses were a school record.
December juco haul
In the span of a week, Weis and his coaching staff reeled in what has been considered the best junior-college recruiting class in KU history and one of the best in the country this offseason. Led by defensive tackle Marquel Combs, the No. 1 ranked juco prospect in the country according to ESPN, the Jayhawks picked up seven top-100 prospects, which only enhanced the "#DreamTeam2013" Twitter hash tag and created a lot of buzz around Lawrence.
Tyler Patmon leaves
When the 2012 KU football season ended, it looked like at least one starter from the senior-heavy secondary would be back in 2013. A few weeks later, that concept vanished, as junior cornerback Tyler Patmon announced that he would not return and would seek to play out his eligibility at another school.
Patmon — who red-shirted in 2009, played in 35 of 36 games and made 28 starts, including all 12 games in 2012 — is on pace to graduate in May. If he does, he will be able to transfer to another school and play his senior season without sitting out, much like Dayne Crist, Mike Ragone, Anthony McDonald and Josh Williams at Kansas in 2012.
Chris Harris cruising
Raise your hand if you expected former KU cornerback Chris Harris to become one of the most talked-about cornerbacks in the NFL in just his second season in the league. If your hand's up, you're lying.
Harris, an undrafted free agent picked up by the Denver Broncos following the 2011 NFL Draft, became a part-time starter in 2011 and has taken his game to a new level in 2012. He starts opposite future Hall of Famer Champ Bailey in the Denver secondary, ranks second in the league among defensive backs with 2.5 sacks, 20th in the league in interceptions and has recorded 59 tackles and 14 pass break-ups.
Although his expectations remained low, Harris recently said that not making this year's AFC Pro Bowl squad would enhance his motivation and drive — a scary thought for the rest of the NFL.