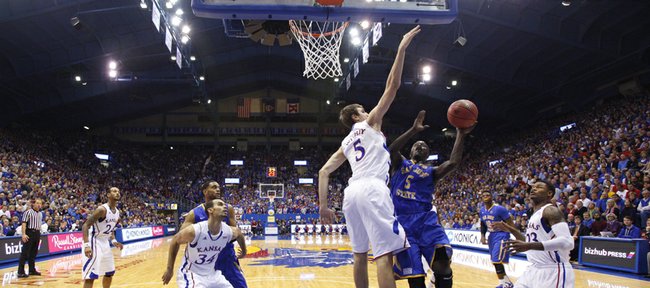 Kansas center Jeff Withey was selected as the Big 12's player of the week, the conference announced Monday.
The 7-foot Withey helped Kansas to a 2-0 week with wins over San Jose State (70-57) and Oregon State (84-78). The senior recorded the 13th triple-double in Big 12 history and just the second official one in KU history with 16 points, 12 rebounds and 12 blocked shots versus SJSU on Nov. 26. Withey's 12 blocks also are a Big 12 and school single-game record.
Withey averaged 16.5 points, 8.5 rebounds and 7.5 blocks while shooting 70 percent (14-of-20) from the field in the two games. He has five career contests with eight or more blocked shots.
KU has now taken the honor two weeks in a row, as senior guard Travis Releford was the Big 12's player of the week on Nov. 26.